AARON TAYLOR-JOHNSON For IO DONNA Magazine
Rumored to be a cast member in the Fifty Shades of Grey movie Aaron Taylor-Johnson is on the cover of the May issue IoDonna magazine. He is the husband of FSOG director Sam Taylor-Johnson and it was recently mentioned by them that he does have a part in the movie.
They also did an interview with Aaron and you can read the full article here.
Here is an excerpt with his comments about FSOG:
How did you react when his wife announced that he would direct 50 shades of gray ? Sam was supposed to start a film for Sony that was not yet been confirmed. One day, the producer said, "You know there would be a movie ready to be shot? It's 50 shades of gray , but before you to tell me something, read the script. " And so he did: Sam offered his version of the story; I already knew that the study would not have been pulled back. Sam is perfect for that project; I'm proud of her. When the film is finished it will be clear to everyone why. We were both convinced that sooner or later he would come out the right actor for the role of Christian Grey. In fact, Jamie Dornan is fantastic and the audience go crazy for him.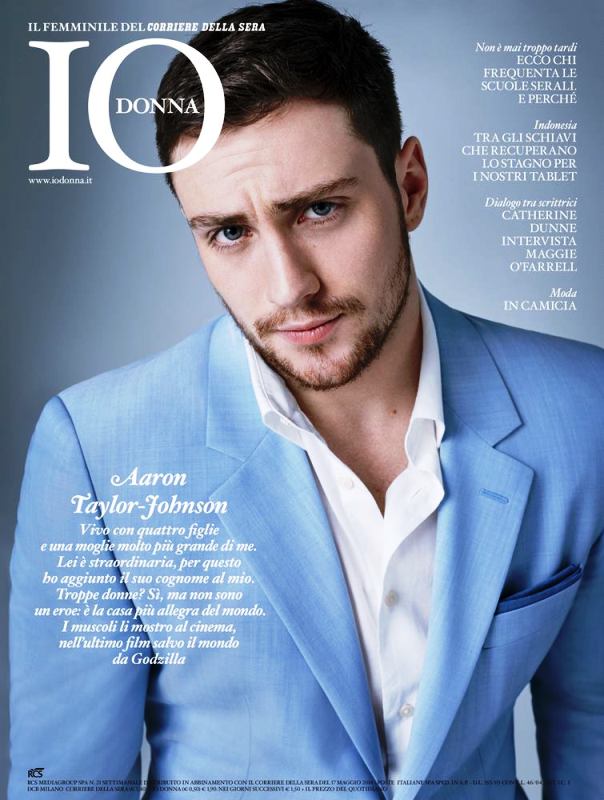 Godzilla" actor Aaron Taylor-Johnson covers the May 2014 issue of Io Donna magazine photographed by Lorenzo Agius.
My favorite style site Tom and Lorenzo also had this to say about Aaron:
FACE. This boy's got one.
In fact, we think he's about a thousand times more handsome in photographs than any film we've seen him in. We're surprised he's not positively drowning in luxury and fashion endorsement contracts. He's got the looks and intensity of a model. Give this boy a Prada or Burberry campaign, pronto.
That's all. Feel free to hang this in your locker or over your bed.