Eloise Mumford Comments on Fifty Shades of Grey
Eloise Mumford who will be playing the tenacious Kate Kavanagh in the movie FSOG  recently made a few comments about the filming and her take on Jamie and Dakota as Ana and Christian. All to E News.
Eloise Mumford, who plays Anastasia Steele's roommate says director Sam Taylor-Johnson is handling everything just right. "She's such a great director," Mumford said while promoting her action flick Drones. "I knew right away it would tasteful and artistic. And the cinematographer is Seamus McGarvey. He did Anna Karenina. It's going to be beautiful." She added, "In the end, the story really is a romance and a love story so it's about that more than anything."
Mumford stayed mum on specific details. "I wish I could, but as you know, we've all been sworn to secrecy," she said. However, we're happy to report that Mumford said Dakota Johnson and Jamie Dornan were "the perfect pair to play Ana and Christian."
Drones is a completely different kind of film than Fifty Shades. In the movie, two soldiers are at the control of a military drone being used to kill a terrorist. Directed by Rick Rosenthal, Drones also stars Matt O'Leary.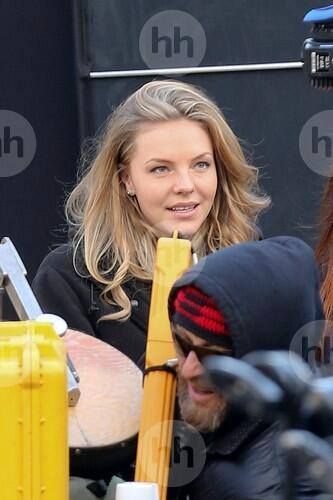 This is one of the few photos of Eloise during the filming of FSOG.