EXCLUSIVE FSOG FILMING RESHOOT OCT 13 FIRST LOCATION AND MOVIE/TRAILER SCENE **UPDATE NOV. 19 NEW PHOTOS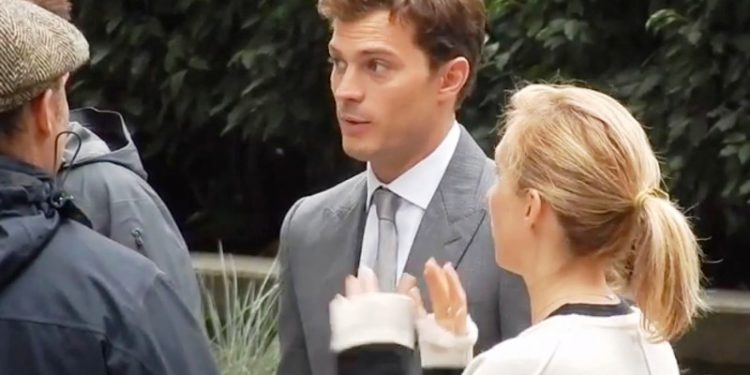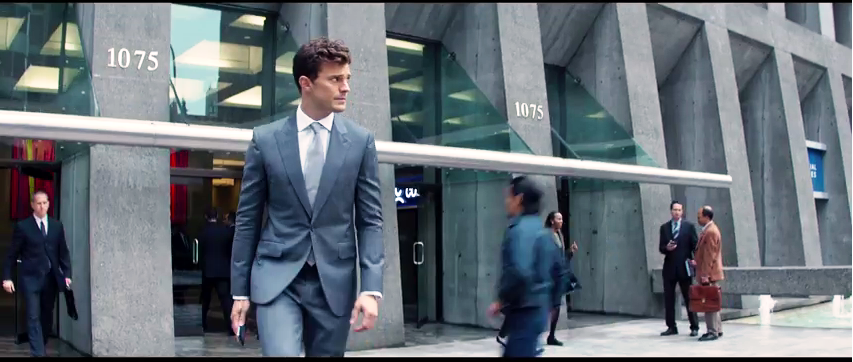 Monday, October 13 was the first day of the FSOG filming reshoots. I had heard from sources that they were going to film on the water front. Then I heard it was The Fairmont in the morning. I got up early to go and decided to drive by the Fairmont first. They had all the trucks, trailers and equipment in a parking lot across the street so I knew it was here. Parking here is awful so it took me several minutes to drive and find a spot. I was about 5 blocks from The Fairmont. As I walked back I noticed more filming equipment along the street and in front of this office building. They told me they were moving west from The Fairmont and this was the next filming location. I decided to stay here and watch it all.
They spent the next hour bringing in lots more equipment. They had this huge long camera to use. Tents were set up on the sidewalk for the cast to be protected in. E L James and Dana Brunetti were present at all the filming here.
The crew people were very nice to me and I got to talk to some of them.I asked one of the PA if it was possible to get autographs or anything. I had brought with the book of Sam Taylor Johnsons photograph exhibit in Paris. This girl told me she would see. About 30 minutes later Sam Taylor Johnson and a security guy came over and we got to talk. She was so nice and I think surprised that I had this book. She spent time to sign it and get a photo with me.
Then it was just wait for the set up to be done. They brought in Jamies double and he did a lot of standing in for Jamie. There were also about 15 extras used for the filming. They did a lot of rehearsing with the double and extras walking through the scene and setting up these people.
While standing there watching I notice Mark Bridges who is the Costume Director for the movie. He was there with an assistant and they were putting coats etc. on extras. I could overhear them talking and his attention to the details was amazing work. I had emailed him several months ago for an interview so I knew who he was today.
Jamie arrived on set in a black Ford SUV. He was dropped off right at the sidewalk in front of the building. I was speechless when I saw him. His beard was gone and his hair seemed shorter with it full on top. He  was dressed in a grey suit, white shirt and had his silver tie on and was soo Christian Grey. His suit was a slim cut and he looked long and lean in it.  I did notice that he must have big feet as his shoes looked pretty long.
For the scene he walks out of the building and stops to look at his phone, then walked further and stopped again. They started rehearsing with Jamie then di the filming. In between the filming he was so fun to watch. He was playing with his phone a lot, talking with STJ, joking with other people. He was ending the scene about 10 feet from me at the top of the steps so I got to see him pretty close.
They did the filming of the scene from different angles within the front of the building. At the end they were setting up this camera so that it was about 10 feet up and looking straight down. I could not figure it out, but then saw that they had Jamie standing directly under it and they were filming him looking down at his phone and they were filming what was on his phone as well.
The pap guys had no idea of the significance of Jamie using his cell phone for the scene. This continued through the rest of the the filming for today and Tuesday. They used the cell phone and texting a lot in all the filming.
This scene ran about 3 hours to do. I did get a chance to meet and talk with this girl who was doing the props for the extras. She mentioned that she also did the props for the Red Room and we talked a bit about it. I will share all that on another post.
I was told by the security guys that they do not allow autographs with cast because it gets too crazy. So I just took all the pics I could. At one point I just stood for about 20 minutes and just watched Jamie. I was so star struck at this point I almost cried. It was so fun to see him close.
As soon as he was filming he really became Christian Grey. I could see him just switch to the role so easily. He had no dialogue in this scene. It was just him leaving a business building.
When it came time for it to be over I walked around to the front area where his SUV was waiting for him. The security guy I had met was standing there also. When Jamie came up on the sidewalk to leave another autograph person went up to him and got a quick autograph. I really did not feel comfortable doing that as it was so quick and he was just walking out. He hoped in his SUV and was taken away.
The next scene was just about 2 blocks away so they started taking everything down and moving it there. I just followed along. Several people on the crew asked me if I was an extra or working on the production. There were no other real fans here which I was surprised at.
Check out the new trailer with this scene included. 
My first look at Jamie as Christian Grey and he was PERFECT!
I also just posted all the photos on my Gallery.  Please credit back to my site.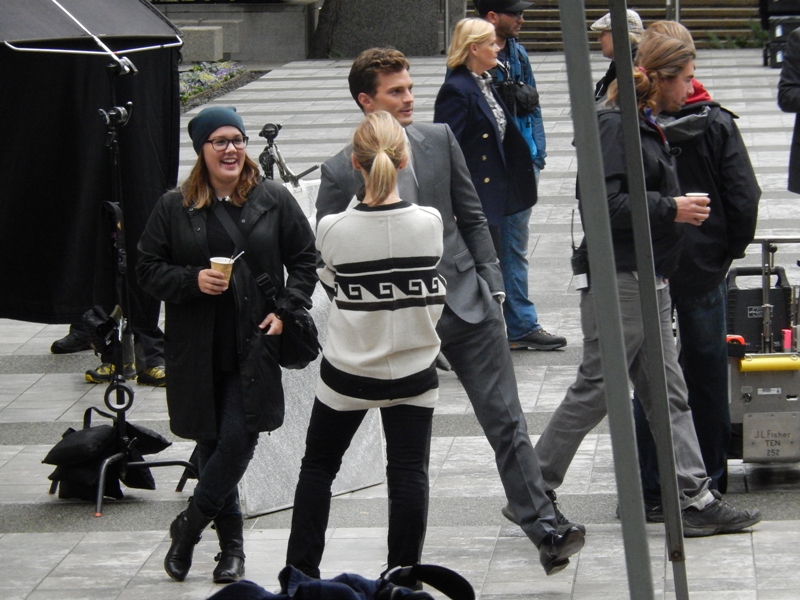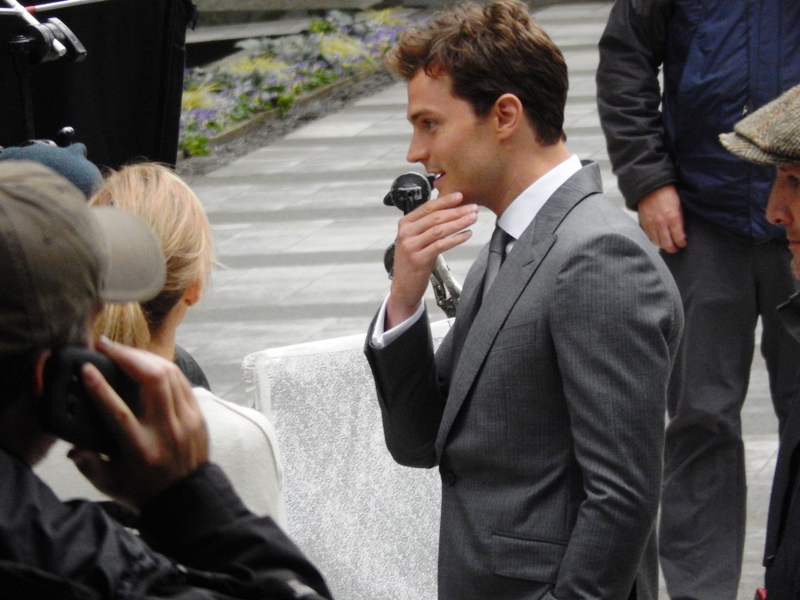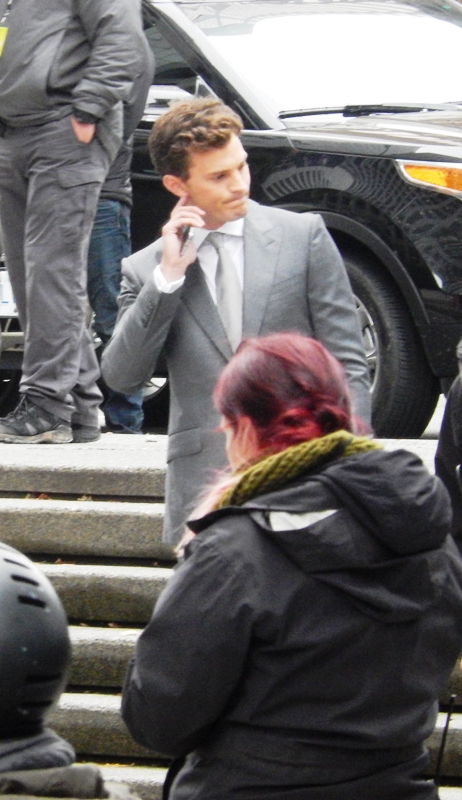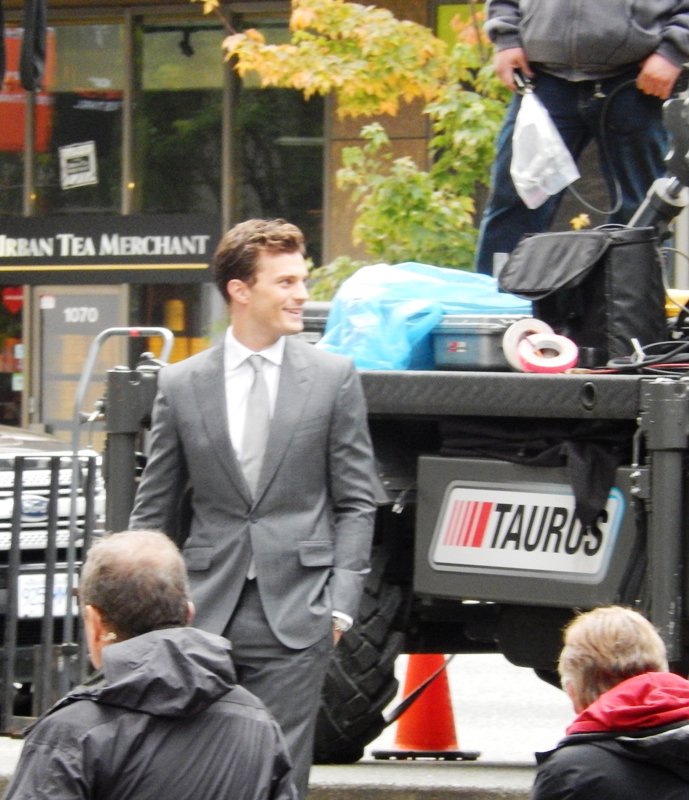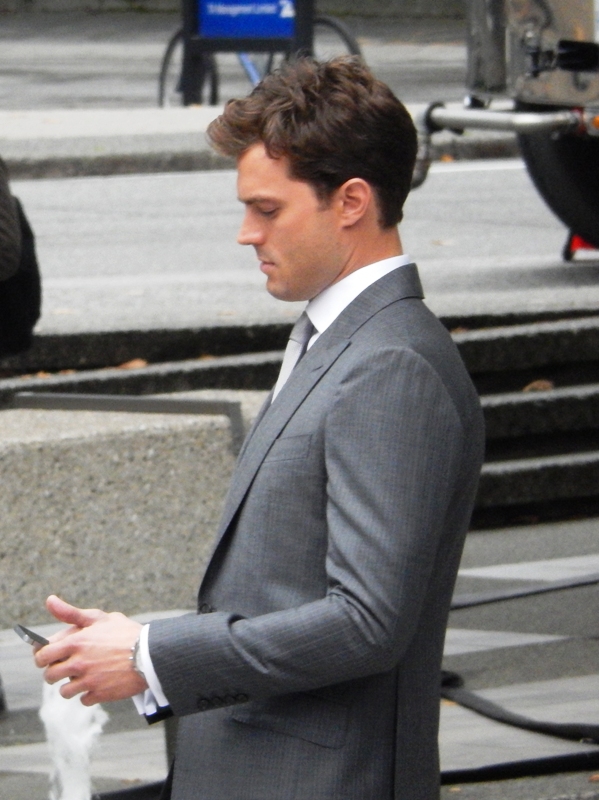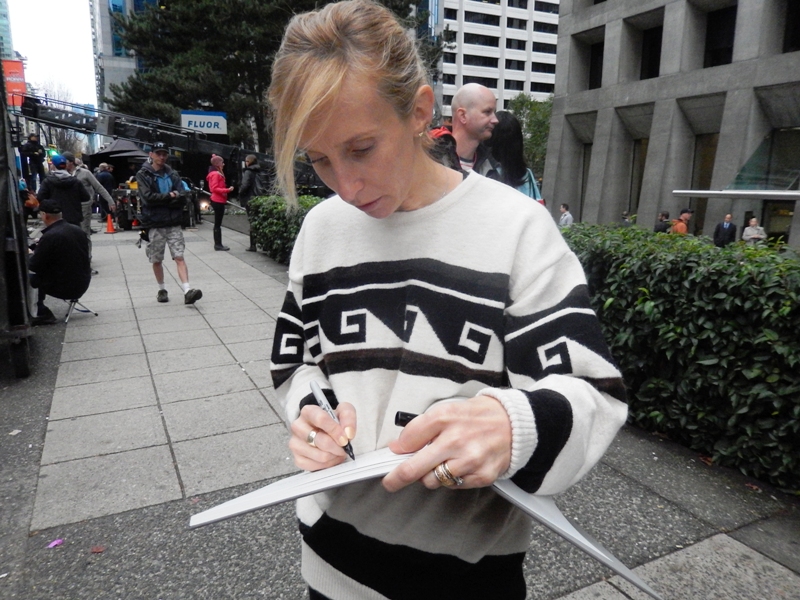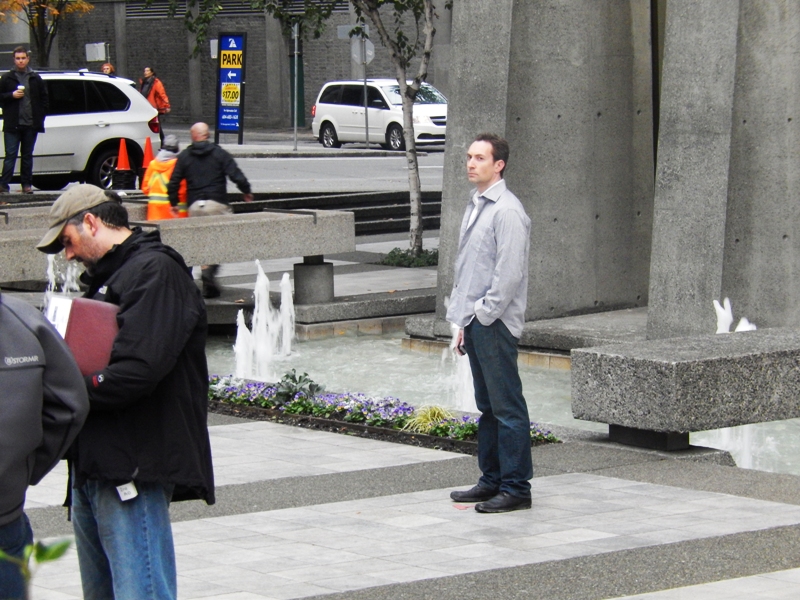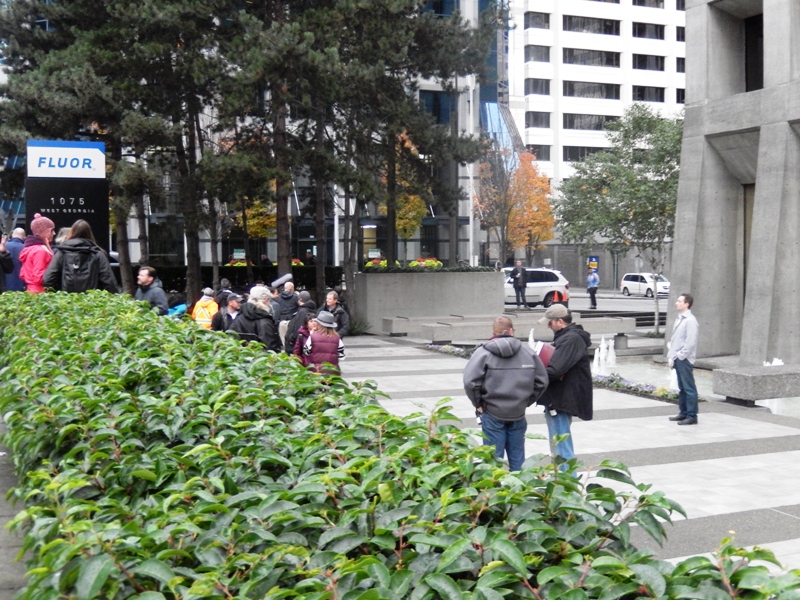 UPDATE NEW PHOTOS WITH MORE IN THE PHOTO GALLERY: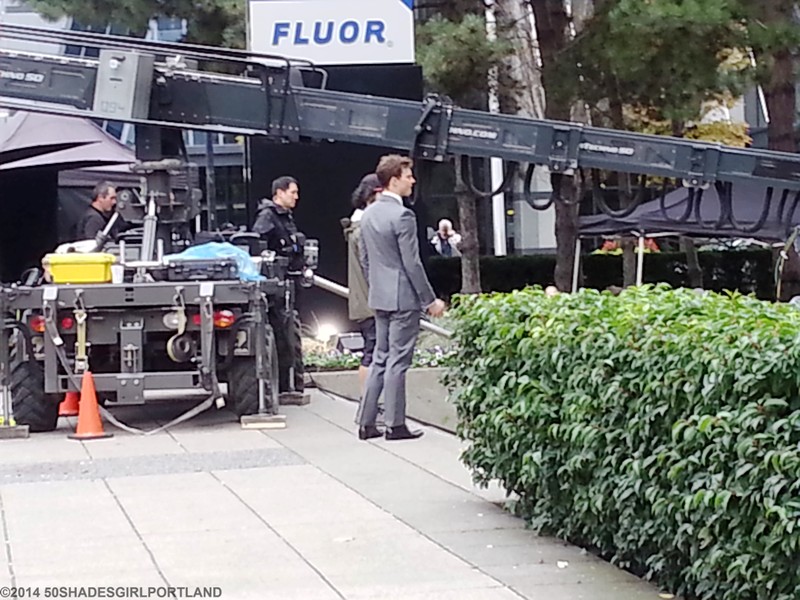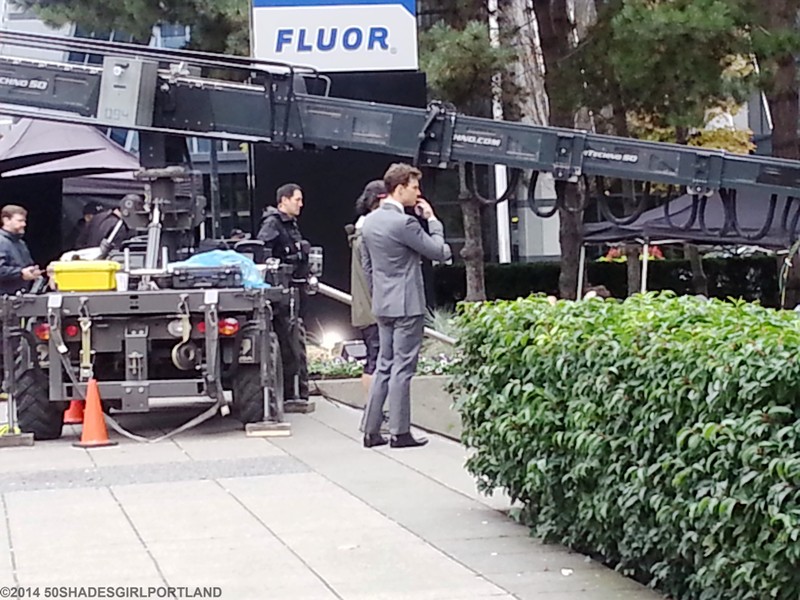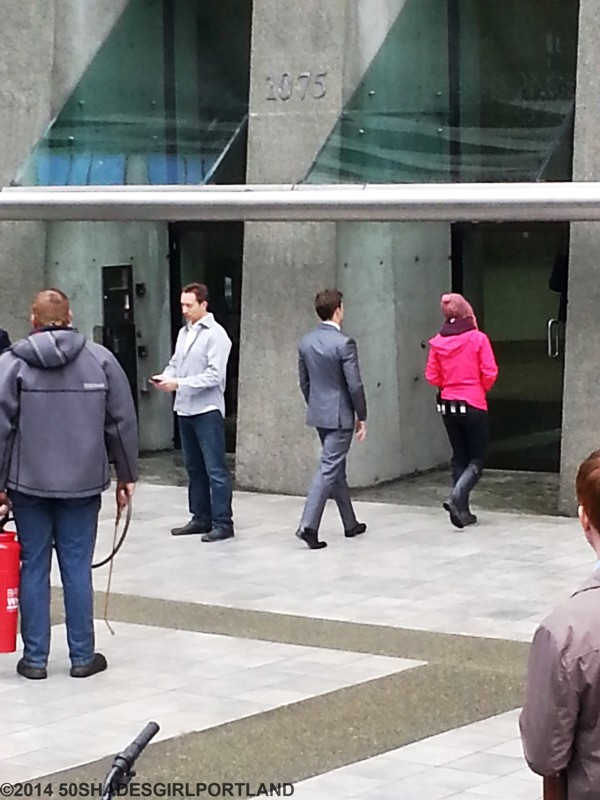 This was my favorite filming with Jamie reading a text and the camera over his head filming it.