Fifty Shades Freed Dakotas Makeup Revealed by Makeup Artist Eveyln Noraz for US Magazine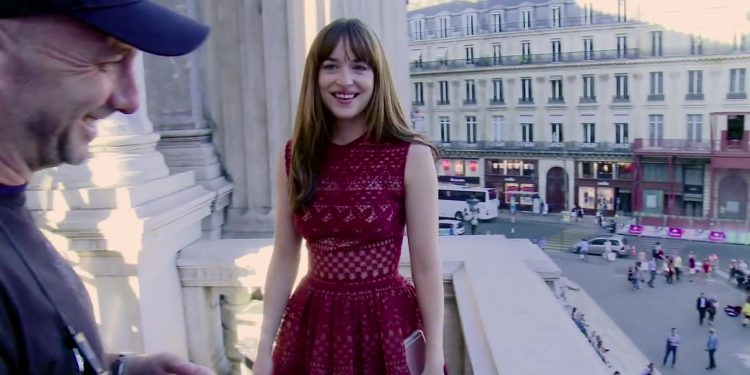 Makeup artist Evelyn Noraz shared out her makeup strategies and what she used for Dakota with the filming of Fifty Shades Freed. Thank you to US News for for article.
Evelyne Noraz: Yes, I wanted Anastasia to look different in the third movie. She wears more grown-up clothes, she's more lady-like and elegant and I wanted her makeup to match that as well. [So I went with] a more subdued classic look, a little bit Chanel, a little bit French. Not too much makeup, just the right amount.
This time I used liner on her eyes instead of just shadows so it's stronger eye makeup than on Fifty Shades Darker. Anastasia has grown into a confident strong woman, she is in a position of power now and married to a powerful man. Her exterior appearance has to reflect the changes that occurred.
EN: This time I wanted Anna's lipsticks to be less bold, more in the nude family. More sophisticated.
EN: Rouge Dior #434, Laura Mercier Cinn-Full Lip Parfait, Armani Ecstasy Shine #101 [Nuda], MAC Satin Twig and Nars Velvet Matte Lip Pencil in Walkyrie (she wears this in France at the Palais Garnier).
For the wedding scene: YSL rouge velouté Shine lipstick #7 and Smashbox Nude Medium Always Sharp Lip Liner!
EN: I use different set-up sprays to set the makeup. For the face I love Urban Decay All Nighter Setting Spray and for the body after Mac Face and Body Foundation (which stays on pretty well once dry), I use Dermacolor Fixing Spray.
EN: For a glowing skin look I like the Radiance Primer by Laura Mercier to use under the foundation — it makes it a bit more luminous. I also don't use a lot of powder. And a cream blush. My favorites are from Kevyn Aucoin. I used [the color] Pravella on Dakota. And Chantecaille! Laura Mercier has nice one. Omorovicza makes this great moisturizer called Illuminating Moisturizer that gives your skin a little glow a more reflective finish. I love that!
EN: I don't use a lot of foundation. I like to still see skin. Koh Gen Do Maifanshi Aqua Foundation is perfect — it has coverage but if you don't use a lot and if you apply it with a damp Beautyblender it goes on very sheer. I love freckles and skin and Dakota has beautiful skin — why hide it?