FIFTY SHADES FREED DIGITAL APR 24/DVD MAY 8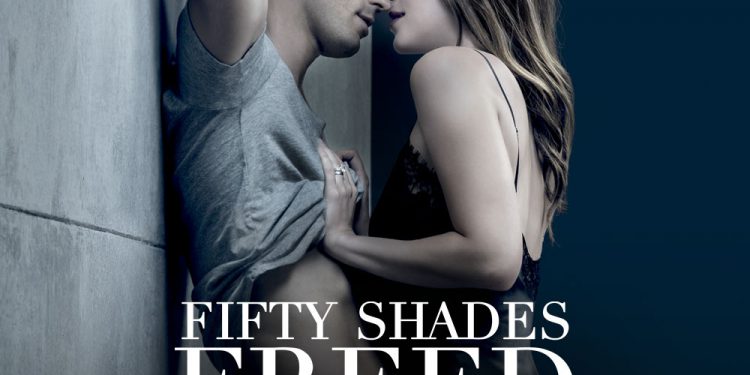 AVAILABLE ON DIGITAL APRIL 24, 2018
4K ULTRA HD, BLU-RAY™ AND DVD MAY 8, 2018
FROM UNIVERSAL PICTURES HOME ENTERTAINMENT
The global film sensation sparked by EL James' best-selling book trilogy returns with the seminal final chapter of the darkly alluring tale that captivated the world. Stay in, complete your collection and experience the climax of this worldwide phenomenon with the ultimate at-home movie night when Fifty Shades Freed arrives on Digital and the all-new digital movie app MOVIES ANYWHERE on April 24, 2018 and on 4K Ultra HD, Blu-rayTM, DVD and On Demand on May 8, 2018 from Universal Pictures Home Entertainment.
In addition to both the original theatrical version and a steamy new unrated version, Fifty Shades Freed comes with more than 30 minutes of never-before-seen bonus content, including a deleted scene, cast interviews and behind-the-scenes features. You get more passion, more drama and more suspense when you own the final chapter on 4K Ultra HD, Blu-rayTM, DVD and Digital.
BONUS FEATURES EXCLUSIVE TO 4K ULTRA HD, BLU-RAYTM & DIGITAL:
An Intimate Conversation with EL James and Eric Johnson – A casual conversation between EL and Eric discussing the film, favorite moments, themes, etc.
Music Videos

"For You (Fifty Shades Freed)" – Liam Payne & Rita Ora
"Capital Letters" – Hailee Steinfeld & BloodPop®
"Heaven" – Julia Michaels
BONUS FEATURES ON 4K ULTRA HD, BLU-RAYTM, DVD & DIGITAL:
Deleted Scene
The Final Climax – Fans can follow not only Ana and Christian, but also both new and familiar characters behind-the-scenes throughout their journey of Fifty Shades Freed

The Wedding: Take a closer look at the beautiful wedding scene with the production and costume designers – from the breathtaking venue, gorgeous gown and the custom-designed floral arrangements
Honeymoon: Travel along with the newlyweds and soak up the sun in the gorgeous French Riviera. Discover the challenge production faced with accessing locations, and the search for the perfect honeymoon yacht
& Mrs. Grey: After the wedding and the honeymoon, what is it really like to be married? Find out how life in the penthouse changes once Ana moves in
Ana Takes Charge: Director James Foley and Costume Designer Shay Cunliffe explore Ana's transformation and growth into a powerful businesswoman
Ana & Mr. Hyde: Go behind the scenes and find out the secrets about what makes Jake Hyde tick
Aspen in Whistler: Take a look at how the filmmakers and set decorator used Whistler, Vancouver as a stand-in for snowy Aspen, and discover the famous musician whose home was transformed into Christian's mansion
Ana's Revelation: Ana and Christian face their biggest challenge yet. Author EL James takes us through the choice that Ana must make and how the couple's power dynamic shifts
Resolution: The final showdown between Ana and Jack brings the two face-to-face and Ana will do whatever it takes to protect Christian, his family, and her future
The Meaning of Freed: The cast and filmmakers share what being FREED really means for both Ana and Christian

Christian & Ana By Jamie & Dakota – Revisit the previous films and learn how both Ana and Christian have changed… and how both actors have lived through the experience
The film will be available on 4K Ultra HD in a combo pack which includes 4K Ultra HD Blu-rayTM, Blu-rayTM and Digital. The 4K Ultra HD disc will include the same bonus features as the Blu-rayTM version, all in stunning 4K resolution.
4K Ultra HD is the ultimate movie watching experience. 4K Ultra HD features the combination of 4K resolution for four times sharper picture than HD, the color brilliance of High Dynamic Range (HDR) with immersive audio delivering a multidimensional sound experience.
Blu-rayTM unleashes the power of your HDTV and is the best way to watch movies at home, featuring 6X the picture resolution of DVD, exclusive extras and theater-quality surround sound.
Digital lets fans watch movies anywhere on their favorite devices. Users can instantly stream or download.
MOVIES ANYWHERE is the digital app that simplifies and enhances the digital movie collection and viewing experience by allowing consumers to access their favorite digital movies in one place when purchased or redeemed through participating digital retailers. Consumers can also redeem digital copy codes found in eligible Blu-rayTM and DVD disc packages from participating studios and stream or download them through Movies Anywhere. MOVIES ANYWHERE is only available in the United States. For more information, visit https://moviesanywhere.com.