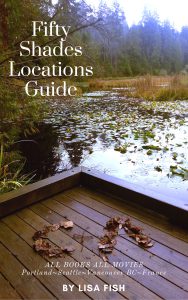 Fifty Shades Locations Guide shows you most of the addresses and locations from the three Fifty Shades of Grey books. This new ebook also now includes all 3 of the Fifty Shades movies.  You can also link to a google map for each city which will show you exactly the location for all the books and films locations. There is new information and tips for Vancouver BC included.
The Fifty Shades of Grey book trilogy is set in the beautiful Pacific Northwest cities of Portland, Oregon, and Seattle, Washington. When Universal made the first movie filming was primarily done in Vancouver B.C., with secondary scenery filmed in Seattle, Washington. For Fifty Shades Darker and Fifty Shades Freed the filming was again mostly in Vancouver BC, but also included Whistler BC, and the south of France. This book takes you to locations used from all three of the books and movie filming. It leads you to real life and fictional places from the story, and their movie-magic stand-ins. It also includes links to Google Maps of the cities so you can easily navigate the locations.
The book is available on Amazon.com in any country. It is only available as an Ebook so that you can download it to your phone or tablet to take with you when visiting the cities. You can order from Amazon.com or the Amazon in your country.