Jamie Dornan Interview With Telegraph Magazine
The Fall's Jamie Dornan won the lead in Fifty Shades of Grey. But first he plays a revolutionary in Channel 4's Restoration drama New Worlds. Serena Davies met him.
The actor Jamie Dornan.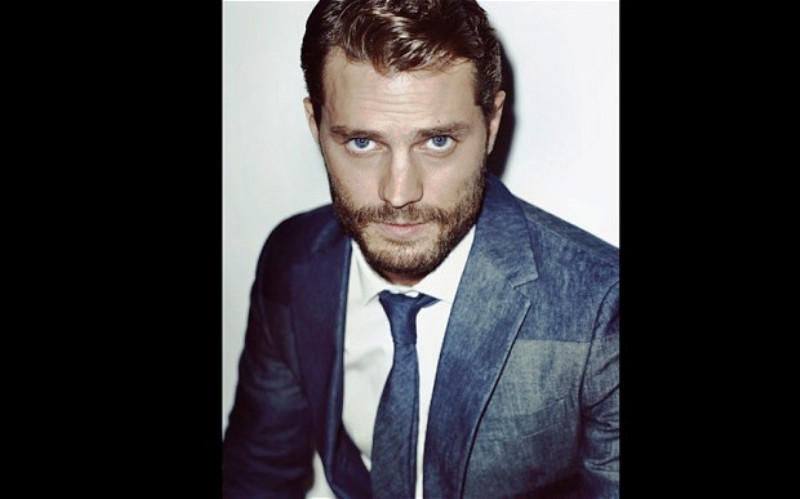 The actor Jamie Dornan Photo: Adam Whitehead
By Serena Davies    10:00AM GMT 22 Mar 2014
The actor Jamie Dornan is slighter in the flesh than I expected, and he's got a mullet. We are on the set of New Worlds, Channel 4's follow-up to 2008's critically acclaimed The Devil's Whore. That first series was set during the English Civil War (and starred Michael Fassbender and Andrea Riseborough); this one, to be aired next week, takes place during the Restoration, a period nigh on as bloody and politically fissured, if Martine Brant and Peter Flannery's script is anything to go by.
Dornan is playing Abe Goffe, a young outlaw who foments revolution against the ruling elite from a forest in Oxfordshire, and whose head is turned by the beautiful Beth (Freya Mavor), the daughter of Angelica Fanshawe, the 'whore' of the earlier drama.
Goffe's wild existence accounts for Dornan's unkempt hair. While most of the cast sport rather elaborate full-head wigs, Dornan gets what he explains is a three-quarter-length number: some straggling wisps glued on to his own short back and sides, which he tugs at when we talk. He also has a beard. 'Abe's a character who has sacrificed pretty much everything in his life,' he explains. 'Including a razor.'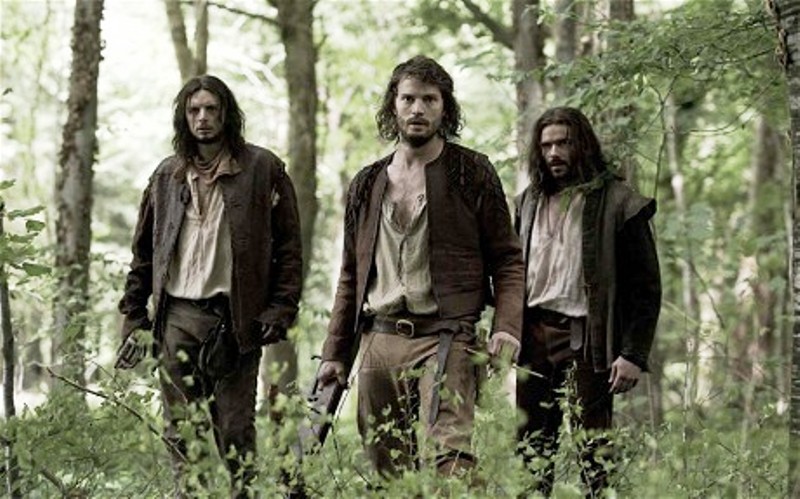 At the time of my set visit – summer 2013 – Dornan is best known for his modelling career (particularly his shirtless campaigns for Calvin Klein), and for his mesmeric performance as an alarmingly attractive serial killer in BBC Two's drama series The Fall – which also starred Gillian Anderson as the police officer determined to track him down – which aired last May.
Then, days after I meet him again in October 2013, news breaks that he has landed a role that makes him the most talked-about actor in the world. Dornan won the part of Christian Grey, the dazzlingly handsome anti-hero with a penchant for light sadomasochism, in the Hollywood adaptation of Fifty Shades of Grey, the bestselling (90 million copies worldwide and counting) novel by EL James. Directed by the British artist Sam Taylor-Johnson, the film is slated to be released on Valentine's Day next year.
Looking back, I slightly worry about how this warm, open man with a flair for comic self-deprecation will adjust to the celebrity this film role will foist upon him. When we meet in a west London pub near Dornan's Notting Hill home (he also has a cottage in the Cotswolds) one of the most animated points in our conversation is when Dornan becomes splenetic at the circus surrounding modern celebrity, and the people who actively court it.
'Nobody sane wants just to be famous,' he says. 'I hate it when people say you're asking for it by doing films. No, I'm asking for work, and I'm asking to get paid for doing something I love. I'm not asking to be followed down a street by some f****** pap.'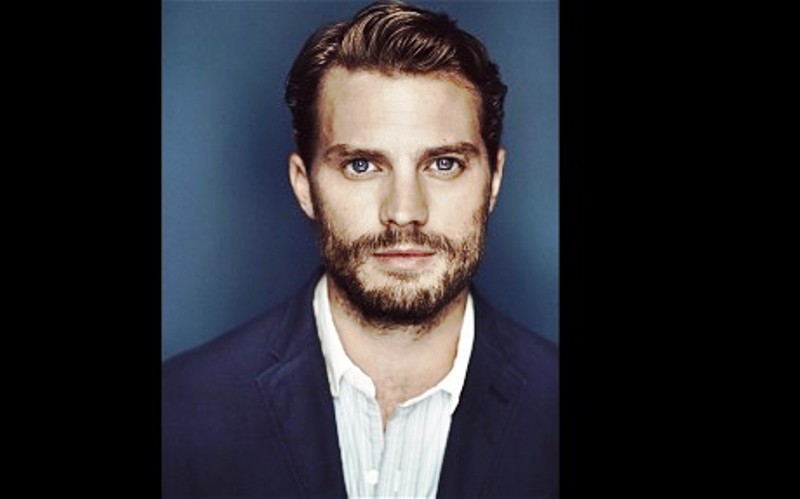 PHOTO: Adam Whitehead
This sentiment is exacerbated by his previous experience of this world, when he was in a relationship with Keira Knightley for two years, from 2003 to 2005. 'Being with Keira was an insight into how rotten the whole thing can be. A young girl is being followed around the street, there is nothing positive to say about that.'
Days after we talk a flurry of pictures appear in the tabloids of Dornan and his pregnant wife, the singer-songwriter Amelia Warner (she gave birth to a girl in December in Vancouver, where Fifty Shades was filmed).
His own origins are about as far off showbusiness as you could get, with the startling exception of his great-aunt (whom he never met), who was the actress Greer Garson, best known for Mrs Miniver and Goodbye, Mr Chips. Dornan, 31, grew up in a very different kind of Hollywood from Garson's – Holywood, Down, a town on the edge of Belfast, with two older sisters and his father, Jim, now one of Ireland's leading obstetricians and 'the most energetic man I know', and his mother, Lorna, a nurse.
The Troubles were still rumbling along in the background during his childhood, which inevitably affected him. 'I think people from Northern Ireland have some kind of unspoken general feeling of what it is to be around segregation,' Dornan, who considers himself, nominally, a Protestant, says. 'You have an awareness of it because you know how much grief it's caused. It's a tiny percentage who have ruined it for that country, that pisses everyone else off.'
When he was 16 the rugby-mad Dornan's childhood was devastated by the death of his mother from pancreatic cancer. 'There's no easy time to lose a parent,' he says. 'But it's a very transitional time being that age, and a very impressionable time. It was a horrific period in my life.'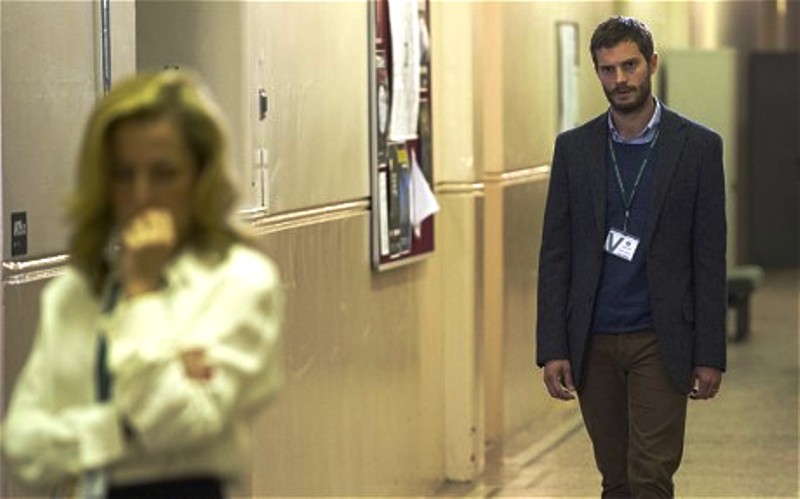 Jamie Dornan in The Fall with Gillian Anderson. PHOTO : BBC
Then a year and two weeks later four friends from his school, the private Methodist College in Belfast, died in a car crash. He describes this to me as a 'totally hideous, life-changing circumstance that you carry every day, I guess, and that's not going to change. These are events that form your identity, I think.'
In what way, I ask. 'I don't know, probably nothing too positive, I think it's changed my view on mortality and death.'
It was his father's second wife, Samina, also an obstetrician, who encouraged Dornan to go to London to seek his fortune modelling in 2002. Having enrolled at Teesside University, where he was studying marketing, he dropped out during his first year to become a model, despite having tried and failed to get into the modelling industry by applying to go on the Channel 4 reality show Model Behaviour the year before.
After a few months of catalogue work, while he supported himself working in a pub, he soon picked up some big-name contracts with the likes of Armani, Dior and Asprey's (where he met Knightley), and found himself booked for shoots alongside supermodels such as Kate Moss and Eva Mendes.
Calvin Klein came knocking too, and the resultant pictures in pants earned him the nickname 'the Golden Torso'. 'What does that mean? Is it a colour reference? I think it is meant to be a compliment. I hope it is,' Dornan says now. The chief thing he recalls from the Calvin Klein shoots is 'a lot of people rubbing me down with dark, oily tanning stuff – I mean, I'm a white Irish guy, it was a problem.'
He had done a bit of drama at school and knew he wanted to work in a creative field. 'I'd always really wanted to act; but the modelling contracts came more easily.' There was a brief flirtation with being a musician in an unsuccessful band called Sons of Jim, before his acting career really took off.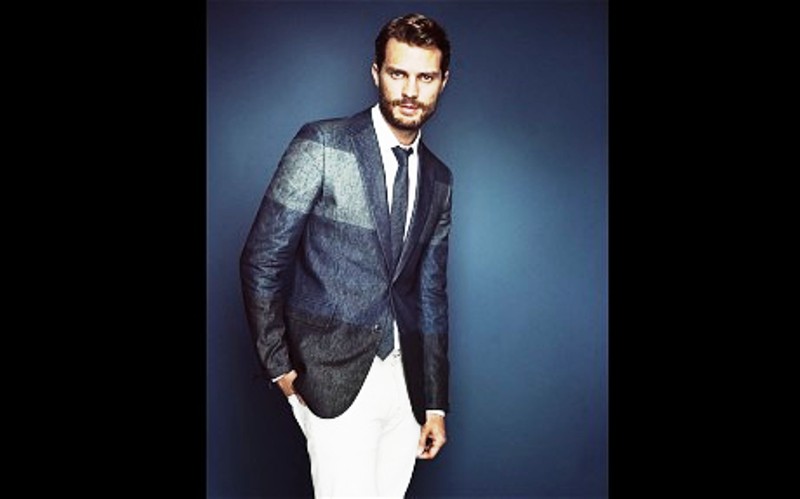 PHOTO: Adam Whitehead
He played a Swedish paramour to the doomed queen in Sofia Coppola's 2006 film Marie Antoinette. And then he went to LA for auditions during the pilot season, which he describes as 'one of the most dehumanising things anyone could ever go through – on an entertainment level, that is.'
He 'got lucky', with a reasonably big part in the first season of the hit ABC fantasy series Once Upon a Time, playing a sheriff who turns out to be the Huntsman from Snow White. It premiered in America in 2011 and netted ratings of 12 million a week. 'That was the first job I did when I committed to being an actor,' Dornan says. 'Before that it was just something I did now and again and got enjoyment out of.'
But it is The Fall, the second series of which Dornan is filming now, that will probably be seen as the turning point on his acting cv. Pulling in the BBC's highest ratings for a drama launch in eight years (audience numbers averaging 3.5 million), the show won Dornan praise for his 'icy charisma'. He tells me the success of the role is the reason he got the dashing, rugged lead in New Worlds.
Doubtless the air of brooding wickedness behind outward charm that he cultivated so well in the series – since shown in America – also helped him secure the part of Christian Grey (replacing Charlie Hunnan, who dropped out) in the final cast of Fifty Shades of Grey.
Dornan's character in The Fall, Paul Spector, was a conundrum. We saw him strangle women in the night then make his two young children breakfast in the morning. He would hover in doorways and slip through windows to attack his victims – a terrifying figure who loomed over the screen – and then settle into an armchair and offer bereavement counselling at work a few hours later, sometimes without having been to bed in between.
Gillian Anderson had been cast before Dornan got the part. 'Gillian is extremely minimal in what she does, very internalised, very thoughtful, very unshowy,' Allan Cubitt, The Fall's writer and creator, tells me. 'So I knew I needed someone who could match that.'
He cites a scene they used in auditions where Spector had come back, after perpetrating a fetishistic, voyeuristic burglary, to his children, whom he had left on their own while his wife worked a night shift as a nurse. 'Some people were playing it as if he wanted to murder his child… But Jamie came in and spoke very kindly to the boy, then kissed his daughter goodnight, and that's much more disconcerting for the audience.
I had in mind someone who is very still in what they did and who the audience would project quite complex feelings on to,' Cubitt continues. 'In the way, for example, Al Pacino did in The Godfather. He had that quality where he was watchful, where he didn't reveal very much about himself and bit by bit you were drawn into trying to decipher what sort of person he was.'
Dornan is softer on Spector than Cubitt. 'I think Allan would say Spector doesn't love his children but he has a bond with them,' he says. 'But I wanted to prove he did love them. I think there's empathy to be had with him on that tiny level, and that's all you need to play him. A hint that he's human.'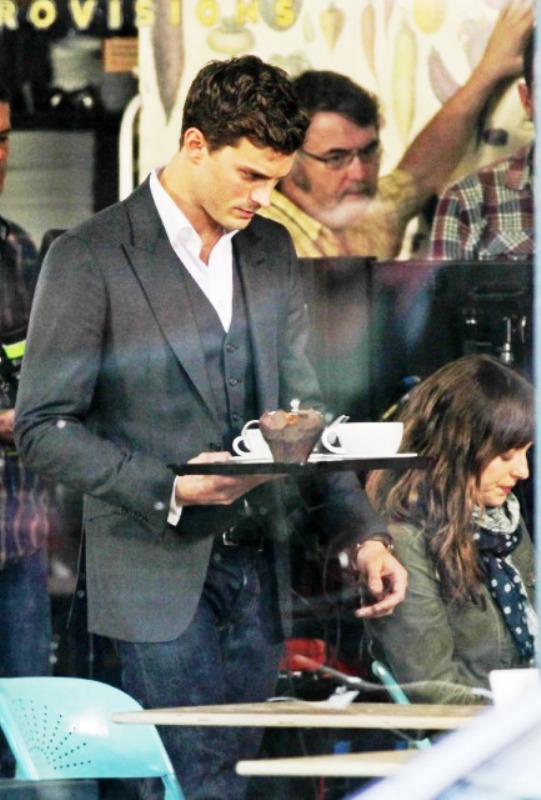 Jamie Dornan on the set of Fifty Shades of Grey in Vancouver with his co-star Dakota Johnson
Dornan had a more straightforward job playing New World's Abe Goffe, a man who wears his emotions on his sleeve. 'Abe's a young idealist, a bit of a renegade, a Robin Hood-esque figure in that he has a group of men who are fighting a cause for him, the cause to make England a true republic and to end the tyrannical rule of Charles Stuart the second,' Dornan says. 'He's also continuing on the course his father fought before him.'
In the drama fact and fiction are mixed up to create an imaginary but plausible tale of young people grappling with establishment powers, both in England and in the 'new world' of the early settlements in North America. Dornan's character Abe may be fictional but his father is the real William Goffe, who signed the document that ordered the beheading of Charles I. 'The drama considers, if William Goffe had a son, what he would be doing,' Dornan says.
Both Goffe and Spector are creatures of intense passions, which is perhaps what Dornan is best at conveying so convincingly. 'He has enough anger, enough fire in him generally for the part,' Peter Flannery, the New Worlds writer most famous for his 1990s hit Our Friends in the North, says. 'He also has great commitment.'
As for Christian Grey, Dornan's remarks on playing the tortured lead of EL James's story have been only fragmentary since he got sucked into the studio machine of what many expect to be a Hollywood money-spinner – although the fact that Sam Taylor-Johnson is its director suggests it will aim for a sophisticated feel.
'A lot of people care about this book and I'm not under any illusion that they don't,' Dornan said in a recent interview with the American magazine Entertainment Weekly. 'All I can say is I'm going to do everything in my power to portray Christian Grey as truthfully as possible. I can't guarantee that's going to please everyone – just me being cast doesn't please everyone, but it's happened and I'm going to give it everything.'
That earnestness sounds authentic. Jamie Dornan is a man who finds it hard to tell a lie – although he had to sling me a whole set of them at our meeting last October when pretending his Fifty Shades part wasn't happening and he had nothing planned between then and now except having a baby.
He has learnt not to give much away about his romantic relationships, too – on Knightley he says only, 'It was a long time ago,' which has been his stock answer for a few years now. He demurs too on Amelia Warner, his girlfriend of five years and wife of one, although he is expansive on the joys of fatherhood. 'That's a new challenge and adventure, and I can't wait.'
I like his dismissiveness of new parents who can only moan about the lack of sleep they're getting – 'you might sleep a bit less but you've got this small life to look after.' He adds, 'I am quite good on little sleep. I think a lot of that is an attitude thing. I think the same about hangovers. You can compound your misery by not getting out of bed and not facing the day. But if you actually get the f*** up you might not be as miserable.' It is a philosophy that is hard to argue with.