Meet Ben Corns aka "Stephan" FS Freed GEH Jet Pilot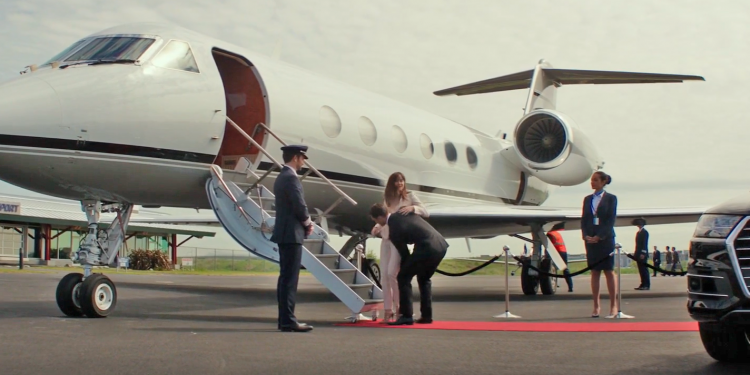 When actor Ben Corns, aka "Stephan" from Fifty Shades Freed, arrives to the coffee shop in Vancouver BC, he is looking much taller than I expected and wearing his baseball cap/sunglasses. After grabbing some coffee he joined us for a conversation about his experience with Fifty Shades Freed plus more about him and his work.
He shared that when he was to audition for the role of Stephan he had no idea what the audition was for. He arrived to the audition and entered a room with several other guys all dressed in airline pilot uniforms. He was the only one in street clothes. Ironically he ended up with the part.
While filming his part at Boundary Bay Airport they had brought in a real airline pilot to give him some tips in the cockpit. While filming he didn't have a chance to meet the other actors except for Jamie and Dakota.
When filming the scene with Christian and Ana leaving for their honeymoon, he was amazed at Jamies strength/stamina while he had to carry Dakota up and down the steps to the plane several times. He really enjoyed chatting with them both during the filming. Director James Foley is the most successful director he has worked with and he greatly respects his work.
The timing of the filming for Fifty Shades Freed had him nervous because he had planned a surfing trip to Indonesia for 3 weeks and had the trip all planned out already. He had to film only one day, but then was kept in "holding" for another day, so he only had to delay his trip by a day.
He has not read the books and wasn't aware of his role as Stephan in the books. He went to see Fifty Shades Freed with his girlfriend and they both enjoyed it.  He also knew several of the supporting actors in the movie who are in the Vancouver BC area.
Ben is from Alberta Canada. He traveled to LA to study acting and was there for 8 years. While there he did a lot of classes for acting. He came to Vancouver BC to pursue more acting jobs. He has now been here 3 years and loves the city. One of his friends is Jason Cermak who you might remember as the graduation photographer in the first Fifty Shades of Grey. He also knows John Emmet Tracy from Fifty Shades Freed and has seen him in theaters in Vancouver.
He spoke of the "glass ceiling" here in Vancouver for actors who want to grow beyond being casted in supporting roles. Most big roles go to actors from the US and he may go back to LA to be able to have access to those roles.
Right now he is filming Hallmarks When Calls the Heart with a recurring character. He films again in few weeks. With so much filming in Vancouver BC, you are sure to spot Ben in another role soon.
Thank you to Ben for sharing his Fifty Shades experience and taking time to meet us.
You can find Ben on twitter @ben_corns