MEET FS DARKER/FREED Costume Director Shay Cunliffe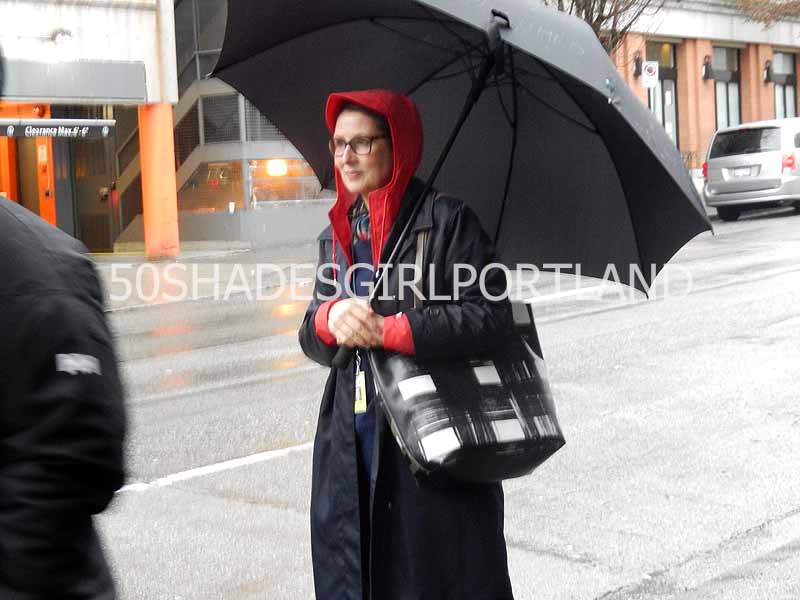 I had  a suspicion that there would be a new costumer director for FS Darker and Freed. I had heard from a costume website in LA that Shay Cunliffe was to be that new Costumer for the movies. Today at the filming location I was lucky to see her arriving and then got it confirmed by a production person that she is the new Costume Director. Later when she was leaving I was able to snap a few pictures of her. She struck me as very nice and a very vibrant person. She was dressed very sharply for the cold wet day in Vancouver. I imagine she is very busy with the filming going on and I did see several bags of clothing being delivered to the set. The trailer they used the first day for costume changes was not at the site this morning. I did see it arriving when I was leaving. It was used yesterday for Dakota, Eric and the mystery red head woman.
Shay Cunliffe has been involved with numerous tv shows and movies. Here is her info:
Shay recently designed the costumes for the upcoming drama Secret in Their Eyes, directed by Billy Ray, as well as the recent comedy Get Hard, starring Will Ferrell and Kevin Hart.
Previous credits include The Bourne Legacy, directed by Tony Gilroy, the Jeremy Renner-starring sequel to The Bourne Ultimatum, directed by Paul Greengrass, for which she also designed costumes.
Shay has worked with many distinguished filmmakers, such as James L. Brooks, John Sayles, Gary Sinise, Taylor Hackford, Rob Reiner, Steve Zaillian, Brad Siberling, Amy Heckerling, David Mamet and Ken Kwapis. Cunliffe tapped into her musical theater roots when she teamed with Rob Marshall on the television movie version of Anniem, for which she won a Costume Designers Guild Award and received an Emmy nomination.
Her first job as costume designer was on Mrs. Soffel starring Diane Keaton and Mel Gibson. Cunliffe later worked with Gibson on his directorial debut, The Man Without a Face.
Cunliffe trained at the University of Bristol in England, and began her design career in the New York theater.
There is also a short video with her speaking about one of her movies. I really hope she does a similar video with the Fifty Shades movies. You can watch it here:
Here are a few photos of the lovely Shay Cunliffe waiting outside the filming location  this morning.