The New Heathman Hotel Renovations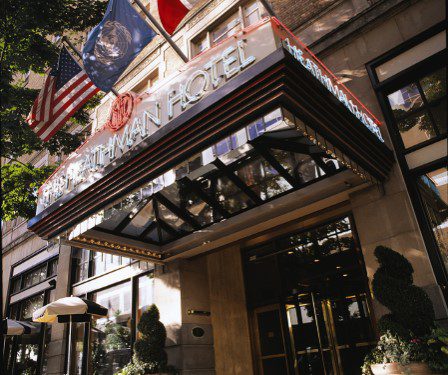 New information from The Heathman about their renovation and new look:
Updated August 2018
A NEW CHAPTER BEGINS: PORTLAND'S HEATHMAN HOTEL DEBUTS DRAMATIC RENOVATION Reimagined public spaces and guestrooms celebrate the hotel's storied history and connect travelers with the city's modern artistic and literary culture.
February 12, 2018 – PORTLAND, Ore. – The Heathman Hotel, a Portland cultural fixture since the day it opened in 1927, is undergoing a renovation that will polish this treasured jewel, renew its luster, reaffirm its illustrious past and ready it for a bright new future. Slated for completion in June 2018, the project encompasses the complete renovation all 151 guestrooms and public spaces. Lighter, brighter and more contemporary, the new design is nonetheless rooted in the building's unique history and pays homage to the hotel's role as muse to generations of guests. The Heathman Hotel has been a Portland touchstone for travelers in the past and, following this renovation with management by Provenance Hotels, it will continue to serve as a welcome respite for friends and neighbors right here at home and visitors from around the globe.
Unabashedly classic in spirit, the Heathman has always been a storied actor in the city's artistic conversation due to its location in the heart of Portland's cultural district. The hotel is not only adjacent to but also physically connected with the Arlene Schnitzer Concert Hall which is home to the Oregon Symphony Orchestra and hosts an array of live performances year-round. In the hotel's early years from the 1930's to the 1950's, the Heathman's mezzanine was home to the studios of Portland radio station KOIN. Within those studios, described as the finest in the country, the station boasted a roster of musicians and entertainers larger than all other local stations combined and, from their transmitters high above the nearby West Hills, they beamed their signal as far as California, Nevada and Idaho. More recently, it has hosted a literary who's who throughout the years and amassed a 2,700-volume library of works signed by the authors that includes texts and novels by Pulitzer and Nobel Prize winners, past Presidents and U.S. Poet Laureates. This storied creative heritage provided inspiration for the hotel's new Interior design created by Jackie McGee and her team at Perkins + Will.
With this renovation, the Heathman lobby is being transformed into a curated, living room that will engage guests' imagination with sculptural features and create opportunities for social interaction. Behind the front desk will hang an intricate three-dimensional map, aptly named "200 X 200," that highlights Portland's unique 200 ft. long city blocks, a human-scale feature of the city's geographical layout that is celebrated and admired amongst city planners for making Portland one of Americas most walkable cities. Crafted in Portland, the work alludes to both the intimacy and passion for craftsmanship that define the city. Architectural columns also become sculptural focal points surrounded by hundreds of floating blackened discs that symbolize the "Portland Penny" whose flip was the deciding factor when city founders, Francis Pettygrove and Asa Lovejoy, named the bend in the Willamette River that would become this verdant metropolis.
The heart of the hotel, the sweeping two-story Tea Court, is being redesigned in a style that offers a modern twist on the social salons of Europe – mythic gathering places of inspiration, knowledge and celebration – in a warm palette with a sophisticated residential feel inspired by the city itself and the way residents live today. A new grand bookcase the full height of the room will prominently showcase the hotel's treasured library of autographed tomes and make it more accessible to guests. A dramatic fireplace clad in white handcrafted artisan tile will sweep from floor to ceiling and create a second strong focal point amid the room's iconic wood paneling which will be stained a modern grey to complement intricately patterned William Morris wallpaper, a new herringbone wood floor and ample seating in leather and cozy fabrics. When the renovation is complete in June, the Heathman will utilize this space for literary reading with authors in collaboration with Portland organizations like SMART and Literary Arts. It will also be home to Headwaters' Executive Chef Vitaly Paley's popular Russian Tea service on the weekends.
Upstairs, the guestrooms will embrace the beauty of the Portland landscape with natural materials and reclaimed elements to create comfortable, sophisticated space for curling up with a good book – a selection from local bookstore, Powell's, will be found in every room – and drifting off to sleep. A soft, neutral palate runs throughout the space from the whitewashed wood paneled walls to the warm wood flooring. A blue area rug, inviting caramel lounge chair, grey wood bedside tables, handblown glass credenza and eclectic artwork from artists based in Portland and beyond enhance the calming mood. Works by locally-based artists include Katie Jeanne Reim's "Rose City" which pairs the patterns and designs of topographical maps with inspirational natural images; Barry D. Kaine's evocative "St. John's Bridge"; Tony Thomas' bright and vibrant "Sellwood"; and the abstract effervescence of "Dimension 9" by Hilary Winfield and Rachel Ann Austin's "Poppies." Guestroom baths have also been updated with new glass-doored showers and stone vanities above which float wooden shelves and illuminated mirrors against limestone tiled walls.
For wellness minded travelers, or those simply looking to burn off a few of the amazing meals they're sure to enjoy around Portland, the hotel's new fitness center will be found on the mezzanine level in a large space with lots of natural light. It will feature state of the art treadmills and elliptical trainers from Intenza and Peloton spin bikes as well as analog options like dumb bells, stability balls and TRX bands.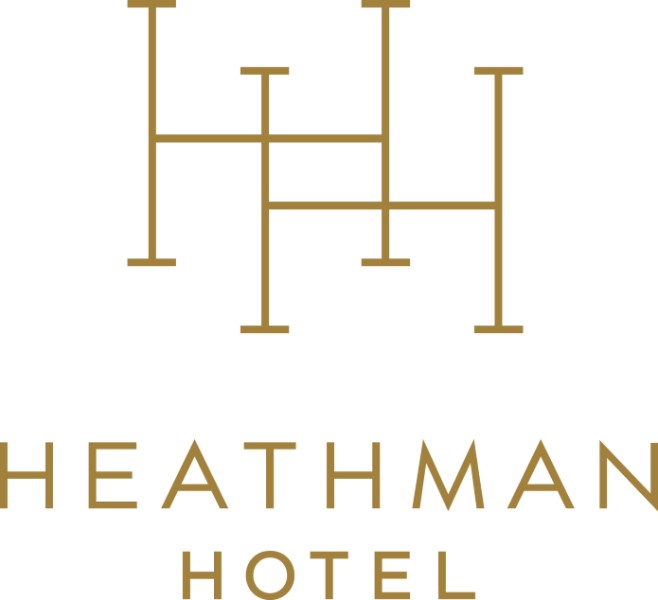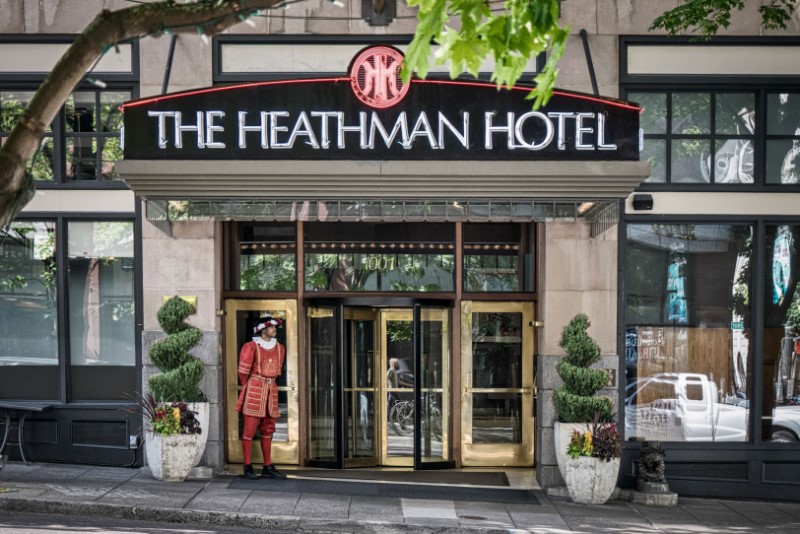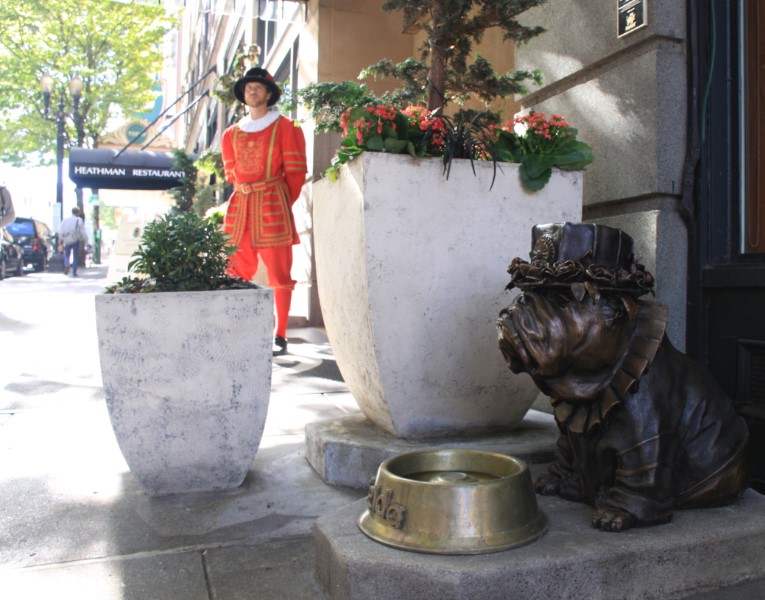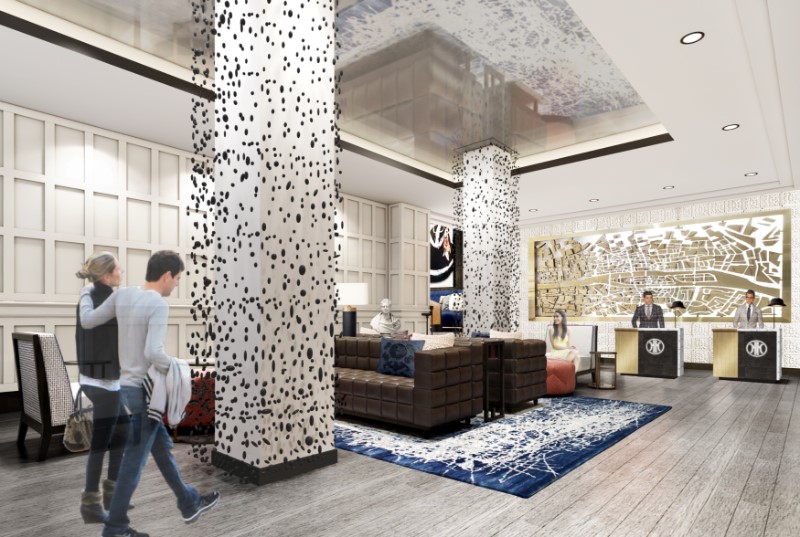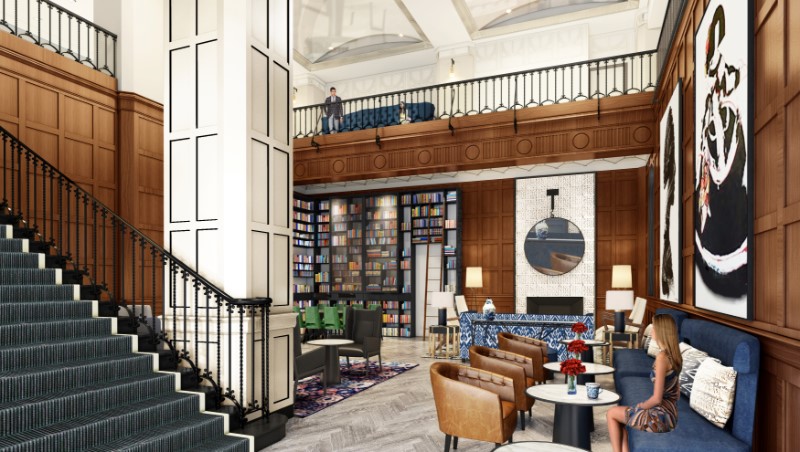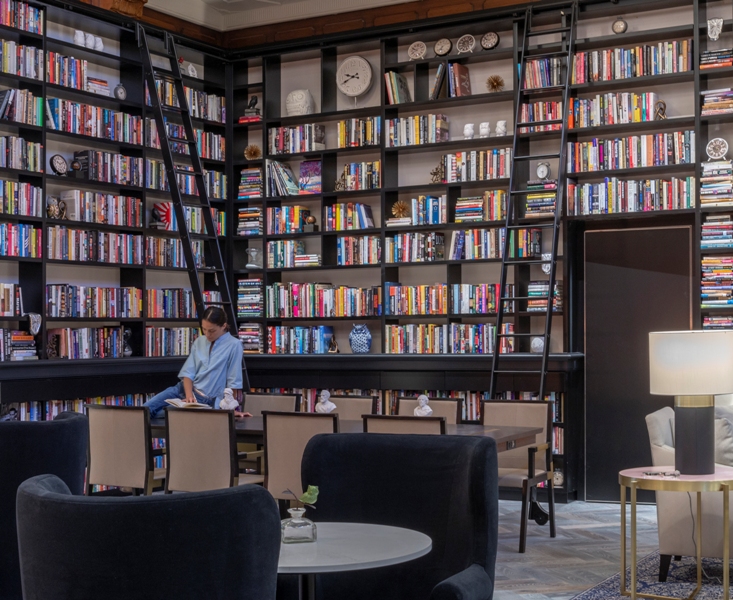 The Grand Suite with the "Life Affirming" Couch.