FSOG BOOK LOCATION WSU Campus in Vancouver Washington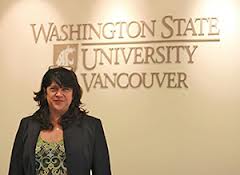 WSU Vancouver was founded in 1989 and is one of the four campuses in the WSU system. The main campus in Pullman was founded in 1890 and is Washington's original land-grant university with a mission of improving quality of life. The other two urban campuses are located in Spokane and Tri-Cities. While researching about the school on their website I came across an article written about FSOG and its connection to the school located in Vancouver, WA. You can read it at  Fifty Shades of Fact and Fiction.  I visited the campus during the later winter months so the weather was a bit gloomy and not springtime. I may have to head back for another visit soon.
Update: Fifty Shades of Grey author E. L James visited the campus in summer of 2013 while on a trip through Portland. Shed enjoyed some fun with the college faculty while touring the campus. She has stated that she used this campus because it had the correct academic majors for Ana. Its a beautiful campus to visit especially on a bright sunny day.
Lots more photos in the Photo Gallery.