DITA VON TEESE RESPONDS ABOUT HER PHOTO IN FSOG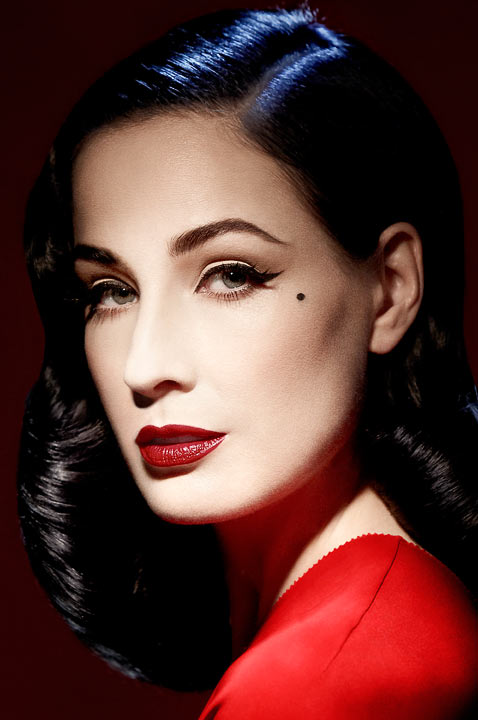 I recently sent an email for confirmation that this photo shown in the movie is that of Dita Von Teese. I was excited to receive this information back from her describing the photo that was used for the movie when Ana searches in her computer for "submissive".

From Dita:
"Back in the early 90s, I was known for starting the trend of creating retro-style style pinups and vintage-style bondage photos. The photo used in the film is from one of the many of bondage photo stories taken for the members-only area of www.dita.net. Thousands of these kinds of photos of me are still available there on the archives for members. This particular photo was part of a set taken by Jim Weathers, a very reputable bondage expert, and a good friend. I wanted to do a set of photos inspired by my favorite 1940's erotic artist, John Willie. I suppose Fifty Shades of Grey liked this photo because it depicts authentic bondage but doesn't show any nudity."
Here is more information about Dita and her career:
Born Heather Sweet in West Branch, Michigan, Dita Von Teese grew up fascinated by the Golden Age of Cinema, pin-up imagery, and vintage lingerie. This naturally blond, mid-western girl then transformed herself into a glamour girl like those she admired. Performing striptease since 1992, she is the biggest name in burlesque in the world since Gypsy Rose Lee and is credited with bringing the art form back into the spotlight with a new sense of elegance and sophistication.
Taking audiences on a journey into fantasy and spectacle, Dita is renowned for her ornate sets and dazzling haute-couture performance costumes adorned with hundreds of thousands of Swarovski crystals. This "Burlesque Superheroine" (Vanity Fair) is the performer of choice at high profile events including those for designers such as Marc Jacobs, Christian Louboutin, Louis Vuitton, Chopard, and Cartier, and was the first guest star in history at Paris' famed Crazy Horse (established in 1951) where she has performed several sold-out runs. Dita also brought burlesque to prime time television in the States when she appeared as a guest star on CSI and performed her classic Martini Glass show in one of their highest rated episodes to date which was billed as "too hot to handle."
In addition to her burlesque shows, Dita is a self-styled fashion icon, topping best-dressed lists all over the world. Featured on Vanity Fair's International Best Dressed List 2013, Dita has recently expanded into her own distinct brands. Her lingerie collection debuted exclusively with Bloomingdale's in the U.S. in March 2014, and has expanded to other popular U.S. retailers such as Nordstrom, Dillard's, Barenecessities.com and Journelle. It is also available internationally in prominent retailers such as Myer in Australia, as well as globally via online sites Glamuse.com and asos.com.
Dita also recently launched a luxury glove collection available at Justoneeye.com and Ikram.com. She also recently collaborated with optical giant Dita Eyewear on her very own collection of signature sunglasses, Dita Von Teese for Dita. Her fragrance collection offers four award-winning glamorous scents, including her latest, "Erotique," all available at Ron Robinson in Los Angeles, at dita.net and beautylish.com. Dita is also a best-selling author currently working on her third book, "Your Beauty Mark," a guide to eccentric glamour. (It! Books/Harper Collins).
She previously served as the global ambassador for Cointreau from 2007-2013 and in 2010-2011, she was also the face of Perrier for an exclusive set of limited edition bottles and cans. An advocate in the fight against HIV and Aids, Dita was a MAC Viva Glam Spokesperson from 2006-2008 and in 2009 she participated in the H&M/Fashion Against Aids t-shirt campaign. She has also performed and appeared at several events for Amfar and was honored with their Award of Courage in 2008. Her status as a burlesque star and modern-day feminist has also garnered her an invitation to speak at the Oxford Student Union, where other elected speakers have included the Dalai Lama, Mother Teresa, Tony Blair, and Anna Wintour.
Dita recently presented her final U.S. tour dates for her full-length revue, "Burlesque: Strip, Strip, Hooray!" presented by Live Nation. Featuring MC Murray Hill and a who's who of burlesque, the 90-minute variety show played to sold-out crowds in Los Angeles, San Francisco, Chicago, and New York. Visit stripstriphooray.com for more information.
For booking inquiries, please email inquiries@dita.net
For publicity inquiries, please contact publicity@dita.net
There are many more photos and information at dita.net