FSOG BOOK LOCATION ESCALA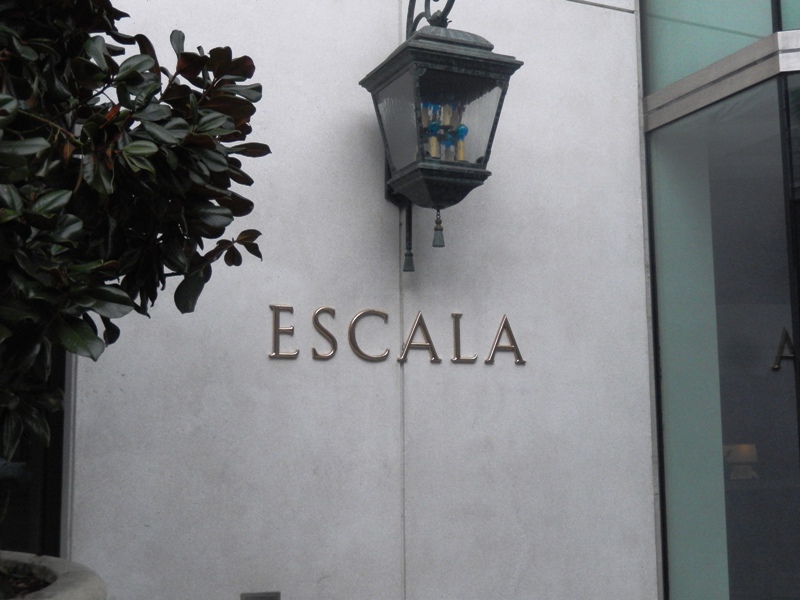 Escala is the residence of Christian Grey in Seattle. It is used by Christian and Ana in all three of the Fifty Shades of Grey books. It's where he brings her the first night they are together. Its where she leaves him at the end of the first book. Its where he has his "red room of pain/pleasure." Its serves as Christians "castle in the sky". They eventually leave Escala to live in their new home but keep it for other uses.
There is a real Escala located in Seattle and it is a very opulent  and expensive high rise condo building. You can read more Escala details here. When I visited my first question was about a roof landing pad for Charlie Tango. Sadly, I was told there is not. There is however, an underground parking garage with a lift gate for security. Its used frequently in the books. I just had to watch some of the residents come and go.
"We're in an all-white foyer. In the middle is a round, dark wood table, and on it is an unbelievably huge bunch of white flowers. He opens the set of double doors, and the white theme continues across the wide corridor where directly opposite, is the entrance to a palatial room.  Huge is too small a word for it. The far wall is glass and leads onto a balcony that overlooks Seattle."
"There is a dining table surrounded by sixteen chairs. And tucked in the corner is a full-sized shiny black grand piano. There is art of all shapes and sizes on all the walls. In fact, this apartment looks more like a gallery than a place to live."
"Taking a deep breath I walk in. And it feels like I've time-traveled back to the sixteenth century and the Spanish Inquisition.. Holy F…."  "The first thing I notice is the smell: leather, wood, poish with a faint citrus scent."
"He waits, staring out the window, master of his universe, looking down at the little people below from this castle in the sky."
Fun in the elevator ends with Taylors comment: "Problem with the elevator?"   Then there's the time Christian "goes thermonuclear Fifty on me-" while they are at Escala.