EXCLUSIVE MOVIE LOCATION FAIRMONT VANCOUVER LT. GOVERNER SUITE AS HEATHMAN SUITE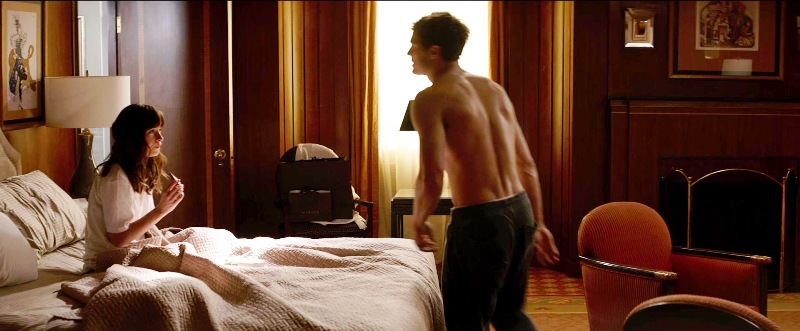 For the movie version of Fifty Shades of Grey the production team decided to use The Fairmont Vancouver as The Heathman in Portland. Christian and Ana stay at the Heathman several times throughout the series. The first is when Christian stays there when he comes to Portland to see Ana once again after the interview takes place in Seattle. They also have their first night together after her drunk-dial from a bar in Portland. The movie trailer includes a clip of this scene with Ana in bed and Christian returning from a morning workout.
I recently had the opportunity to visit The Fairmont Vancouver and step inside the room they used for filming this bedroom scene. When I arrived at the hotel I was met by two people from the hotel who took me on a tour of all the areas used for filming in the hotel. My first impression when they opened the door to this room was how dark and rich the room was with dark red and brown colors. It is completely paneled in a dark wood that wraps around all the walls. The room is usually used as a sitting area off of a bedroom and is currently furnished in dark red couches and chairs. There is a fireplace against the wall between the two windows which has a large mirror above it that was taken out for the filming. The production team took out most of  the furnishings and replaced them with a bed. The photos on the walls behind Christian and Ana were different too. They did keep two of the round back red chairs.
Lieutenant Governor's Suite was the guestroom where they filmed the bedroom scene in…
Featuring a traditional, distinguished decor, the Lieutenant Governor's Suite, on the 14th floor of The Fairmont Hotel Vancouver features a sitting area, a dining table that seats four, and an ornamental fireplace. South view facing the city and False Creek with beautiful city lights at night.
This room is located on the 14th floor of the hotel and this whole floor has been restored to a more art deco style. It is evident in the use of rich colors, gold features and shiny surfaces throughout. Best part of this room is the secret door which connects to another room. It is hard to see because it is cut along the lines of the wood paneling. When you look at Ana in bed you can see that they kept the door open to the right that leads to the actual bedroom off this suite. They did not do any filming in the adjoining rooms or bathroom.
Thank you to The Fairmont Vancouver for providing some of their photos as the room was very dark for photo taking. This room was used as the Grand Suite at The Heathman Portland. More photos are at the Photo Gallery.
More of the Fairmont Vancouver.