EXCLUSIVE MOVIE LOCATION FAIRMONT VANCOUVER ELEVATORS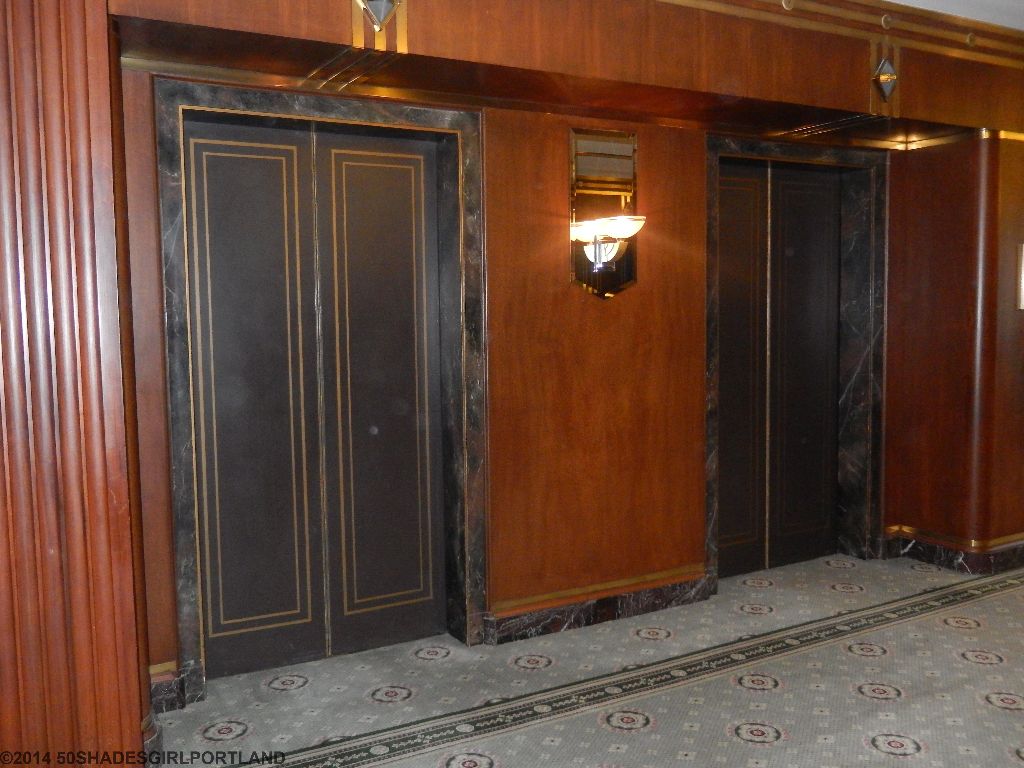 My first post on the elevators at the Fairmont Vancouver was done after I had visited the Fairmont in February. I was only able to access the elevators that were on the main lobby floor. I did not know at the time that they had filmed the elevator scenes for the movie on the 14th Floor. When I now returned and had a tour of the 14th Floor I immediately recognized the black and gold elevator doors from the movie trailer. When I saw the trailer I was puzzled because the interior of the elevator was the same as I had seen but the closing doors were different. It turns out that each floor of the hotel has a set of different coordinated elevator doors.
On the 14th floor there are actually 8 sets of elevator doors. They told me the story that when the hotel was built they had to hurry to be ready for a visit from the Queen and installed an extra set of elevators. They later did not need the extra elevators so the 2 sets of elevators are not used. The only place you can see the extra set of black and gold doors is on the 14th floor. The rest of of the hotel only has 6 sets of doors. In keeping with the art deco theme on the 14th floor these elevator doors are done in black with gold trims. For the movie they covered the back mirror wall of the inside of the elevator and changed out the photo hanging on the side walls. The inside and outside of the elevator is just as they are at the hotel. The production crew set up in the large area in front of the elevator doors on the 14th floor and filmed the scene right there with more beautiful floor coverings and lighting. The elevators are just around the corner from the suite they used for the Heathman suite. The Ballroom used for the photoshoot is located on another floor of the hotel. The trailer shows Christian going after Ana in the elevator and pushes her up against the back wall. You can see the wood walls and a sign on the wall next to them. "During a day of filming at the historic Fairmont Hotel in Vancouver, director Sam Taylor Johnson choreographs key scenes in an elevator."
Today Show BTS More photos of the elevators in the Photo Gallery
More Exclusive Inside The Fairmont Vancouver.
New Superbowl clip of the elevator at The Fairmont as The Heathman. Funny because they only filmed this on the 14th floor. The black/gold doors are only on that floor.