FS DARKER FASHION: PART 4 Inside Ana's Closet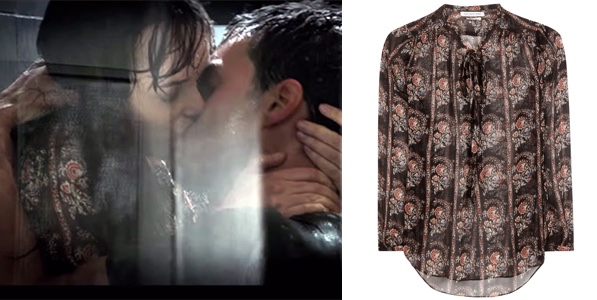 Part 4 article in Oncreenstyle.com covers several of the main pieces we see Ana wearing during Darker. Beautiful new coats, dresses and other accessories as well.
Fifty Shades Darker Movie Fashion: Inside Ana's Closet
You've already gotten the fashion dirt from Fifty Shades Darker Costume Designer Shay Cunliffe on Anastasia Steele's (Dakota Johnson) masquerade ball look and red engagement dress, but what about the rest of the movie when the heroine wasn't in her special event best?
Shay says that it's Ana's "new circumstances" that dictated her wardrobe in the sequel.  "She's no longer a college student and needed to start dressing like a young woman out in the job market, [so I put] a slightly more professional spin on her look with the benefit of a full time job's paycheck."
However, the Costume Designer recognizes that she took some liberties with Ana's publishing-house-assistant closet. "I admit that some of the pieces we used would probably be out of the price range of the average starting-out job," Shay told me in an interview. "But to compensate for that, we repeated some key pieces such as coats."
Above all, Shay hoped to take what Costume Designer Mark Bridges did in Fifty Shades of Grey and add a layer of maturity to it. "I was very grateful that Mark had created such an authentic ingenue look for Ana— he didn't glam it up in an unrealistic way. This allowed me to just make small changes to tell my part of the story."
And readers, you should know that her part of the story doesn't end with FSD — she was also the costumer on the set of Fifty Shades Freed. The only hint Shay would give about the final movie in the trilogy was a tiny one, but it's still a hint! "We filmed both movies simultaneously, and some of my favorite looks are in fact yet to come, but my lips are sealed!
*****

ANA'S BURGUNDY DROP WAIST SHIRT DRESS WITH BLACK PLACKET:
By The Kooples (This was a Bloomingdale's exclusive dress and is no longer available) "One of my favorite looks," Shay said. "And I appreciated how it could be put on and removed on camera." Also, take note, fans, she revealed this hint: "We revisit this dress later in the series."
GET THE LOOK:
1. This dress is also by The Kooples and looks identical to Ana's!
2. Armani Exchange dress
3. Tommy Bahama Dress

ANA'S BLACK LACE-SLEEVE WRAP DRESS:
By Diane von Furstenberg (<– hurry there are a few sizes left, and it's 59% off!)
"This was a very last minute purchase for a tricky scene which, per the script, culminated in a bit of a striptease at a pool table," the costume designer recalled. "As it turned out, that scene didn't make the final cut…but we had worked up many options to deal with the wardrobe requirements of getting your clothes off, on camera, in an attractive way."
GET THE LOOK:
1. BooHoo Dress
2. Max Studio Dress

ANA'S CREAM CABLEKNIT SWEATER ON CHRISTIAN'S BOAT:
This is actually a men's sweater from Club Monaco (no longer available)
GET THE LOOK:
1. Tommy Hilfiger sweater
2. Chunky sweater <–love the feminine details on this
3. Land's End Sweater 

ANA'A TAN BROWN TRENCH COAT:
Sandro Malory Trench (no longer available)
GET THE LOOK:
1. Forever 21 Trench Coat 
2. New York & Company Trench

ANA'S HOODED MAC TRENCH COAT:
By A.P.C.
GET THE LOOK:
Lauren Ralph Lauren Trench 
Tommy Hilfiger Trench

ANA'S RED LEATHER TOTE BAG:
This is the Want Les Essentiels Logan Tote in burnt umber (no longer available in that shade, but you can still purchase this exact style in other colors here)
GET THE LOOK:
1. Gianni Bernini Tote in "Wine"
2. Liebskind Tote in Red
3. Madewell Tote

ANAS NAVY BLUE POLKA DOT DRESS:
"We fabricated the sheer polka dot dress after trying a similar one I had purchased from Polo Ralph Lauren," Shay said of her custom design. "We screen tested the key wardrobe selections a few days before filming started, including the Polo dot dress, which would work on the first day of shooting. To my horror, we realized that the dots were too close together for the camera and would 'moiré' or strobe. It was a race against time to find a similar fabric with larger and more widely spaced dots, and to recreate the dress!"
GET THE LOOK:
1. QED London Dress
2. Christin Michael Dress (<– nearly an exact match but in black & white!)
3. Maison Jules Dress

ANA'S WINE/PURPLE SHEATH DRESS WITH EXPOSED ZIPPER WORN AT ART GALLERY:
Your eyes don't deceive you — this is the same dress we saw her in in Fifty Shades of Grey. In fact, the costumer pulled it straight from the studio archives. "It was scripted that she would repeat use of this dress," Shay explained, "and I was also very keen to repeat some pieces from the first movie by way of a through line."
[Note: FSoG Costume Designer Mark Bridges custom designed this dress based off of a Roland Mouret design]
GET THE LOOK:
Adrianna Papell Cap Sleeve Dress
Alexia Admor Sheath (<– such a good match!)

ANA'S DARK NAVY BLUE SILK/SATIN TANK DRESS:
This is by Helmut Lang, and I couldn't find an official product page for it except for this online consignment page (yep, there was a used XS available for only $75 when I checked!)
GET THE LOOK:
1. Get the maxi version of this same Helmut Lang dress and have it hemmed!
2. This one from Everyone is almost a perfect match only it's black
3. This one is cotton, but still super cute and affordable

ANA'S TURQUOISE DROP-WAIST, TEXTURED DRESS:
The fit-and-flare dress by Alaïa (no longer available) was the most expensive piece in the character's wardrobe. "This dress was the one piece we used which the character could really — NOT EVER!  —have afforded," Shay exclaimed. "It had a fabulous swing and fit, and according to the script, we would see Ana walking the length of the office in it. Sadly this didn't happen and I feel it was an underused outfit."
GET THE LOOK:
1. Ellen Tracy Dress
2. BB Dakota Dress

ANA'S SHEER BLACK, FLORAL-PRINT BLOUSE WITH TIE NECK (WORN IN SHOWER):
By Isabel Marant (no longer available) "Again, a very last minute purchase," Shay explained. "The shower scene was a late addition to the script and we were obliged to redo Ana's costume in the
bar to accommodate what was going to happen to the outfit later in the shower. We needed LOTS of [these shirts]!"
GET THE LOOK:
1. Elie Tahari blouse
2. Mo: Vint blouse
3. Kate Spade blouse
*****
Thank you to onscreenstyle.com for sharing all this wonderful fashion information from FS Darker. You can read more at their website.