FS FREED FILMING AT BENTALL 5 AS GREY HOUSE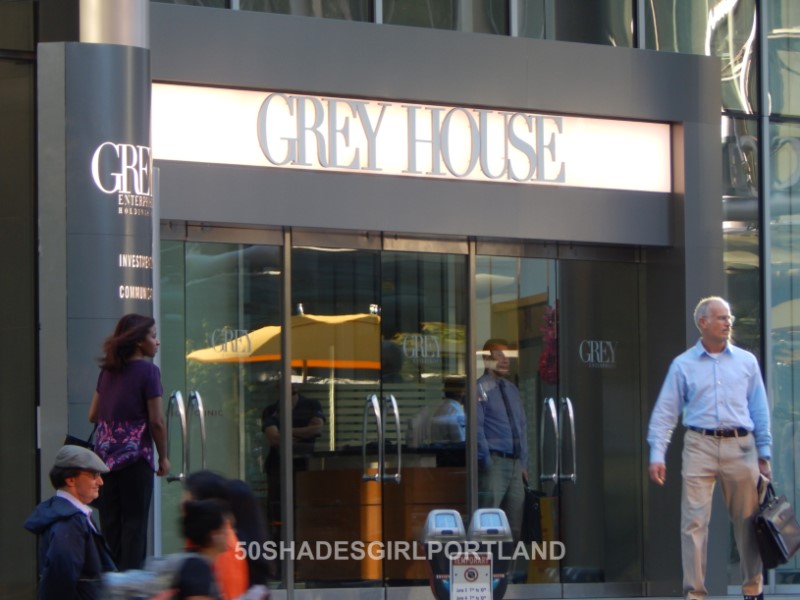 The Fifty Shades production team did filming once again at the Bentall 5 building front entrance as GREY HOUSE. In the first movie the Bentall 5 building is used only for the front exterior entrance for Christian Grey's workplace. They showed Ana's arrival from Portland and later her leaving after the "contract" meeting. They filmed other parts of Grey House in Jameson House and his office set at North Shore Studio.
The 2nd unit filmed in several locations on June 4th, starting with Grey House in downtown Vancouver. They began installing the signs in the afternoon. I didn't realize that the three major parts of the signage included its own lighting. As the afternoon went into evening it was easy to see the Grey House become brighter.
The filming started around 5:00 pm and went on for a couple of hours. It included no actors but did include up to 50 background people leaving the building and walking across the outside entrance area. I believe it was filming for background only for the movies. The background people were mostly dressed in business attire. It was interesting to see them bring Grey House back to life.
Production Designer Nelson Coates was at the location overseeing the work and was kind enough to chat for several  minutes. He said he is very "excited" for the movies and excited for the fans to see them. His work on the movies includes developing the visual concept of the films. He works to identify a design style for sets, locations, graphics, props, lighting, camera angles and costumes, while working closely with the director and producer. I can't wait to see all his work on the big screen.
This is all 2nd unit with no actors.