FS DARKER FILMING CASA MIA APRIL 15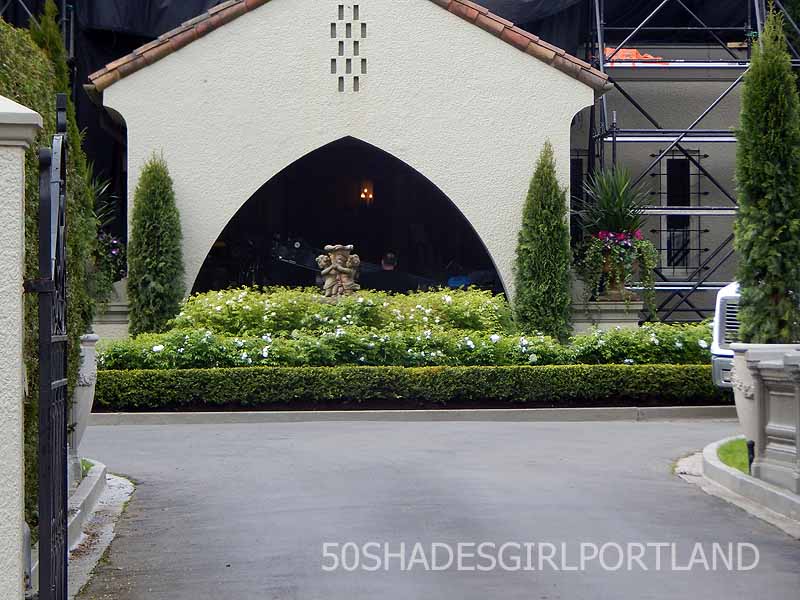 Today was the first day of filming in the Grey Mansion as set up at Casa Mia. This beautiful location was also used as the Grey Mansion dining room in the first Fifty Shades of Grey movie and will now continue to be used once again. There are several scenes from the books Darker and Freed that will be filmed here. The biggest will be the Masquerade Ball which will include the full cast plus several extras. I was told that today's scenes were taking place inside the mansion in one of the bedrooms.
The crew work on the mansion started several days ago with lots of construction behind the house. They also did some landscape work on the front circle area just in front of the main entrance. The front of the mansion has now been draped in black tarps to cover the main windows and they also covered up some of the smaller windows as well that are located at the main section of the house. I believe this is to make it dark like night inside.
Today on set was Jamie and Dakota and also the Fifty production people James Foley, John Schwartzman, Marcus Viscidi and Nelson Coates. It was pretty chaotic early in the morning as the large trucks were arriving to drop off equipment. The driveway leading into the property is the only main entrance so several trucks were parked on the busy street. Two police officers were on hand to help with the traffic and moving trucks and people across the road. The crew showed up later morning and the filming started after 2:00 pm.
This will be the same set up location for the next week of filming.
More Filming at Casa Mia:
April 15
April 18
April 19
April 20/21 The Masquerade Ball