FS FREED Filmed Roquebrune Cap Martin France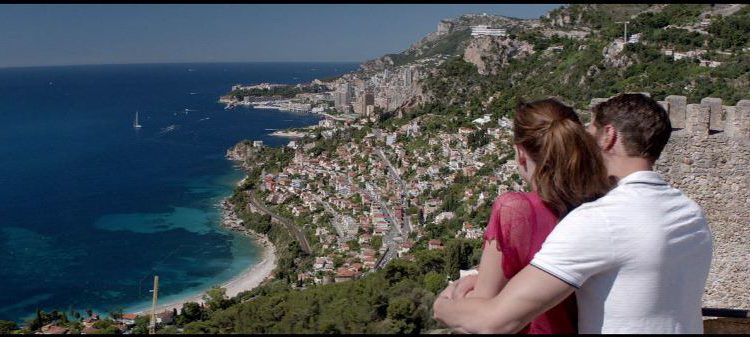 One of the stops for Fifty Shades Freed filming in France was the village and castle at Roquebrune Cap Martin. Sitting high atop the city overlooking the water is the castle and medieval village with many winding walkways for Christian and Ana to explore. The production  spent a full day here filming with Jamie and Dakota walking in the village and also some beautiful photos of them high up in the castle overlooking the city  and water below. They used this scene in the first look of FS Freed out on the FS Darker extras. There were several photographers around for the filming and you can easily find photos from the day online. Ana has on a lovely red dress while filming here. From photos that were released it looked like the production crew/cast also had a lovely lunch break at one of the resort restaurants in the village.
Here is more information of the area from their website:
Built in 970 by Conrad I, Count of Ventimiglia, the castle had to defend the western frontier of the feudal domain and prevent any possible offensive return, land or sea, of the Saracen hordes that traversed the area. The fortress then included the entire village. In the 15th century, the Grimaldi increased the military power of this dungeon. Sold as national property in 1808 to five citizens of Roquebrune, it was sold in 1911 to a rich British tourist, Sir William Ingram. It began to work there but eventually gave the castle to the municipality in 1921. Overlooking the medieval village, the visit of the castle allows to walk the narrow streets full of characters, sometimes dug out of the rock.
Not to be missed in Roquebrune village: the laundry, the Place des deux Frères, the church of Sainte Marguerite, the forge replica, Montcollet street, Capitaine Vincent's place, the Millennium olive and of course the castle. Magnificent panoramas.