FSOG COSTUME DIRECTOR MARK BRIDGES SPEAKS OUT ABOUT CHRISTIAN GREYS SUITS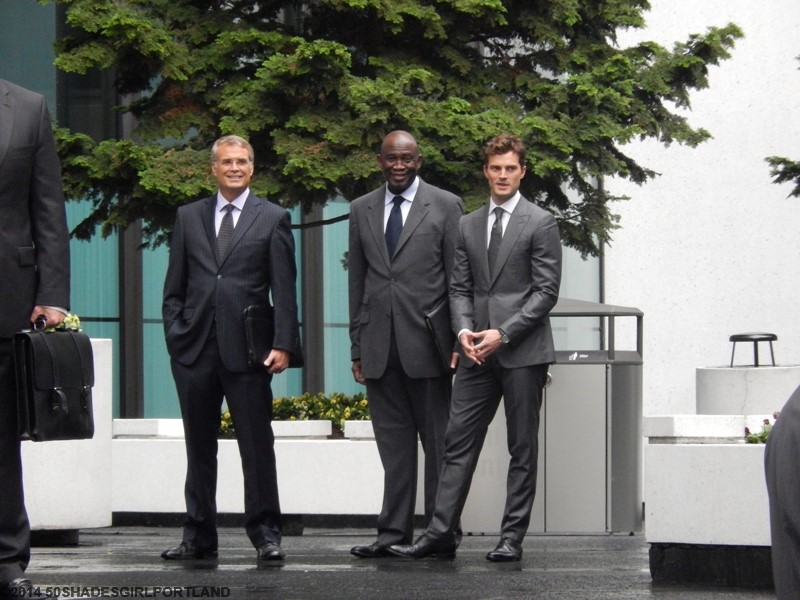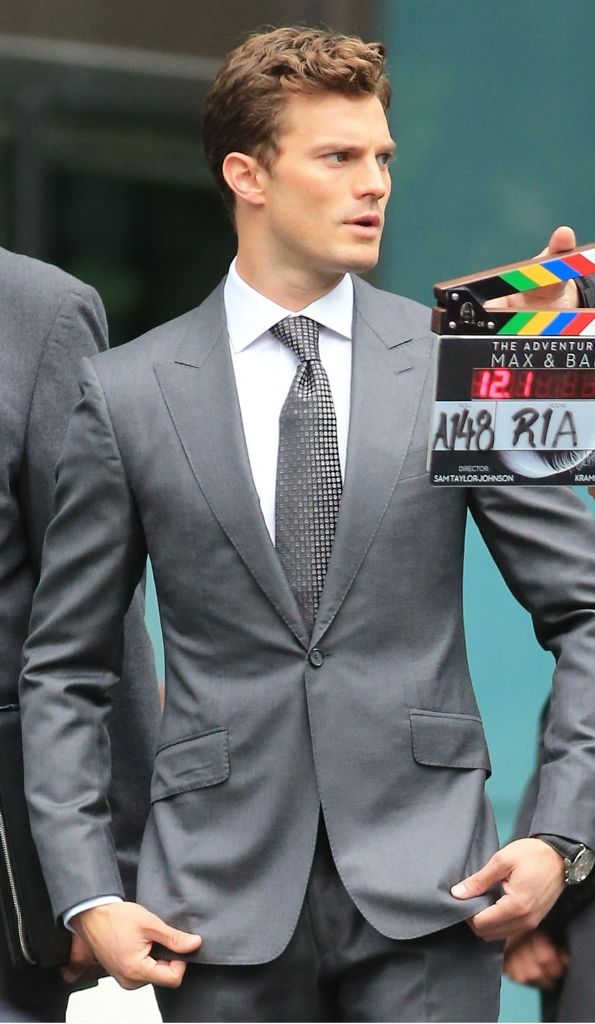 Costume Director for the movie Mark Bridges recently did a great interview with news.com.au in which he talks about his choices for Anastasia and Christian Grey. When I visited the reshoots in October I had the chance to meet him. He was on set at both the locations the first day of reshoots managing the many extras that were used. Him and his assistant were busy working with accessories and clothing for them all.
I did notice the strong difference in the suits they had Jamie wearing for Christian Grey. The first location suit was lighter in color and weight. He also had his silver/gray tie on for that scene where he sees a text from Ana. The second location was filmed for him leaving Grey House his office. His suit was darker in color and more severe of a cut. I later was able to see and match it with what he is wearing in the trailer when he meets her in his office for the first time.
Mark Bridges talks of his tranforming the colors and textures of Christians clothing through the movie. When I saw them filming the glider scene for Georgia Jamie is wearing casual khakis and a shirt. Dakota wears a lot of green tones throughout. Its a great article on his choices and instincts for the costuming.
My friend found this article so thanks to her!
You can read the full article here.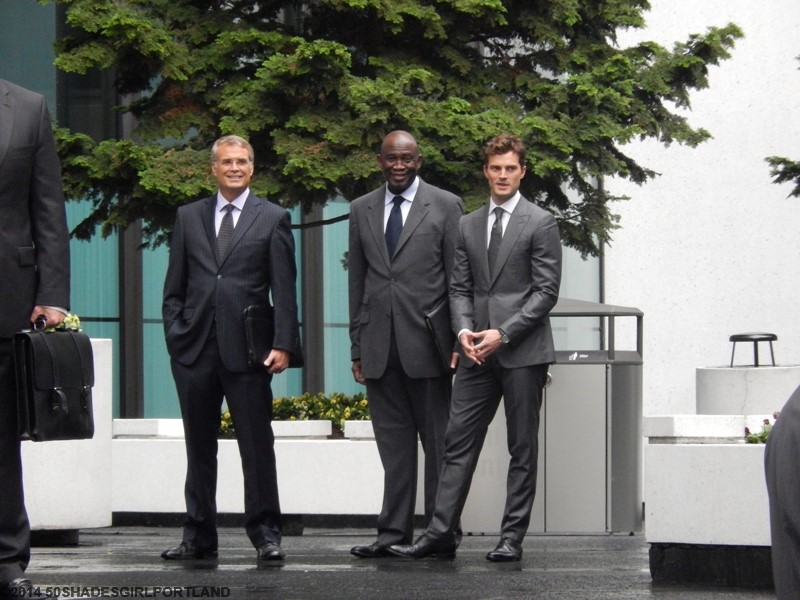 Sure, Dornan gives his brooding stare and chiselled jaw a workout in director Sam Taylor-Johnson's Fifty Shades (if the trailers are anything to go by).
But it is his made-to-measure suits and ties, created by Oscar-winning costume designer Mark Bridges, that are catching the attention of the fashion world.
While the racy sex scenes leave Dornan and co-star Dakota Johnson (who plays Anastasia 'Ana' Steele) sans clothes, there is a certain "look" to the movie when they are actually wearing some — clothes, that is.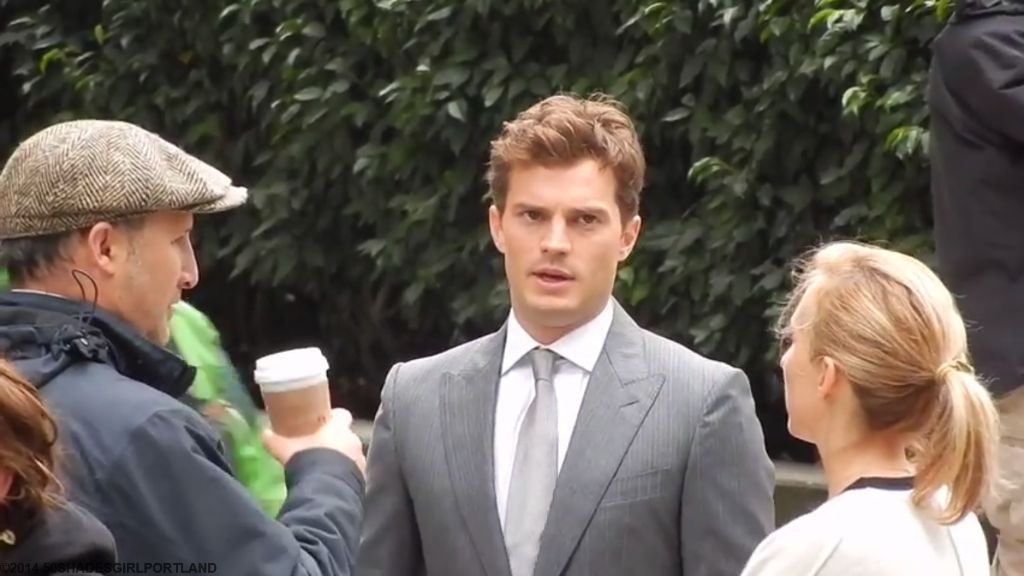 MORE THAN JUST A SUIT AND TIE
 They say a suit makes the man. And Bridges said there is hidden meaning in the suits Dornan wears as Christian Grey, which obviously includes a lot of actual "grey".
"He starts out very straight forward and business-like in grey … the first of many shades of grey," Bridges said.
"It goes from varying tones of grey for the first couple of suits to a navy and then when … you understand that she's changed him, he wears something completely different that we hadn't seen him at all."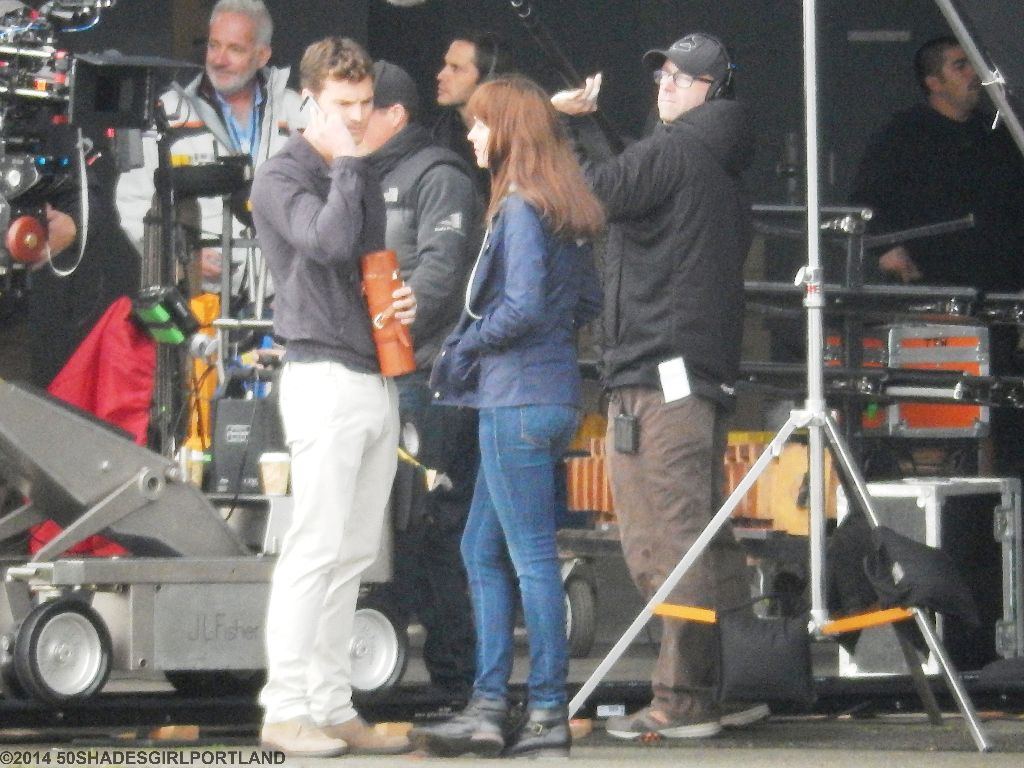 The cut of Dornan's custom suits — of which about a dozen were made, with some made in multiples — are form-fitting and lightweight.
"The fit changes as it goes on. It's very uptight at first, very protective, and then as he emotionally starts to relax, you see his suit and the fit of his clothes change."
Apart from a Charvet tie, most of the neck wear was made-to-order for the movie.
 "Some of them were purchased … but not the main tie that was sort of fetishised — that was made in Beverly Hills," Bridges said.
"There are little signals in some of the ties … sometimes, the motifs kind of subtly suggest what's going on in his mind.
"But I think at the most part, it's a luxury of texture, a luminescent quality, without ever taking away from his face."
DRESSING LIKE DAKOTA: JEANS, CONS AND KEDS
While Jamie Dornan's wardrobe is all about the suit, Dakota Johnson's is more playful for her role as Anastasia 'Ana' Steele.
The book spells out specific style look for Ana — that she wears "a blue jacket", "sensible brown knee-length boots" and is a "Converse and T-shirt kind of girl", according to US Vogue.
Bridges said he "stuck to" what was in the text, along with a few suggestions from Johnson.
"There's footwear that's mentioned in the book that we sort of stuck to, I think viewers expect that — the Converse, and we also branched out into some Keds as well, which was Dakota's suggestion and I happened to like them," Bridges said.
 "We maybe see her get undressed once. I used very simple, cotton, lace-trimmed … pretty, college student lingerie," Bridges said.
"We used some Stella McCartney — she's friends with Sam (Taylor-Johnson) and she provided us with some very beautiful things.
 "It's like you've either got clothes on, or you don't. That's middle ground of underwear doesn't really happen a lot in the story."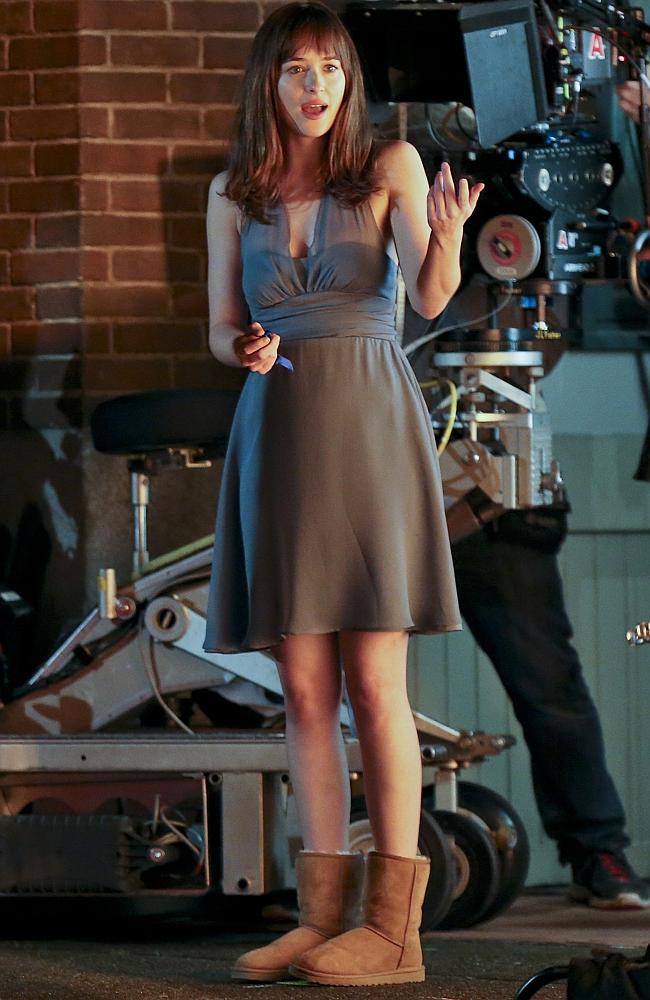 Even Anastasia's casual looks were custom-made.
"There's a peach dress, there's a grey dress that she graduates in, those were made for us for the film. There's a silk robe we made that for the film.
"One of them was inspired by a designer dress that we saw that fit her well but the colour wasn't right, so we had to remake it in a light colour, for the emotion of the scene.
"Also, there's a story point where she borrows her more well-off room mate's clothes, so that gave us a little attitude.
"Anyone who's familiar with the story from the book knows it's not just her closet we're working with.
"I tried to make it young … but still say something about where her head's at."
Fifty Shades of Grey is out in Australia on February 12.
Here's a photo of costume director Mark Bridges on the set of the reshoots in October.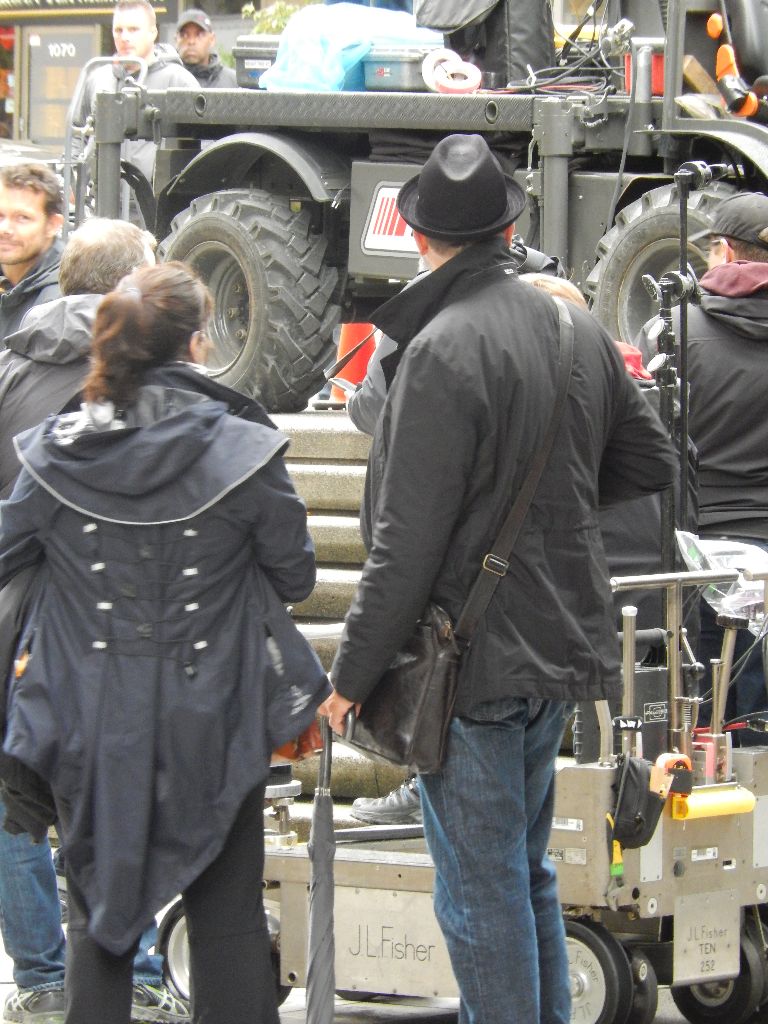 © 2015 – 2017, 50SHADESGIRLPORTLAND . All rights reserved. All information and materials contained on this website including text, photos, and logs are for the exclusive property of 50shadesgirlportland.com. Content cannot be reproduced, distributed, transmitted, displayed or published without consent from the author of the website.