FSOG MOVIE GRADUATION UBC CHAN CENTRE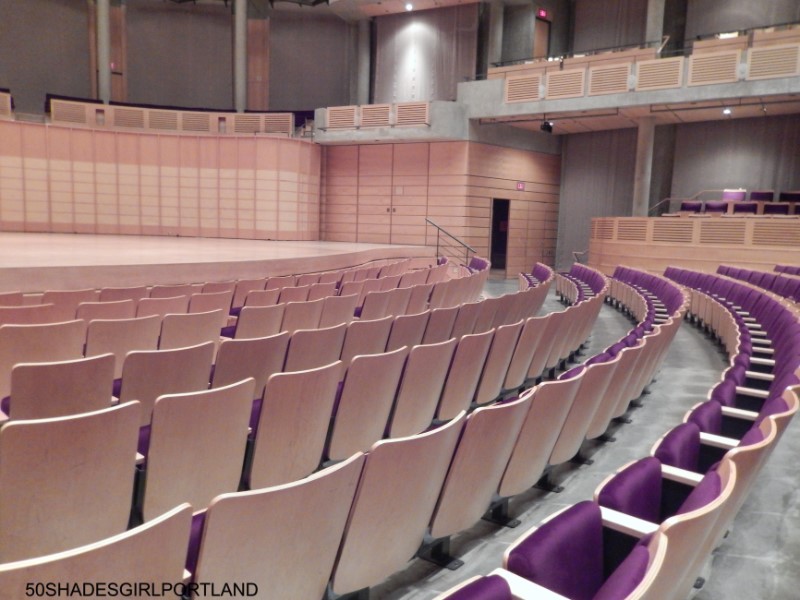 When filming FSOG the production spent several days on the campus at the University of British Columbia. They filmed at 8  different locations on the campus and I was able to visit 7 of them. The also displayed WSU banners around the university where they were filming. The locations used were The Chan Centre, Peter Wall Inst. parking lot, Frederick Wood Center, Liu Institute, Irving K Barber Building,Student Union Building parking, MacMillan Land & Food, plus another classroom on campus.
The most prominent location is the graduation scene filmed inside The Chan Centre which is located at the north end of the campus. The shape of the hall takes its inspiration from the cello. Its blond maple curved walls, which resemble the contours of the musical instrument, assist in providing an even distribution of sound. The hall seats over 1100 in the audience. It was built for musical performaces. You can read more about the Chan Centre at their website. The filming took place inside the hall with several hundred extras. Tents were erected on the surrounding grounds to accommodate the many extras and crew involved with the filming.
Upon entering the Centre you first notice the glass walled reception area that circles the hall. There are also other smaller performance rooms within the centre used for theatre. They have a full schedule of events throughout the year.
Thank you to The Chan Centre for their tour of this beautiful venue. You can contact them to arrange tours.
You can read about the other UBC locations used for filming here:
Frederick Wood Center
Irving K Barbur Bldg.
The Liu Institute
MacMillan Bldg.
Parking Lot with Jose/Ana
Student Union Parking Lot
The Chan Center