FSOG MOVIE NEW CAST MEMBER
Looks like another cast member for the movie. It came out at the Godzilla premiere from the director Sam Taylor-Wood herself. It will be fun to see where he ends up in the movie cast. There are still a few roles to fill for the next two movies like Ethan. Here is the article from Access Hollywood:
"Fifty Shades of Grey" appears to have one last cast member joining the racy big screen version on E L James' best-selling erotic novel – Aaron Taylor-Johnson!
According to "Fifty Shades" director Sam Taylor-Wood, her 23-year-old husband, who is currently starring in "Godzilla," will also appear in the movie, at least in some capacity.
Access Hollywood chatted with Sam and Aaron on the red carpet at the "Godzilla" premiere in Hollywood on Thursday night, where she revealed his inclusion in the film.
"Have you found a way to get Aaron in the movie?" Access asked the director at the premiere.
"Actually, I have," Sam said with a laugh after momentarily hesitating to answer the question.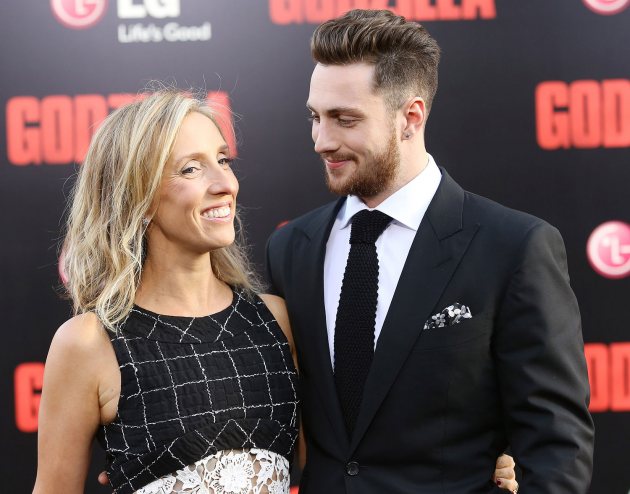 (Sam Taylor-Wood and Aaron Taylor-Johnson at the premiere of 'Godzilla' on May 8, 2014 in Hollywood)
Sam didn't reveal anything further on what role Aaron – who she married in June 2012 – would play in the S&M-filled film.
The director also gave Access and update on the making of the highly anticipated movie, which stars Jamie Dornan and Dakota Johnson.
"It's going good," she explained. "I'm editing it right now, so I'm deep in the thick of it."
When asked if the movie has turned out like she wanted, the 47-year-old director told Access, "Absolutely. Yeah. I'm excited."
"Hush, hush. Don't give anything away yet," Aaron chimed in.
"Fifty Shades of Grey," which also stars Rita Ora, Marcia Gay Harden, Max Martini and Luke Grimes, will hit theaters on Valentine's Day 2015.
— Jesse Spero