FSOG MOVIE RED ROOM PIECES FOUND IN VANCOUVER BC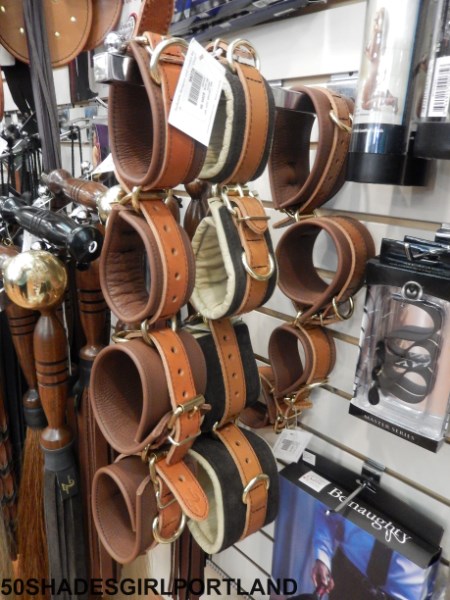 During the interview I did with Gord he mentioned where his pieces are available in Vancouver BC and Seattle. While in Vancouver BC I decided to pay a visit to the store here to be able to actually see what he made for the movie. He mentioned that he had to distress the pieces so it looked like Christian had already used them.  These pieces in the store are exactly like he made for the movie but are brand new condition. They all have the distinctive three grooves around the handles.  I found the Large flogger and the cuffs like used for Dakota. The cuffs come in a set of 4 with a price of just over $200.00.  The Large flogger was also over $200.00  They did not have the riding crop but they did have several other pieces like we see in the movie including a beautiful leather whip. They said that his pieces were selling very well.
Gord has his pieces under the name Bound2Please and his new website should be up soon to special order them as well. Thanks to Little Sisters store in Vancouver BC for allowing my photos and sharing information. You can read my interview with Gord and see more about the custom pieces made for use in the Red Room of the movie at my earlier post.