FSOG Screenwriter Kelly Marcel Talks Jamie Dornan's Performance
This article was just released from E NEWS.  Its just too fun to read what Kelly Marcel has to say about Jamie Dornan and his performance in Fifty Shades of Grey.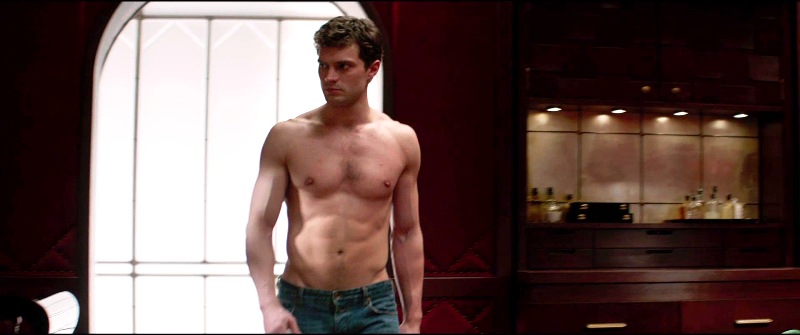 Fans can expect an Oscar-worthy performance from Jamie Dornan in Fifty Shades of Grey—that is, if there was an Academy Award for Best Sexual Performance in a Film (and there really should be).
Screenwriter Kelly Marcel joked that the actor's sexy scenes in the highly anticipated film adaptation are worthy of a golden statue (cue the excitement squeals!), while appearing at a Q&A at DBA in Hollywood for their "An Evening in the Writer's Room" series hosted by Reza Aslan last week.
When asking how difficult it is to write a sex scene, Aslan recited a line from the book, "Mmmm…he's soft and hard at once, like steel encased in velvet, surprisingly tasty, salty and smooth. He's my own Christian Grey-flavored popsicle."
Marcel laughed and said, "She says that, 'You are my popsicle.' That line went in, it's genius. They apparently did that scene great. Apparently Jamie is great at being soft and hard at the same time. Which is hard to do for an actor! He's going to get an Oscar!"
But how does someone translate a "Christian Grey popsicle" on-screen? Marcel explained that scenes had to be very specific and descriptive in the script, adding that she couldn't just write, "They made love" and move on, making things awkward sometimes.
"I had to actually describe everything! It was really embarrassing when you're doing studio notes around the table with 12 people," she said.
The British screenwriter, whose work includes the sci-fi series Terra Nova, opened up to Vanity Fair last year about how it hasn't been very difficult crossing over to erotic fiction and why she didn't worry taking on the highly anticipated project. "There is a book…there [was] a template to follow on that one," Marcel told the magazine. "It's all laid out. So no, I didn't worry about it."
When she was asked if she watched any TV for reference, she jokingly replied, "Apart from the porn? Lots of porn. No, there wasn't really anything." Mmmhhhmmm.
—Reporting by Sara Kitnick