INTERVIEW WITH COSTUME DESIGNER MARK BRIDGES BY ON SCREEN STYLE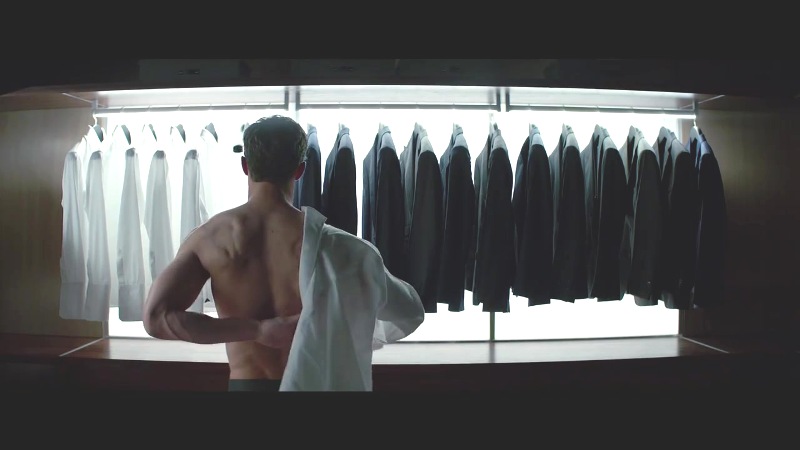 I recently came a cross this article by On Screen Style and loved it. It includes an interview with costume designer Mark Bridges and also includes the details of where you can find Ana's clothing from the movie. Thanks to On Screen Style.
Fifty Shades of Grey Movie Fashion: What Anastasia Wore
Just six days before he was set to attend the Oscars as a nominee for his work on he 70s drama Inherent Vice, costume designer Mark Bridges pushed his visions of golden statues aside and instead focused on that otherproject making quite a name for him these days, Fifty Shades of Grey.
"Since it's open, and it's had this huge weekend, you're actually getting me talking about things that I haven't talked to other people about because it's just more interesting," he told me over the phone. "People haven't been asking me these questions!"
Well, this interviewer is certainly flattered by his sentiments. And you guys will also be happy to know his candor extended into every single one of his backstories about the costumes in the film.
Check out my full interview with Mark below then keep scrolling to find out how you can emulate Anastasia Steele's (Dakota Johnson) style.
////
ON SCREEN STYLE: What attracted you to Fifty Shades?
MARK BRIDGES: First, the director, [Sam Taylor-Johnson]. I like what she has to say, I like her work as a fine artist and photographer. Secondly, I do a lot of period work, and I wanted to try my hand at telling a story with contemporary clothes. It was a cool challenge because when it's modern, you want it to seem real, but it has to be the best possible real.
Where did you start in the process deciding Anastasia's clothes?
For her first change, when we first see her, it's kind of awkward. I always start from the feet up, so here's boots that everyone thinks is really cute, these Fiorentini + Baker boots. They're probably way more expensive than this actual girl could use, but it's the best possible reality it could be. She trips into his office, so I felt a heavy foot would be more awkward. The tights make it not super sexy in a short skirt, but the skirt was a silk skirt, so if it does move, it's pretty. Her blouse was made from Liberty of London print which is kind of fuddy duddy, but we used the wrong side of the fabric, so it looks like something she got from the thrift store or used for a very long time. I made the toggle coat. I needed it to feel like a rain coat, but also give the imagery of kids waiting for the bus in a toggle coat. But then everywhere you look, designers have done a riff on the toggle coat, so it feels kind of fresh, but to me it's old fashioned.  All that thought when into one outfit.
How would you describe the look you were going for with Anastasia?
The look I was going for with Anastasia was to show outwardly what was going on inside — from young girl to woman — in a variety of stages.
How did you show the progression from young girl to woman that the audience may not have noticed?
Hopefully they wouldn't notice it, they would just feel it, that's when I feel like I've been a success. What happens is, the fit of things gets more slick. She goes from heavy shoe to $700 flats. Everything becomes more body conscious; the peach dress feels floaty and feminine. The white shirt that she wears when she leaves him with the slick jeans and the slick shoe. It's a real departure from clunky feet and flowered shirt in the beginning. If you put the picture of her at the first interview, and the picture of what shes wearing when she leaves him, its basically, this girl is a woman now kind of thing.
How would you describe Christian's (Jamie Dornan) look?
Christian's look is luxurious, sexy, body conscious, intimidating at first, and then comfortable. I was just trying to do his arc where he seems very buttoned-up and off putting, and as we get to know him, and as Anna gets to know him, the textures soften. The language and the choices of the clothes change. By the time he introduces her to the glider pilot and refers to her as his girlfriend, he seems like a regular guy — granted he's a billionaire, but it's sort of more normal, accessible, let-down-your-guard clothes. If you put the glider outfit next to the first time we meet him, he's softening. In a way, he said plainly [to Anastasia], you're changing me.
The "silver-gray tie" — what is the backstory on how you decided on that particular one?
It's so hilarious, I wish I had a really good story for it. I'll give you the way that I do stuff, I knew that I needed eight copies of it — props needed some because I know that there's times he doesn't wear it, but he uses it as a prop, and it's supposed to be the same thing. So, my thing was, I call my tie maker, and I said, what fabric do you have that you can make eight ties out of? He sends me the swatches of what's available, and I picked the one I thought was the prettiest that was actually more like silver. So he made me the neck ties.  I didn't really run it by anybody. The first time he wore it, I think it's at her graduation,  I didn't go like, what do you think you guys?? No, I said, here's your tie. He wore it, and we filmed it, and nobody said a word about it. So, it sort of got in under the wire. I like it because it's there, but it's not there. We get it that it's the silver tie, but again the focus is on them and it's not some glowing, throbbing necktie!
I read that you said you wanted to custom design most of Christian and Anastasia's looks in order to avoiding branding, why is that?
There's a couple of reasons. One of them is you'll sit in the theater and someone owns something from the Anthropologie, and they're like, oh my god that's Anthropologie, and I have that! But it's like a year old, it's from fall of 2013 and now its spring of 2015. If you can tell when we shot the film because of what clothes we are using, I don't dig that at all. Then also, Christian's not going to go out to Neiman's and buy a suit, he's going to get his stuff made. Then on the third level, I don't think it was a movie about clothes. I thought branding things that people could recognize would distract from the actual story, t's not about that.
Regarding the graduation scene, is it true that's the one dress you needed to stay true on on from the book?
Erika [the author] is the one who sent me an email saying, I think my readers are going to expect this, a grey fun dress at graduation. So, I was like OK! That was the only thing she said, so I did want to honor the readership. Sam and I picked the color, then I chose the style, and Dakota liked it, and Sam liked it. So, that was the only nugget from Erica about it, and I'm happy to oblige. It was halfway modest, but it was halfway sexy, but it's was still pretty. So, that's why I chose that style. It still wasn't completely expensive and slick even though we made it.
What was the inspiration for the purple "business meeting" dress?
I found a blue and black version of that dress by Roland Mouret here in L.A., and we fit it on her and it looked great. But Erica wanted a wine-colored dress for that negotiation and she wanted it tight fitting. We liked the shape, so we thought, why don't we just use that Roland Mouret dress and try to create one similar to that, in the right color,  for the business meeting.
What about the peach halter dress?
Sam loves The Thomas Crowne Affair with Steve McQueen and Faye Dunaway, and there's sort of a peach, nude dress that's very similar to that in that movie. It's a story about a woman and a billionaire. We just liked that. So I made my own version of that. There are a lot of things about it that are different, but it has the DNA of that dress. It was made by hand in LA. A lot of hand work went into that full hem. It's a very full skirt and all of those covered buttons down the front. It was supposed to be for another negotiation scene that was supposed to be shot in a room that was all gold leafed but we never did that room, so I just plugged it in that it was going to dinner.
Why did you chose a Black Keys t-shirt for the scene where she throws up in front of Christian at the bar?
It was something that was worked out between Sam, Erika, and Dakota. I had some t-shirts from the band, but I had them re-screened because I wanted the logo on a cute, tiny t-shirt. I think she knows the band, but I don't know?[OSS: I read that Dakota's best friend is married to the drummer, but I didn't know if that was why that t-shirt got chosen!] I don't know how it went down.  We had permission to use that, so I just went with it. I'm happy—because it's real.
The horseshoe necklace, why that symbol?
Because it's there, but it's not overtaking things. It's kind of anonymous in a way. It's not a heart, it's not a cross, it's not anything that says anything other than its just something at that bare spot in her neck.  I always try to do a little bit of jewelry because it helps make the people feel real.
::::::
ANASTASIA'S 

FLORAL-PRINT SHIRT

:
"Her blouse was made from Liberty of London print which is kind of fuddy duddy, but we used the wrong side of the fabric, so it looks like something she got from the thrift store or used for a very long time," Mark said.
GET THE LOOK:
Jones New York Shirt
Current/Elliott Shirt
ANASTASIA'S GOLD HORSESHOE NECKLACE/PENDANT:
The newly dubbed "Anastasia Necklace" is 

by Veronica & Harold 

and is under $100!
ANASTASIA'S CREAM/IVORY KNIT, FLUTTER-SLEEVE TOP:
This is a Ralph Lauren Fall 2013 blouse, however, I have tried unsuccessfully (for hours!) to find the actual product image. If you happen to track it down, please send me a link!
GET THE LOOK:
M.S.S.P. top
VOOM by Joy Han top
ANASTASIA'S COBALT BLUE LEATHER MOTO/BIKER JACKET:
By 

Theyskens' Theory (

<– there's a size small left and it's now under $400!)
GET THE LOOK FOR LESS:
Jou Jou jacket
Jessica Simpson Moto Jacket
Warehouse Biker Jacket
ANASTASIA'S BLUE/GREY CHIFFON HALTER GRADUATION DRESS:
Custom made
GET THE LOOK:
Jenny Yoo Keira Convertible Dress

 in Charcoal
ANASTASIA'S PALE PINK/PEACH CHIFFON TIE-NECK DRESS:
The custom dress was inspired by Faye Dunaway in The Thomas Crown Affair
GET THE LOOK:
1. 

I.N. San Francisco Dress
2. 

White House Black Market convertible dress
3. 

Eliza J Chiffon Dress
ANASTASIA'S PALE PINK,PEACH 3/4 BELL SLEEVE JACKET:
This ID deserves a special shoutout to a reader named Ganime who emailed me to tell me she owns this very coat, and it's from Zara (only it's now two-three years old). She also sent me links to see the jacket on 

Princess Victoria of Sweden

 and 

on eBay

 where the pre-owned jacket in a XS is currently up for bid for about $540! Ganime, my readers and I thank you for digging this goodie up for us!
GET THE LOOK:
River Island Pink Jacket
Stefanel Jacket


Wallis Jacket

 <– my favorite match!

ANASTASIA'S WINE/PURPLE SHEATH DRESS WITH EXPOSED ZIPPER:
The custom design for the dress was based on the a 

Roland Mouret

 design (likely 

this one

), which wasn't available in the right shade of 

deep purple

 at the time
GET THE LOOK:
Kay Unger Dress
Felicity & Coco Dress

 in Opulent Purple (back is shown above in black, but the dress is all purple)
ANASTASIA'S BLUE FLORAL-PRINT TANK DRESS:
"We just happen to find it," Mark said of locating the unknown label dress at a costume rental house. "I think we got it because it was easy off. There's a scene where he takes it off of her in the red room. It was pretty on her and it was easy to get off"
GET THE LOOK:
1. 

Forever 21 Fit & Flare Dress
2. 

ASOS Pieces Dress
3. 

ModCloth dress

ANASTASIA'S BROWN LEATHER MOTO JACKET WITH QUILTED SLEEVE:
This was by Nordstrom's BP (Brass Plum) brand, however I could not locate a product image of it anywhere, so just know this is no longer available!
GET THE LOOK:
1. Mango Jacket
2. ASOS Biker Jacket
3. Neiman Marcus Faux Leather Jacket
ANASTASIA'S GREEN GEO-PRINT SPAGHETTI STRAP DRESS:
This was custom made out of sari fabric Mark found in California. "I liked the color," the costume designer explained of the choice. "The style was a little sexier than we had seen before because it was later in the story. And it was something different for her visit to Savannah, just to give a sense of a different place slash climate."
GET THE LOOK:
ModCloth Dress
Love Culture Dress
ANASTASIA'S BLACK POINTY TOE FLATS:
These are the Jenni Kayne D'Orsay flats, however I can no longer locate them for sale anywhere in the same black leather style. You can still get them in: 

denim twill

, 

purple suede

,

dark olive leather

, 

snake print

, or 

nude
GET THE LOOK:
Jeffrey Campbell D'Orsay flat

 <– nearly an exact match for 80% of the price!
Halogen Kayla Flat
Vince Nina Flat
——————-