James Foley Talks Use of VR With Filming FS Darker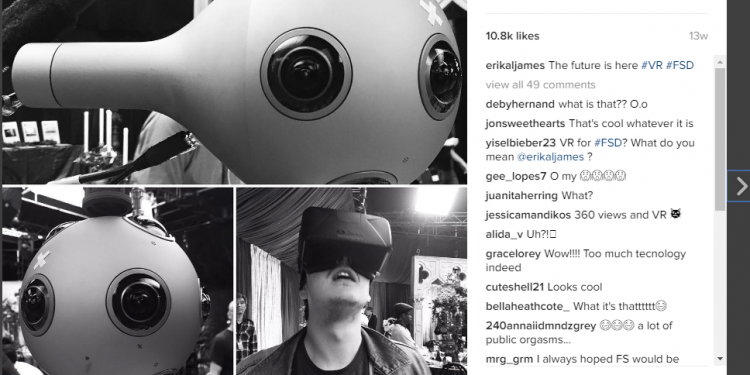 New article out on DEADLINE with James Foley talking about using VR with filming on Fifty Shades Darker. I had heard from sources in Vancouver during filming they were using this technology for filming at several locations. You can read more here.  Thank you to Michelle  @fsog_gresessed for the tip.
James Foley Says 'Fifty Shades Darker' VR Experience Has Changed How He Sees Filmmaking
Director James Foley said that virtual reality technology is being used in the marketing materials for his upcoming Fifty Shades Darker and that it has led him to think in new ways about filmmaking, saying it provides the ultimate liberation for both actor and director in opening up a 360-degree space.
"Yeah, there's marketing materials for behind-the scenes [of Fifty Shades Darker], where after we finished shooting for the day, the actors would stay over and VR people would re-create a facsimile of the scene," Foley told an audience today at theVR on the Lot confab at Paramount.
"My own personal instinct is that cinema is going to move to VR because it's an extension of the visual language," he said. "For myself, watching the material they generated expanded my brain."
Foley, whose recent credits include helming Netflix's House Of Cards and Fox'sWayward Pines, is attached to the next two installments of the movie franchise — Darker and Fifty Shades Freed, with Dakota Johnson and Jamie Dornan back to reprise their roles in the adaption of E.L. James' wildly successful book series. (The first pic, the Sam Taylor-Johnson directed Fifty Shades Of Grey, made $571 million worldwide). Universal releases Fifty Shades Darker on February 10, 2017 and Fifty Shades Freed in February 2018, but don't expect VR in any scenes even by then.
"This all needs to be reinvented," he said, referring to the transition from traditional cinema to VR that must take place as experts are brought in to consult with talent on both sides of the camera — something Foley said was akin to the transition between film and digital. But, he added, "the train is leaving the station, I think, and travelling really fast."
Still, Foley said he will continue to pursue collaborators as he always has — on the basis of something less technical and more human. "My idea of collecting a crew has always been the same—you meet people that you know have the technical expertise, and then its just what's in their heart and soul," he said.