Jamie Dornan's Charity Golf Ball Arrives in Portland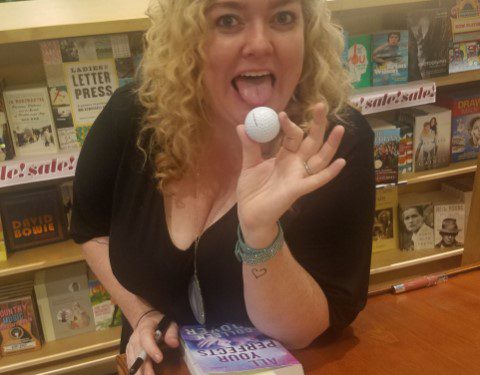 A couple of months ago I donated to take part in the Tinylife Charity for the chance to receive one of Jamie Dornan's golf balls and then pass it along to another fan. What a great idea that came to life from Dennis Moss and Lisa Gilpin. The ball arrived in Portland this week and I was lucky that Colleen Hoover was making an appearance at Powells Books to start her book tour. I took the ball with me and asked her if she would take a photo with it. She definitely was excited to get her hands on the ball and do a fun photo with it. Thanks to Lisa Gilpin for keeping the ball rolling around the globe. You can donate for your time with Jamies ball here.
You can catch up with Colleen Hoover while on tour.
Den's Story in his own words 🙂
"Dennis Moss aka Diamond Geezer is a musician, author and a golf caddie who recently caddied for Jamie Dornan at the BMW Pro Am at Wentworth.
After finding one of Jamie's golf balls in his overalls after the round, Diamond Geezer had no desire to keep or especially make any financial gain from it and having learned how Jamie is a patron for TINYLIFE charity, Diamond Geezer decided he'd like to make use of Jamie's golf ball for the charity's benefit.
His other reason for doing this was because Jamie was so nice, kind and friendly to him. By involving Jamie's hordes of amazing and passionate fans to help raise money for his charity, he is proposing to get the ball rolling with a fun game of pass the parcel, in the form of Jamie's golf ball!
This should be a very funny experience for all who take part, and I'm hopeful this will further unite the millions of members of Jamie's massive fan club."