FSOG/FREED BOOK LOCATION: Nordstrom Portland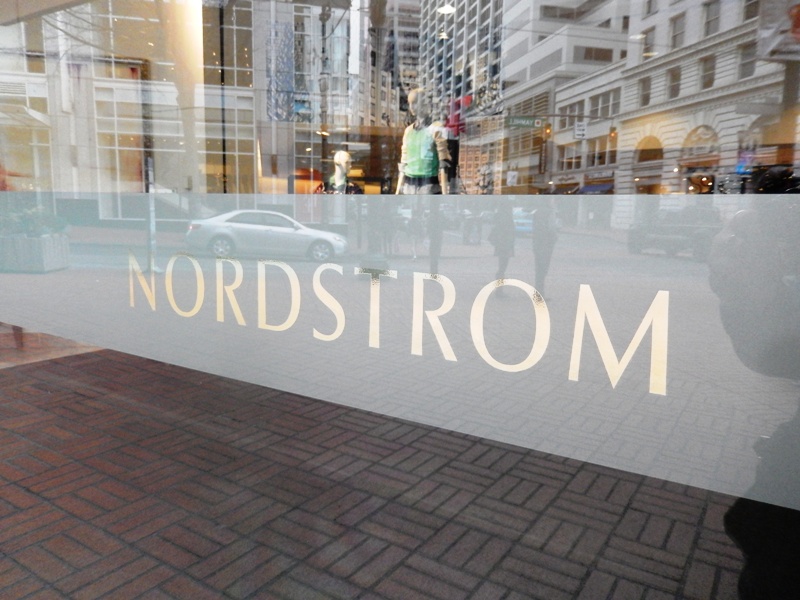 Nordstrom has been a mainstay in the northwest since early 1900's. By 1960, the downtown Seattle shoe shop had become the largest shoe store in the country, and the company, now with eight locations in Washington and Oregon, was the largest independent shoe chain in the United States. Nordstrom currently operates a total of 261 stores located in 35 states, with 117 full-line stores, 141 Nordstrom Racks, two Jeffrey boutiques and one clearance store. Looking ahead, the company plans to open three new full-line stores in 2014, followed by the opening of its first Manhattan store in 2018. Nordstrom expects to reach a total of 230 Rack stores by 2016.
Nordstrom has several locations in the Portland area. The main store is located in downtown Portland. It is just two blocks from The Heathman on SW Broadway.
Growing up here in the northwest, Nordstrom was a premiere place to shop in Portland. I recall my first "suit" for college and my amazing Frye boots in high school both purchased at Nordstrom. I think E.L. James has included the store in her FSOG trilogy because it has been a high end store in the northwest  for a long time. It is mentioned in Fifty Shades Freed and I believe Taylor also shopped there in the first Fifty Shades of Grey.
After staying overnight at The Heathman, Anna cannot find her jeans to wear. Christian tells her, "I sent Taylor out for another pair and some shoes. They're in the bag on the chair."
In FREED they spend a few nights at The Heathman after Rays accident. After entering the suite Anna enters the bedroom.
"I'm dismayed to see several bags from Nordstrom on the bed." Christian reenters, sleeves rolled up, tie and jacket discarded. "I sent Taylor to get some things. Nightwear. You know," he says, eyeing me warily.
Later during their stay at The Heathman Christian is planning to take Anna out to a birthday surprise dinner and has done some shopping himself. "He opens the wardrobe to reveal a large white dress bag hanging inside. "Taylor?" I ask. "Christian," he replies. Anna finds a navy satin dress inside the bag. He has also purchased for her shoes and a bodysuit. All of which could easily have been purchased at Nordstrom just down the street.