COFFEE WITH ANDREW AIRLIE (CARRICK GREY)
January 2015,  while in Vancouver BC, I was able to arrange a meeting with Andrew Airlie for a chat over coffee. It was great fun and I can't thank him enough for his time.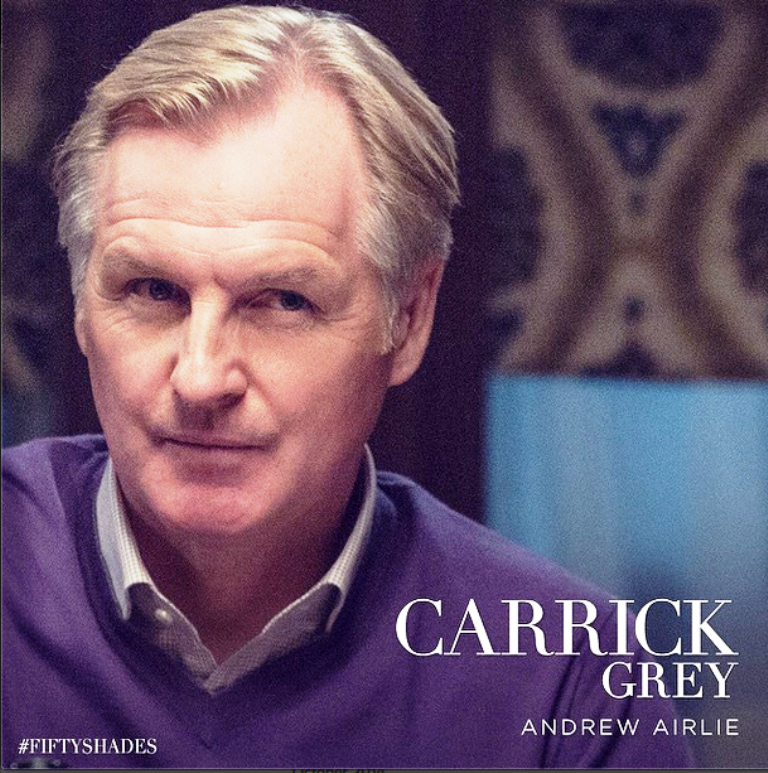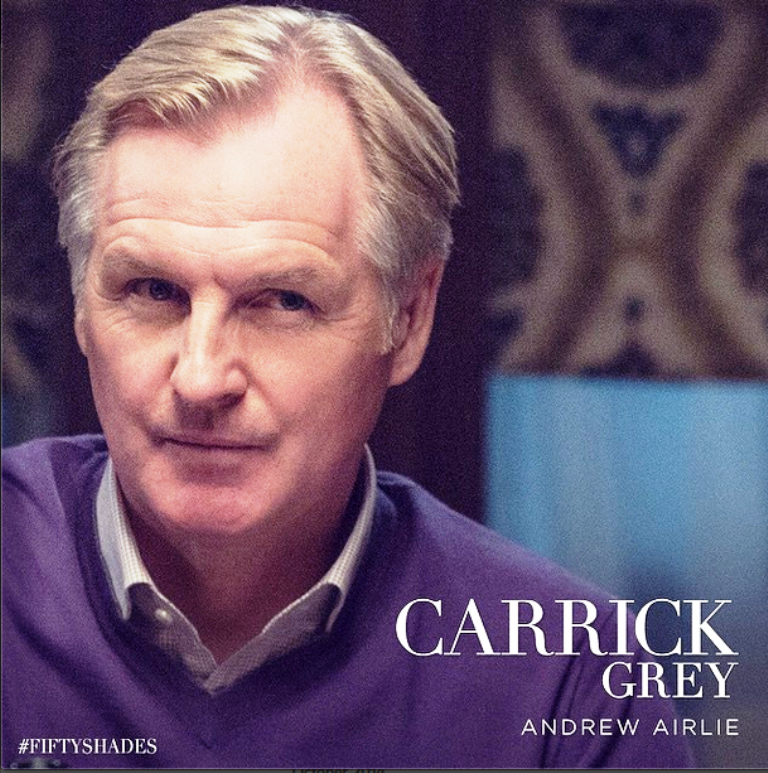 Actor Andrew Airlie plays the character Carrick Grey, Christian's father, in the movie version of Fifty Shades of Grey. I had first contacted him after filming completed early in 2014 and since then we have emailed a few times. His website includes details of his acting career which is very diverse and includes over 100 movies and TV filming. We recently met for coffee in downtown Vancouver BC for a very fun coffee chat. He had suggested the Café Artigiano for us to meet and it was located just a block from The Fairmont Vancouver in downtown. Before going I had only seen photos of him on his website and in the FSOG trailer so I wasn't quite sure what his current everyday look would be. While standing inside the doorway I saw him arriving and it first struck me how tall he was. He had the same steely eyes as in the movie trailer but his hair was much shorter. He mentioned that he usually wears it shorter. He is currently 53, married and lives in the Vancouver BC area.
We said our hellos and then found a place to sit. He nicely offered to get coffees and came back with two steaming mugs. Right off, my impression was that he was very genuine and quite handsome. I tried to keep my fangirling to a minimum.
He started off by sharing with me how he came to be cast as Carrick. He had not met Sam Taylor Johnson before but was aware of her work as a director, photographer and visual artist and knew that she was someone he would love to work with. They had set up a first meeting that had to be rearranged. Then a second meeting was cancelled. Just before the filming starting in Vancouver, he was contacted and asked to meet her the next day. At this time he had not yet completed reading the first book. He said that he read through it that night to be ready. When they did meet Sam just very kindly said she didn't require him to audition and that she wanted to meet him and get a feel for him personally before she suggested him as a choice to the producers. They spent their time talking of the story and his character. He has yet to read DARKER and FREED but they are sitting on his table at home. He mentioned he was "superstitious."
When he arrived on his day of filming to the "circus" (production set up area) near downtown Vancouver, several people asked if he had met Sam. He told them that yes he had. He said that everyone on the set and crew loved working with her and she set the tone for a wonderful working environment for the actors. Andrew said that working with her was one of his best filming experiences. At the time of filming his hair was much longer because he was in the middle of doing some other film work. It turned out that the fifty production people liked it as longer and he ended up keeping it that way for his part. I asked about his filming the dinner scene with all the actors. The filming was actually done in the dining room at Casa Mia mansion. He said they also used the driveway and entryway in the filming and it was all filmed in one day. He said it was a long day but moved along very smoothly. I asked how STJ had worked at directing all the actors involved. Andrew said "It's not so much precise because she is quite free with her actors. It's more that she has a great facility for directing actors, that she speaks a language actors understand; her notes are clear and so you understand immediately what she is looking for, or the option she is looking for with another take." He said that he wasn't aware of lots of photographers or fans outside the mansion and that it was a pretty quiet day. This was his one day of filming with the movie.
He mentioned that he had gotten together with several of the cast for dinner at different times. He talked of Rita Ora as being a "wonderful girl". His impression of Erika was that she was a very down to earth easy going person. He was very impressed with the whole cast and crew and thoroughly enjoyed working with everyone. When I asked about the chemistry with Dakota and Jamie he smiled and agreed that YES, he thought they had great chemistry. He commented that "in filming a movie you can tell how the actors get along by how they are between filming. If they end a scene and go to separate areas or if they end a scene and stay together chatting and enjoying each other's company.
He shared that he was almost in another movie with Marcia Gay Harden but she had to pull out at the end. He talked of how he loved filming Fifty Shades with her and how he really admired her. He also has a Twilight connection I did not know about. He was in Toronto last January at the same time that Robert Pattinson was there filming LIFE. They were staying at the same hotel in the city and using the hotel gym daily. Andrew said that he spent about 6 days going to the gym everyday and seeing Rob there too. He said that Rob seemed to look at him like he should know him or recognize him, but he didn't. They just conversed with "heys" when they saw each other. Andrew also has a connection with Kristen Stewart as he was in her first film with her. He said that he was so impressed with her acting even then.
When I asked about his plans for more FSOG, he said that he is definitely open to do it, however, right now there are no specific plans from Universal. He also has no information or plans for premieres yet. He is new to social media with a Twitter account just started a few months ago. He shared with me a funny story how he almost tweeted to Rita Ora. She tweeted out thanking fans for hitting 4 million on her twitter. He had at the same time hit 400. I told him to just wait until after the movie comes out and his account will explode. Andrew has his base in Vancouver BC, but he has traveled to Toronto and other cities for his acting work. He is currently working at writing with a partner for a TV show and he plans to film a short video for it this spring.
I want to thank him again for taking the time to meet with me and sharing more about himself. You can keep up with his career at his website andrewairlie.com and find him on twitter at @andrew_airlie. Coffee Chat with "Carrick Grey" – Doesn't get any better! "His blue eyes are soft and gentle."
I was able to meet with him again in June 2015 and you can read about that meeting here.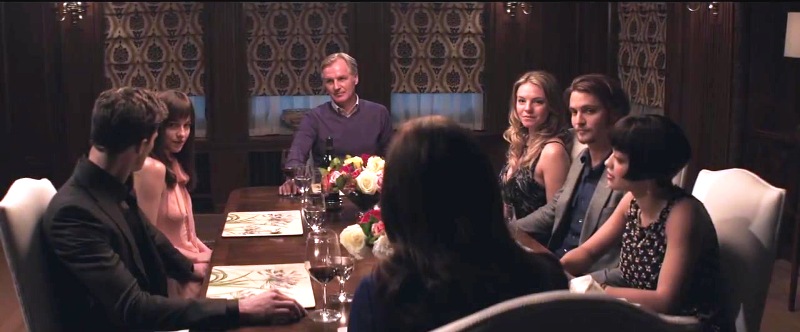 I am probably the only one to catch the subtle finger/hand strumming of Carrick Grey at the head of the table. I wondered if this was a tie in with the finger movements of Christian Grey. I asked Andrew Airlie about his doing it and if it was purposeful or just a reaction. His comment back was "There has to be some secrets".
After we met and sat down he went over to order coffee.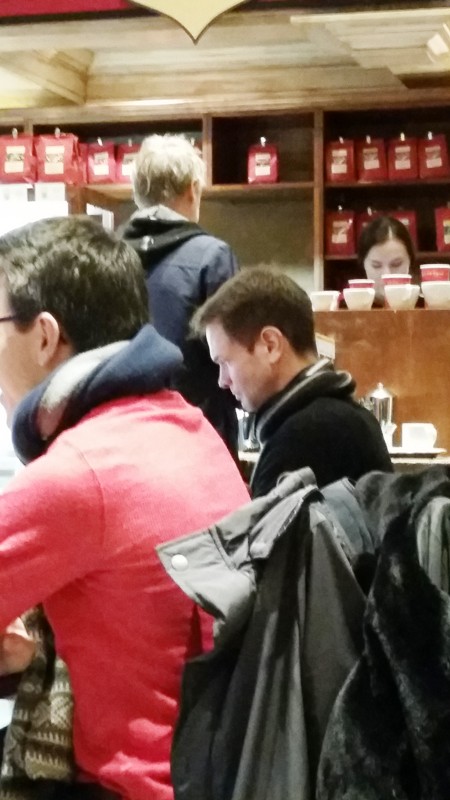 He was nice enough to sign the photos I brought with me.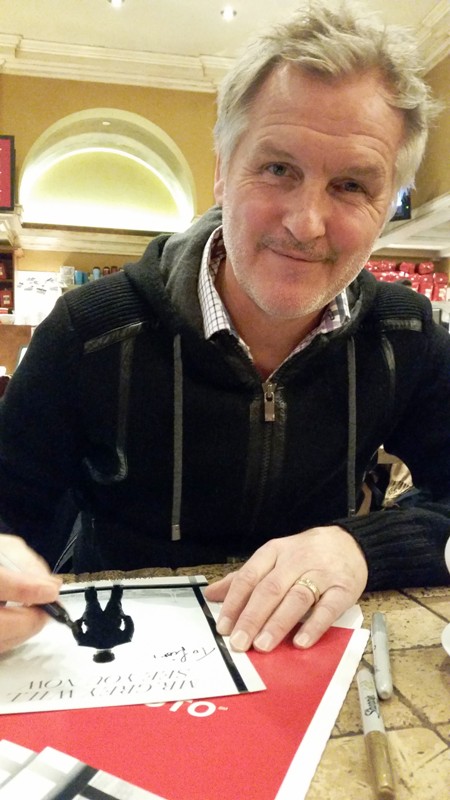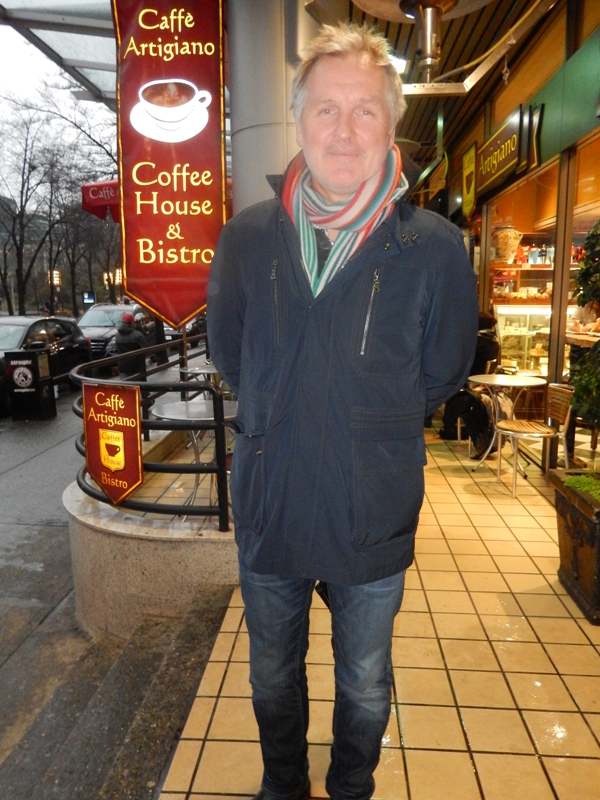 It was a rainy and cold day in Vancouver. Definitely a day to bundle up. The cafe was a perfect place to meet.