Fifty Shades Freed GOES GREEN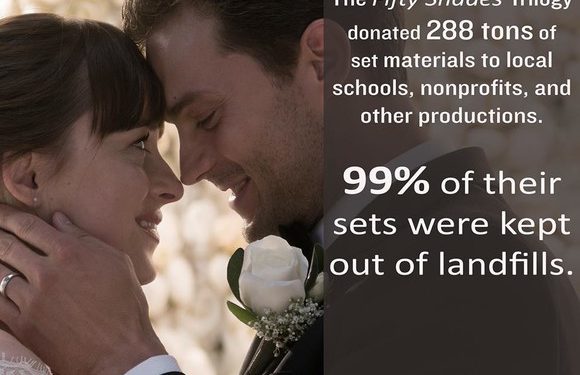 Great Article about how Fifty Shades Production went GREEN in Vancouver BC during the filming of the movies.
From Creative BC: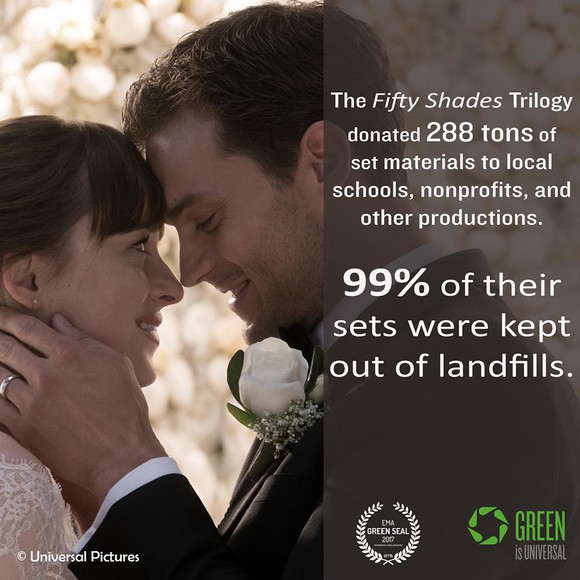 Learn how Fifty Shade Freed worked to divert 75% of set waste and donated 288 tonnes of materials to local non-profits and charities.
Combined with their on set recycling efforts, 99% of the trilogy's sets were kept out of landfills.
Read more about Fifty Shades Freed's accomplishments in sustainable production 
here
, including how the production also achieved a 75% diversion rate of set waste!
Congrats and a big shout out to Green Is Universal for their commitment to a sustainable motion picture industry!
 Universal Pictures and Focus Features are committed to reducing the environmental impact from filmmaking activities. To assist in this effort, NBCUniversal developed a Sustainable Production Program which empowers our film divisions to integrate sustainable best practices across their productions.
At the foundation of the program are easy to use infographics which illustrate sustainable production best practices. These practices span across all production operations and equip filmmakers and crewmembers with the tools to take action and reduce impact. To view the infographics and learn more about our sustainability program, click here. To find more sustainable production tools and resources, check out GreenProductionGuide.com.
Read on for examples of how our film crews have integrated environmental action into their everyday work:
Recent Releases
Fifty Shades Freed, February 9, 2018
Jamie Dornan and Dakota Johnson return as Christian Grey and Anastasia Steele in Fifty Shades Freed, the climactic chapter based on the worldwide bestselling "Fifty Shades" phenomenon. Bringing to a shocking conclusion events set in motion in 2015 and 2017's blockbuster films that grossed almost $950 million globally, the film arrives for Valentine's Day 2018.
Believing they have left behind shadowy figures from their past, newlyweds Christian and Ana fully embrace an inextricable connection and shared life of luxury. But just as she steps into her role as Mrs. Grey and he relaxes into an unfamiliar stability, new threats could jeopardize their happy ending before it even begins.
Shot primarily in Vancouver, BC, the production worked hard to reduce their overall environmental impact. Fifty Shades Freed was shot consecutively with its predecessor Fifty Shades Darker which helped the production combine and reuse materials. Crew reduced and often eliminated single plastic water bottle use, which prevented the use of an estimated 80,000 individual plastic water bottles. A comprehensive recycling and composting program was implemented throughout the offices and on set, with a dedicated Sustainability Production Assistant on hand to ensure that the recycling program was set up and successful at each location. This resulted in an estimated 75% diversion rate of set waste.
Sets were reused throughout the trilogy, and any new sets were built with FSC certified plywood. At wrap, various set dressing and materials were donated to Habitat for Humanity ReStore, Great Northern Way Scene Shop, MakerLabs, and Squamish Arts Council. After picture lock on Fifty Shades Freed, the Universal Pictures' Assets Department worked with the Sustainable Lock Up in Vancouver and Recycled Movie Sets in Los Angeles to recirculate the vast amount of stored sets for reuse and donation to local film schools, non-profits, and other productions. In the end, 288 tons of set materials were donated for reuse and when combined with recycling, 99% of the trilogy's sets were kept out of landfills. Fifty Shades Freed was a recipient of a 2016 EMA Green Seal Award.