FS DARKER FASHION: Part 1 Ana's Masquerade Ball Look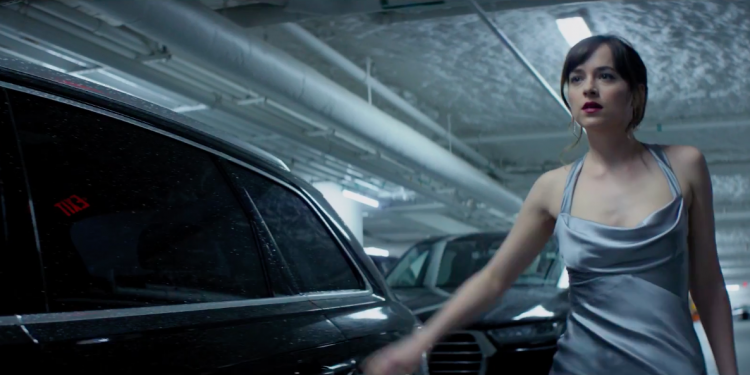 The movie fashion website Onscreenstyle.com  recently got the scoop on the costumes worn in the Fifty Shades Darker movie. They also shared the lip color used for Ana and where to get her looks. Please visit their website for more information.
From Onscreenstyle.com:
Fifty Shades Darker Movie Fashion: Ana's Masquerade Ball Look
When it came to finding a co-creator for Anastasia Steel's (Dakota Johnson) masquerade ball dress in the Fifty Shades of Grey movie sequel, Fifty Shades Darker, Costume Designer Shay Cunliffe turned to the queen of ethereal elegance and the goddess of romantic bridal gowns, Monique Lhuillier.
"I had scouted out every variation of simple slip dress on the market, as well as vintage examples, and I felt that Monique created the best version of this type of dress for film and uses the most wonderful heavy silks imaginable," Shay told me in an interview.
A phone call with the runway designer is all it took to get the silk, so to speak, ironed out.  "I outlined how I visualized the outfit, how it fit into the storyline, my concerns about Ana's character retaining a pure simplicity yet the need for a strong entrance to the scene," Shay recalled. "I also discussed the absolute necessity of creating a dress which could be removed easily and attractively on camera!"
From there, the costumer sent an "inspiration folder" of photos of gowns to Monique, who followed up with about five sketches, fabric swatches, and photos of fit models. After a review of the options with the most important person on set— the person who would actually be wearing it — Shay combined her revisions with Monique's drafts, and the final dress was born.
Once it arrived to set, "it needed a few small fit adjustments so it made another journey to LA and back," Shay said. "To my huge relief it came back absolutely perfect."
No dress is entirely perfect, however, until it's adorned with accessories. "I wanted to add the [feather] cape to Ana's masquerade ball outfit because I felt that a simple satin gown would not make a strong enough statement as she entered the very visual and intense environment of the ball."
With help from Monique 's atelier "this VERY laborious creation," which was inspired by 1930s images of "romantic old Hollywood," came to life."I love the way feathers create a dynamic, trembling, tactile aura to the person wearing them — just what I needed for Ana's walk through the ballroom."
The last item to check off on Ana's costume list was the token mask, and Shay told me the search for it was "quite a journey." The wardrobe department originally created several custom masks for the character, but "they proved to be uncomfortable and overwhelming when worn." So, naturally, they turned to Amazon for help. "I started searching online for alternatives, selecting options in laser cut metals, crystals and laces," she said. "Then I tried on all the options myself and eliminated those which were not comfortable enough to spend a long day shooting in. It was immediately clear that the lace mask we used in the film, which was purchased online from Samantha Peach in the UK via Amazon, worked very well on all counts." After adding Swarowski crystals and new ribbons to it, they bought ten more to get them through production.
Scroll below to find out  how you can replicate Ana's elegant look. And don't miss my posts on Ana's red engagement dress, Ana's lipstick shades, and coming soon, I'll be ID'ing the rest of her looks in the movie.
ANA'S SILVER MASQUERADE BALL DRESS:
This custom dress was designed just for the movie by Costume Designer Shay Cunliffe and Monique Lhuillier
GET THE LOOK:
1. Boohoo dress
2. Elizabeth and James dress
3. Halston Heritage slip gown
ANA'S GREY FEATHER CAPE:
This was designed by Shay herself and then sewn together at Monique Lhuillier's atelier
GET THE LOOK:
1. Betsey Johnson Feather Shrug
2. Ostrich Feather Shrug
3. Monsoon Feather Cape

ANA'S SILVER MASK:
Samantha Peach "Goddess Ana Masquerade Mask" (<– yep, it's the same one used by the costume department in the movie!)
*****
Thank you to onscreenstyle.com for sharing all this wonderful fashion information from FS Darker. You can read more at their website.