FS DARKER MEETING ERIC JOHNSON ON THE STREETS OF VANCOUVER BC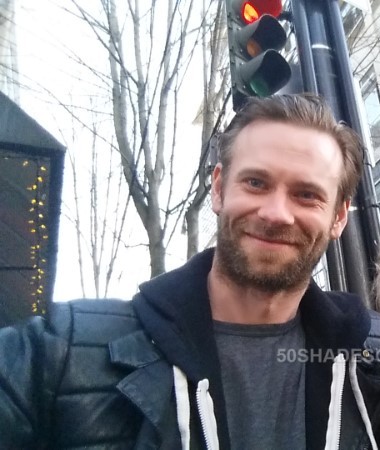 After a really busy day of watching some other filming in Vancouver, I decided to go into downtown and eat at one the local pub type restaurants that I have gone to before on Burrard Street. After parking and walking a couple of blocks toward the restaurant, I crossed the busy street and noticed someone on the corner waiting for the light to turn. I soon recognized that it was Fifty Shades Darker/Freed actor Eric Johnson. I decided to nicely approach him and he was incredibly gracious to talk with me for several minutes, sign autographs and do a few photos together.
He said that he had just arrived in Vancouver today and was filming tomorrow at the studios. I mentioned that I was from Portland and he said that he had visited Portland with his family and really loved the city. We talked about the many fans of Fifty Shades on Twitter and social media. He said he was so surprised by the number of fans from South America and that he was really enjoying all the fan contact. When I asked about his casting for the movie he said that it went very quickly. I also asked if he had read the books before being cast for Jack. He said that he had not, but that he was speed reading them during the audition process. When I mentioned that his part of Jack is really going to be the character that fans will love to hate, he said that he loved the part and that there were a lot of big scenes yet to come.
When I met him he was wearing a leather jacket, jeans and sneakers. He was nice enough to use my phone to take pics of us and because it was dusk out, he was turning us around several times so our faces weren't all dark.  I have to admit I was definitely fangirling and it was hard to keep my wits to ask any intelligent questions. He is far more handsome up close and has an incredible smile. All of this on a busy street corner in downtown Vancouver BC. He is definitely the perfect Jack Hyde.