FS DARKER FASHION: PART 2 ANAS'S RED DRESS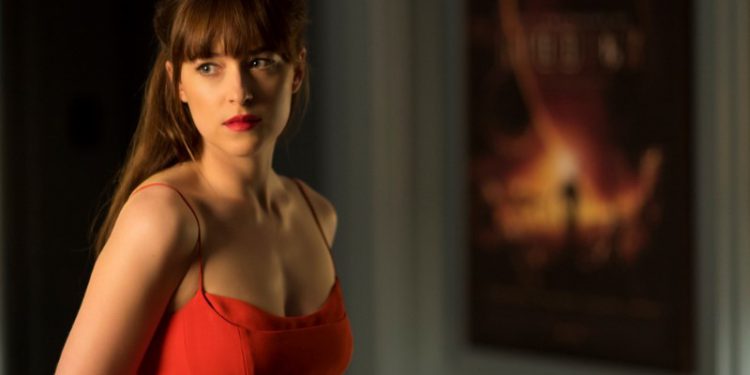 Here is the second article from Onscreenstyle.com. It covers all the information about Ana's red dress worn for Christians birthday party. I was lucky to be on location that day with filming and we got a look at Dakota wearing this beautiful red dress.
Fifty Shades Darker Movie Fashion: Ana's Red Dress
Believe it or not, Fifty Shades Darker movie Costume Designer Shay Cunliffe didn't have a scene picked out for the red hot number she had purchased at Neiman Marcus early on in her wardrobe prep.
"It took me a while to determine the best scene in which to use it," she told me in an interview. As we all know now (so I am assuming there is no SPOILER ALERT needed here), Ana (Dakota Johnson) wears  the fire-engine-red frock when Christian (Jamie Dornan) officially proposes to her during his birthday party at his parent's mansion.
"I picked the red dress to reflect both the joyful romance of that scene and Ana's own character evolution into a much more confident and ebullient character" Shay said.  "The decision was also guided by how great Dakota looks in red!"
Scroll below to find out how you can get Ana's look (many of you have already emailed me to ask!), and don't forget to checkout Shay's full breakdown of the her masquerade ball costume.

ANA'S RED DRESS FROM CHRISTIAN'S BIRTHDAY PARTY:
From Narciso Rodriguez's Spring 2016 line (note: I haven't been able to find this for sale anywhere at the moment, but a version of it was once available at Nordstrom)
GET THE LOOK:
1. Buy a similar Narciso Rodriguez dress at insane prices via consignment sites: Here's a  gorgeous size XS dress and here's a size small
2. BooHoo Bodycon Dress (<– have straps added!)
3. BCBG Dress
4. Jill Jill Stuart Dress
Thank you to onscreenstyle.com for sharing all this wonderful fashion information from FS Darker. You can read more at their website.