FS DARKER Soundtrack List Released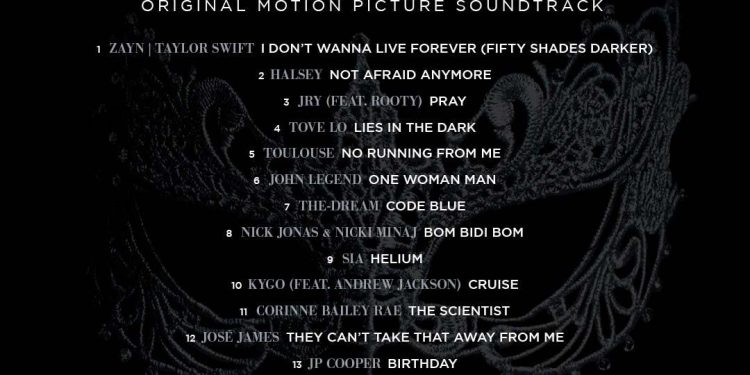 Released today from Fiftyshadesmovie IG and then on several other news sources is the new tracklist for FS DARKER. The first song we have all heard "I Don't Wanna Life Forever" by Zayn and Taylor Swift is on the track along with other music from The-Dream, Sia, Kygo, Tove Lo, John Legend and a new song with Nicki Mnaj and Nick Jonas.
Musical artist SIA is also included in the Twilght Eclipse soundtrack and the first Fifty Shades of Grey soundtrack.
Danny Elfman who also worked on the FSOG soundtrack did the score for the movie along with music superviser Dana Sano.
You can pre-order the soundtrack on Friday January 13. There is an instant download available with the pre-order. The soundtrack will be released February 10 along with Fifty Shades Darker.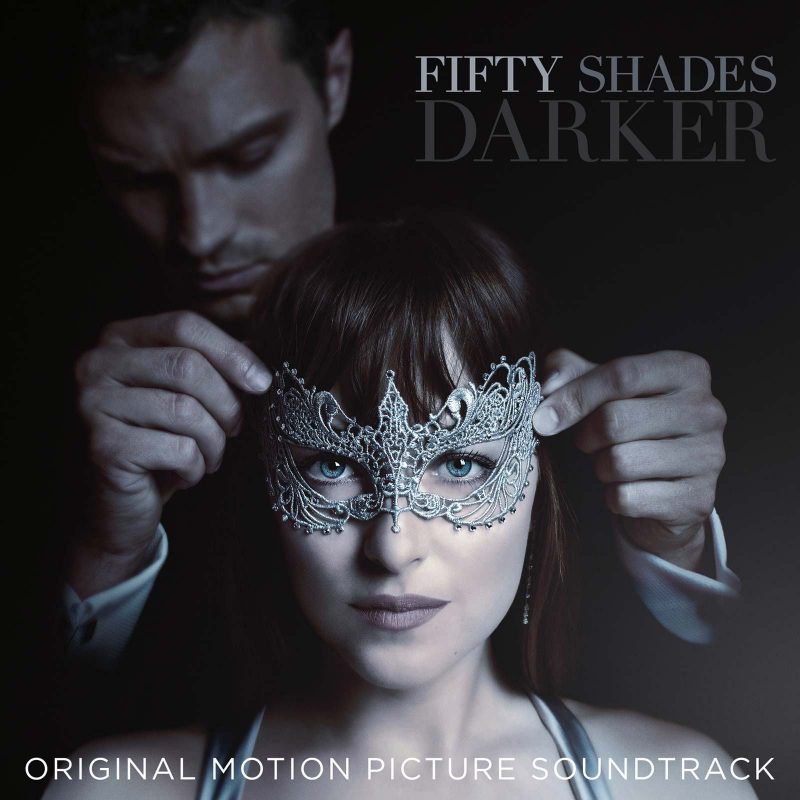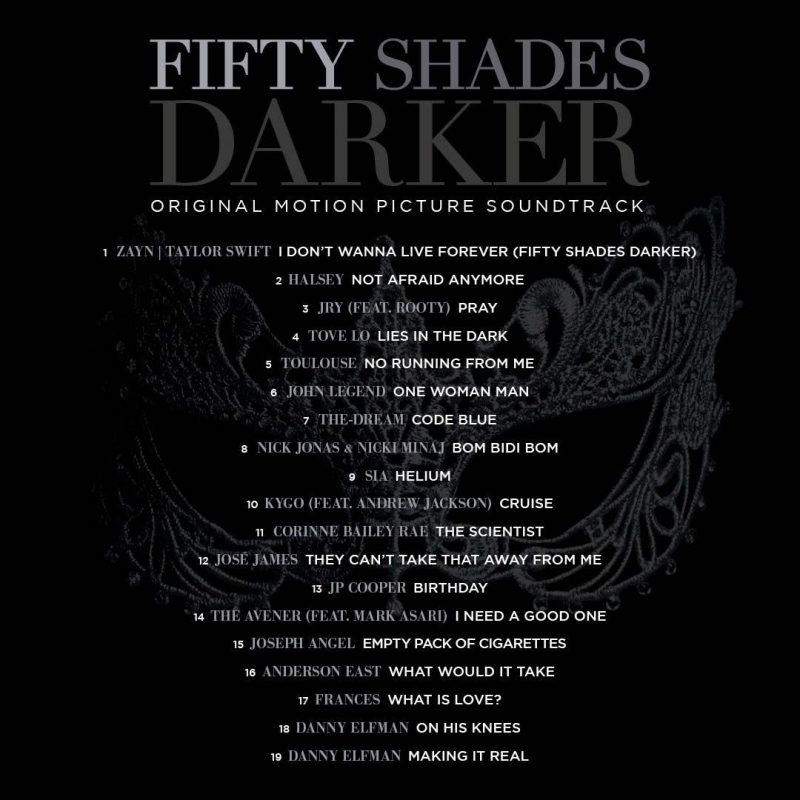 1. I Don't Wanna Live Forever (Fifty Shades Darker) – ZAYN | Taylor Swift
2. Not Afraid Anymore – Halsey
3. Pray – JRY (feat. Rooty)
4. Lies in the Dark – Tove Lo
5. No Running From Me – Toulouse
6. One Woman Man – John Legend
7. Code Blue – The-Dream
8. Bom Bidi Bom – Nick Jonas & Nicki Minaj
9. Helium – Sia
10. Cruise – Kygo (feat. Andrew Jackson)
11. The Scientist – Corinne Baily Rae
12. They Can't Take That Away From Me – Jose James
13. Birthday – JP Cooper
14. I Need a Good One – The Avener (feat. Mark Asari)
15. Empty Pack Of Cigarettes – Joseph Angel
16. What Would It Take – Anderson East
17. What Is Love? – Frances
18. On His Knees – Danny Elfman
19. Making It Real – Danny Elfman
It looks like Nick Jonas is excited too!
I know many babies will be made to this soundtrack.. #FiftyShadesDarker @NickiMinaj @FiftyShades pic.twitter.com/mJ9Jy8jDdk

— Nick Jonas (@nickjonas) January 11, 2017
The music from FSOG added so much to the movie and I think this time will be the same and better.