FSOG Filming Location The Fairmont Vancouver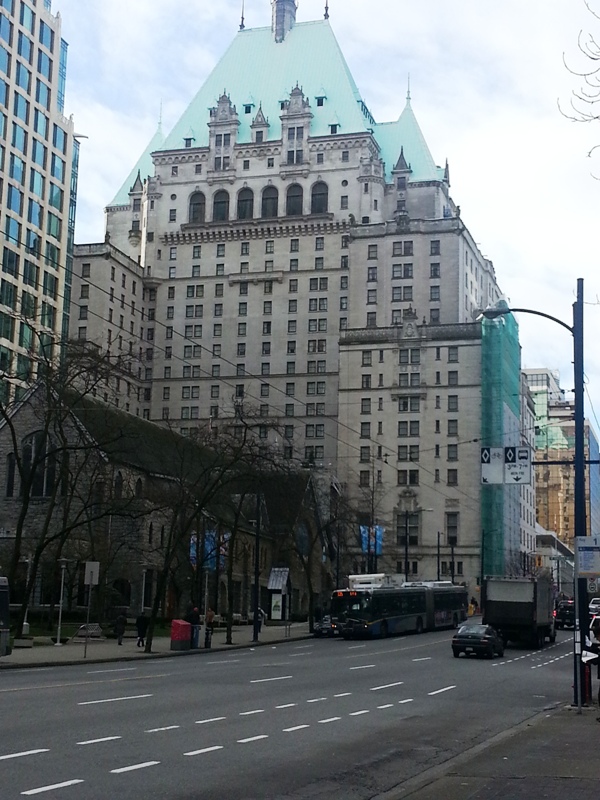 A landmark hotel in downtown Vancouver, The Fairmont Hotel Vancouver is known as the 'Castle in the City' and reflects the timeless luxury of Canada's iconic railway hotels. Located just steps from Vancouver's business, shopping and entertainment district, it is the perfect place to explore Vancouver's spectacular scenery and vibrant downtown Vancouver lifestyle. This hotel became the stand-in for the iconic Heathman Hotel in Portland, Oregon. After spending time visiting The Heathman I thought that the Fairmont Vancouver would be a poor copy, but I did end up enjoying my visit more than originally thought. It is much larger with 6 elevators total and a  grand entrance with a revolving door. The hotel takes up several blocks and has an entrance on each side of the building, but only one with a revolving door. The hotel is currently under renovations. They do have a greeter at the covered car entrance which leads to their parking. It definitely has that old world charm which lends itself to be a Heathman copy.
When I visited they told me that they had filmed there for several days using a lot of the 14th floor as it is not yet renovated and still has the older look to it. I guess this floor is used frequently for filming at the hotel. Just as I was walking away I turned and looked up and saw through their windows one of the sparkling chandeliers from their ballroom.  In the FSOG Trilogy Christian and Ana stay several times at The Heathman in Portland. The Fairmont Vancouver could be just as lovely.
More inside the Fairmont Vancouver.