FSOG FILMING RESHOOTS BEAVER LAKE DAKOTA/JAMIE Part 1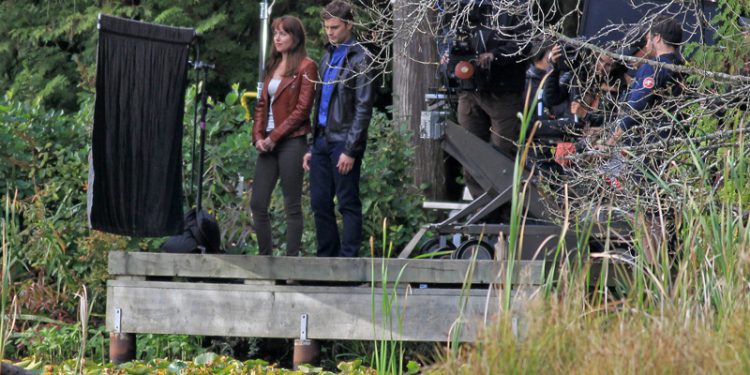 On day two of the reshoots the second filming of the day was in Stanley Park at Beaver Lake. There was a wood platform built over the edge of the lake and that is where they filmed Jamie and Dakota. This lake was so special in its beauty and wooded location. The crew had set up on the pathway at the edge of the lake for the filming. At first I could walk through and see where they were filming and view the platform. There were several other pap photographers there as well as just people enjoying the lake. After Dakota and Jamie arrived on the set the security went into high gear and tried several methods to block photos. First it was umbrellas. Then a huge black screen went up.I was able to get lots of photos up until the scene started and the security pushed us back some more. I decided at that point to just watch the scene and stay out of the situation. I hoped that later I would be able to see the photos taken by the photographers.
I recently legally obtained these photos for use on my site. Just looking at them brings back that whole scene and the beauty of the surroundings. Jamie and Dakota displayed a lot of emotion during the filming of Christian and Ana. She was definitely showing that emotion through her body language. At the end of the filming they both left walking back on the pathway.  I have so many photos from that afternoon and will post those soon.
You can see the more RESHOOTS of the beautiful Beaver Lake:
Part 1
Part 2
Part 3
Part 4
Part 5

I DID NOT TAKE THESE PHOTOS
THESE PHOTOS WERE LEGALLY OBTAINED FOR USE ONLY ON 50SHADESGIRLPORTLAND.COM