FSOG FILMING RESHOOTS JAMIE/DAKOTA BEAVER LAKE Part 2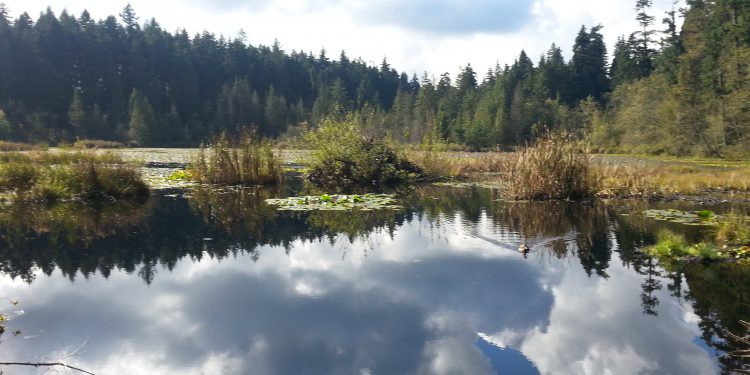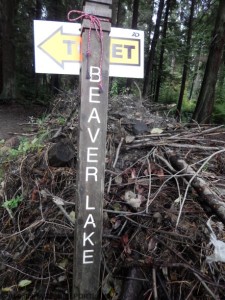 This filming was the last of the locations I visited on Tuesday. When I left the airport I only heard "Stanley Park" for more filming. At first I thought they might be doing more at The Fish House restaurant as they filmed the Georgia bar/restaurant there. So I drove by there first and noticed nothing. I then went onto the main road that circles the park and noticed immediately all the trucks and trailers located on a smaller off road. This was Pipeline Road and they had used this road with filming last year. The filming reshoots was taking place at Beaver Lake which was a short walk down a dirt pathway winding its way through the woods. There was a sign at the entrance to the pathway and this is where we missed Jamie Dornan walking right by us. He was surrounded by security guys and they said hi to us to distract us away from seeing Jamie. It worked and they had a good laugh about it later. As I walked the pathway to the lake we were also passed by Sam TJ who said hello to us and it sounded like they were taking a break for about an hour before filming started. Jamie and Sam TJ must have been looking at the filming area at the lake before they actually were starting.
I continued to the lake and had the feeling that this was going to be an important part of the movie. The wooded area did remind me of the woods that are shown in the trailer with Christian and Ana. I always thought that in that part of the trailer that it looked like water beyond the trees, but this location doesnt fit perfectly into the books story. It was bright and sunny when we got to the lake and they were busy setting up the filming equipment along the pathway that bordered the lake. We were able to walk through where they were setting up as it was public park property. We were told we could not stop to take photos along the way. As I walked through I did notice Jamie/Dakotas doubles standing on the platform. There was also a huge crane that had a huge screen attached to it that was lifted partway over the lake and platform. I believe this was later used to shade some of the direct sun. After walking through to the end of the filming equipment on the pathway, I noticed the other photographers were already there. I got to chat a bit with Nigel Horsley who I found to be such a nice gentleman.
While standing there I noticed that Sam TJ had returned and while she was on the platform with the doubles she was taking some close up photos with her own camera. I know she is a professional photographer herself, so I thought it was cool to see her taking the photos. Not sure if they were for herself or to be used in the movie. One interesting thing about this filming is that it is now fall with all the fall colors in bloom. When they filmed last year it was winter time and the trees would have been bare. But, they did try to make it look springtime. So, not sure how this will look in the movie: it could be fall, winter or spring.
Soon after this the security decided to push us back further down the pathway. From the place we were at I could not really see where the filming was going to be. So, I decided to walk back through to the other end on the pathway and try to see anything from there. The other photographers did the same so we all were standing in the same area. The production crew had equipment all along the pathway and back into the woods a bit. While we were standing around I realized that if we were going to see Jamie or Dakota our only chance would be to pass them on the pathway they would take from the road to the lake.
We decided to walk back towards the road. About halfway we saw Dakota coming with a security guy and a few other people surrounding her. I just stopped, backed up to the side of the path and watched her walk by me. I didnt say a word, she just looked at me and smiled as she passed. I did notice the red leather jacket and pants that looked really familiar. I was very respectful and didn't do any photos as she passed by me and walked to the lake. We then turned around and went about 5 feet then heard more people coming along the path. It was Jamie coming with two security guys in front of him. The girl who was with me on Tuesday really wanted his autograph so she had her notebook ready and had my sharpie pen. When she approached them the guards said NO, but Jamie stopped and said "I'll do this one its ok" or something like that. I was totally starstruck. She handed me her camera and I had mine in my other hand. I just watched as he signed her notebook and then he turned to me with pen ready. AND I HAD NOTHING. I totally blew it, with cameras in hands and nothing to autograph. Of course I had a photo to sign in my backpack, pen in his hand, and I got nothing. It was OK though as I will always remember his deep accented voice when he talked to us. It was about a 30 second encounter and then he turned to walk to the lake. I was so stunned I didn't do any photos. We then walked back to the lake. He was wearing a dark leather jacket,blue shirt and jeans.
When we returned to the lake area they had more of the crew people out with umbrellas and a large screen had gone up to try and block any photos of the filming. The photographer guys ended up along the lake in some bushes. I just sat on a bench and watched what was happening between the security people and the photographers. They moved them even further back on the pathway. I decided to not take any pictures right then as it just seemed too intrusive on the filming. I went to the lake edge and watched it all happen with Jamie and Dakota. They spent about an hour filming the scene on the platform several times. My first impression was that Dakota (Ana) looked angry at Jamie (CG) for the filming. They eventually got to the kiss at the end and it was so spectacular with lots of chemistry between them. I noticed how Jamie (CG) took control of the kiss with his hands to her face. He was total Christian Grey.
After they were at the ending of the filming we had to leave and walked back to my car. I did return a bit later as they were to be filming Jamie in his Audi in Georgia talking on the phone to Ana. When I got back they were already done for the day and clearing out.
I decided to return the next day before I returned to Portland. I really wanted to experience the lake and area in a more peaceful, quiet way. I took my time walking the dirt pathway to the lake. Stopped where I met Jamie and snapped a photo. I also decided to do a video of the walk through the trees to the platform they filmed on. Once I was on the platform I took a lot of photos and videos of the view that Jamie and Dakota had while filming. The place was so quiet except for the occasional seaplane flying over the trees. It seems this area is right under their route. I remembered hearing them on Tuesday while they were filming. I decided to leave a little of C and A behind and gathered up some leaves and did their initials on the platform. I also might have gathered a few branches and leaves to bring back with me 😉
I felt like it was one of the best filming locations I went to during the two days. It was very romantic, peaceful and perfect.
You can see the more RESHOOTS of the beautiful Beaver Lake:
Part 1
Part 2
Part 3
Part 4
Part 5
ALL MY PHOTOS OF JAMIE AND DAKOTA ARE LOCATED HERE.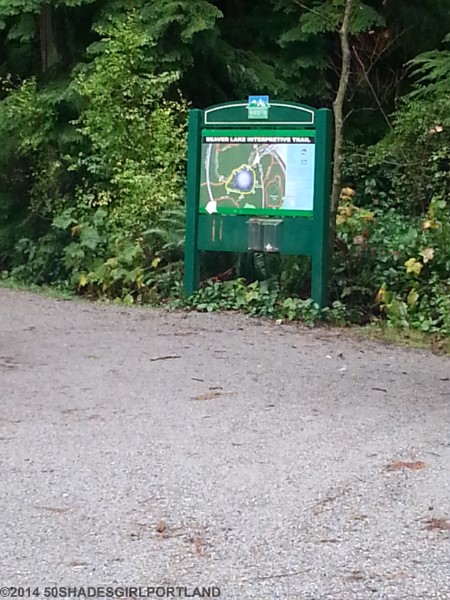 The platform is located between 2 and 3.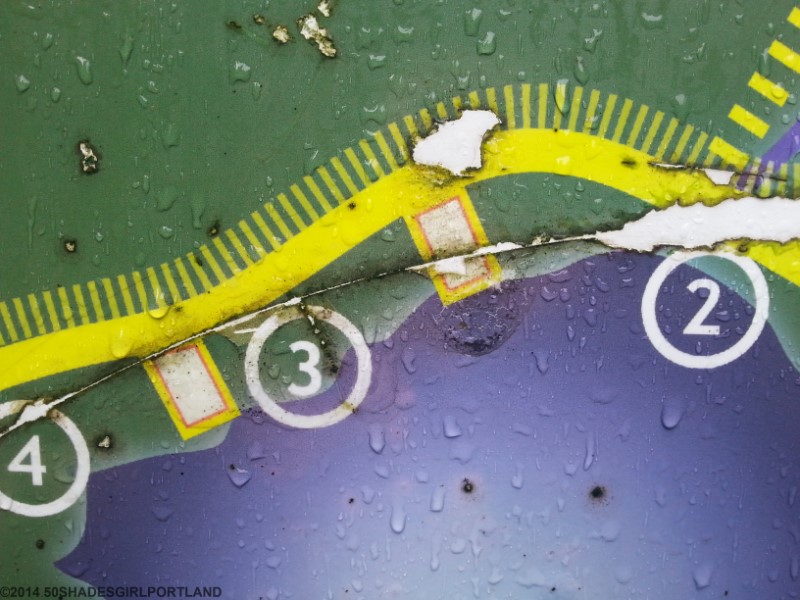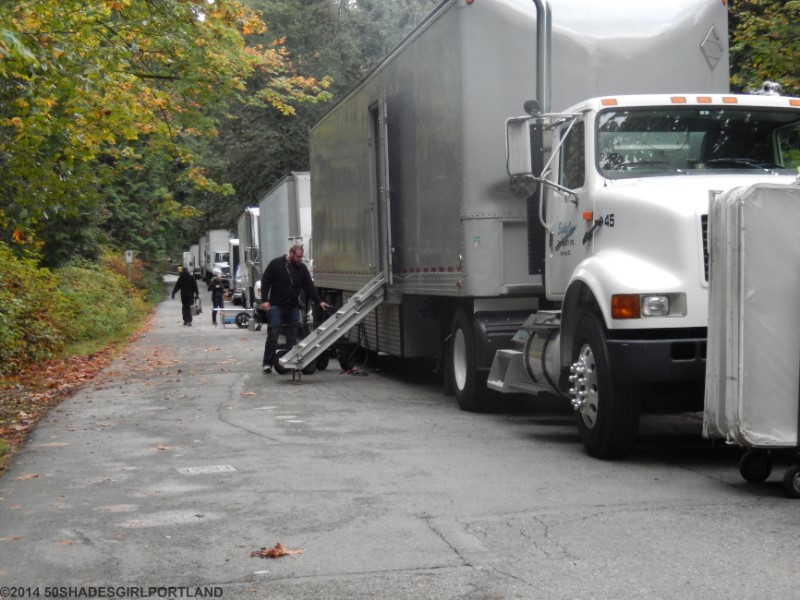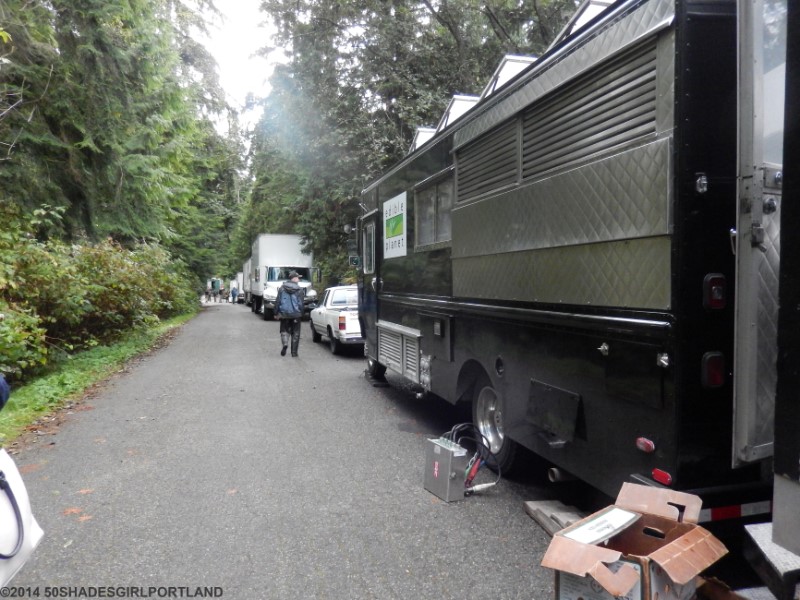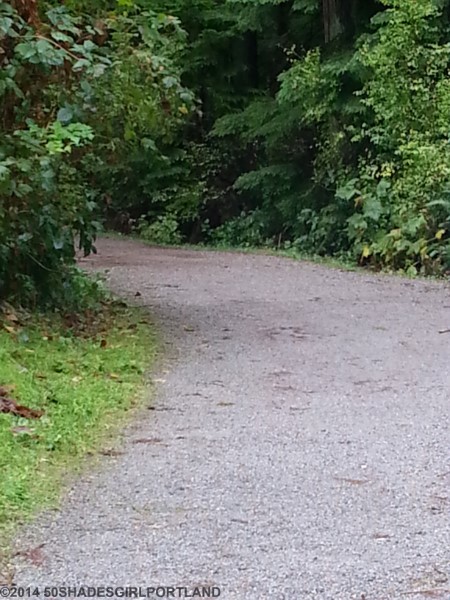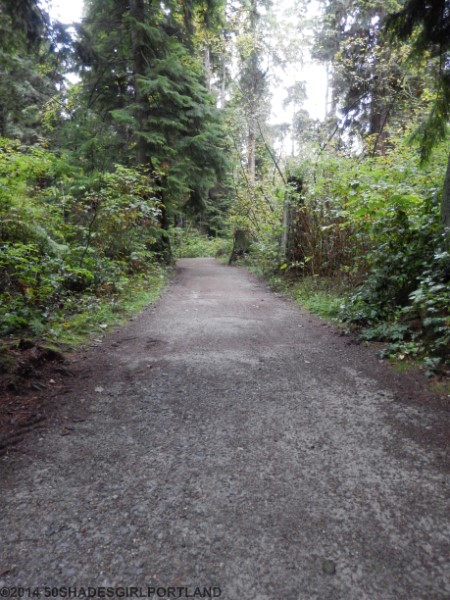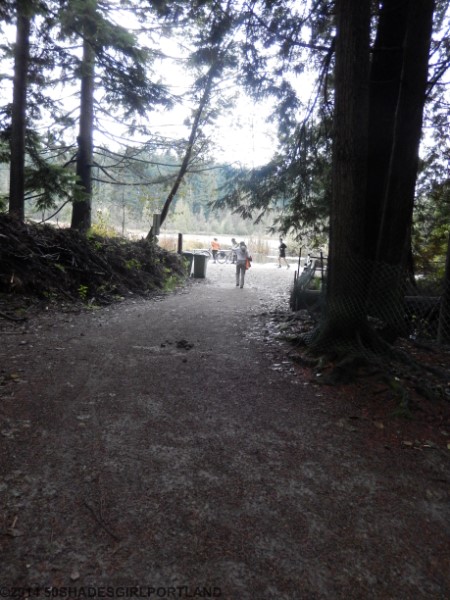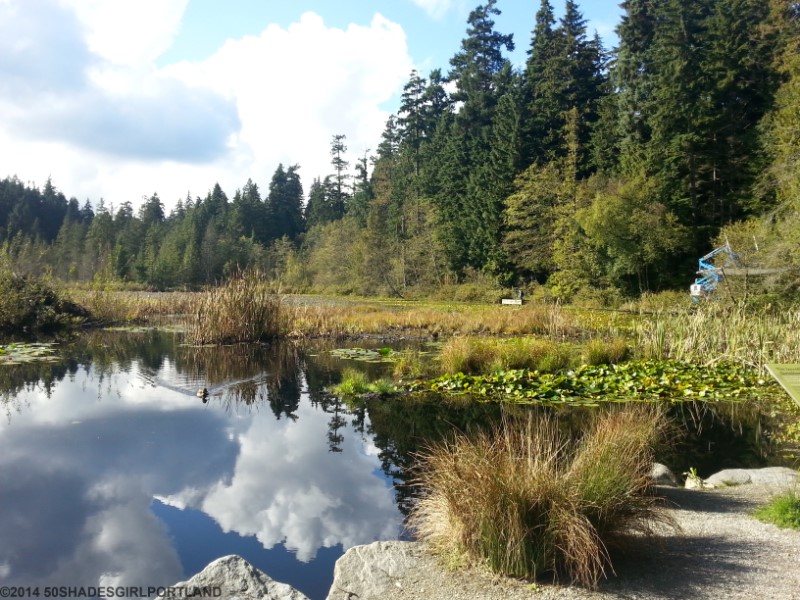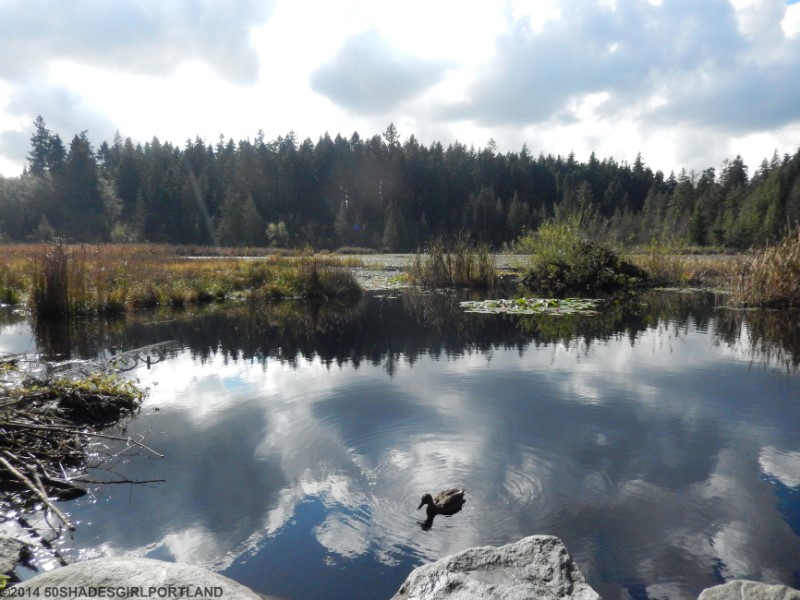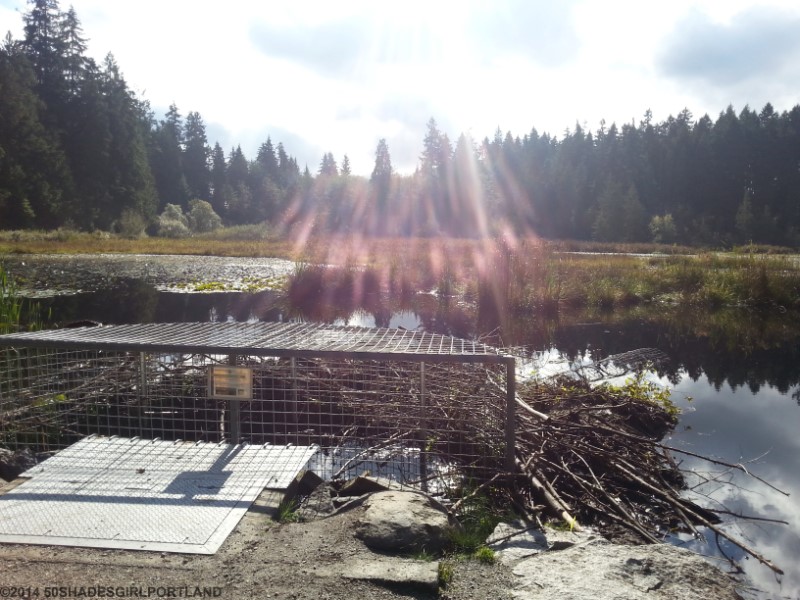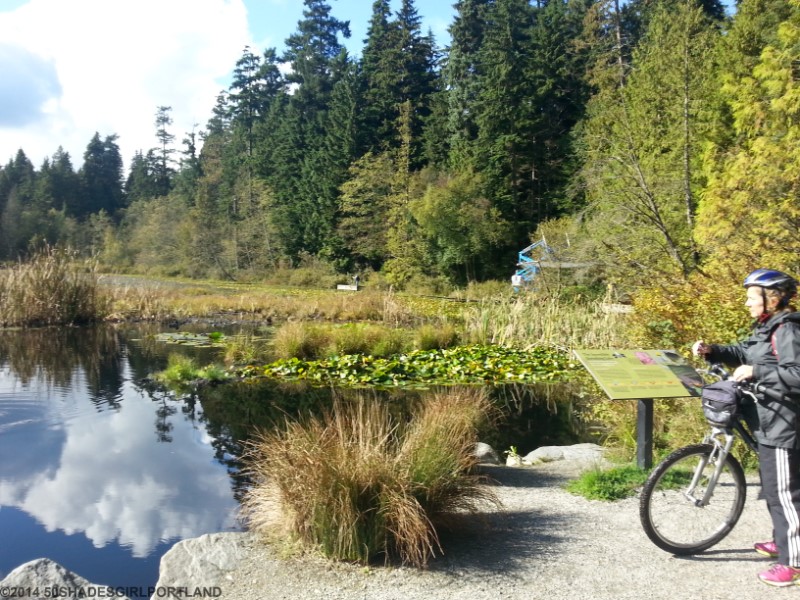 You can see the platform they used for filming off to the right.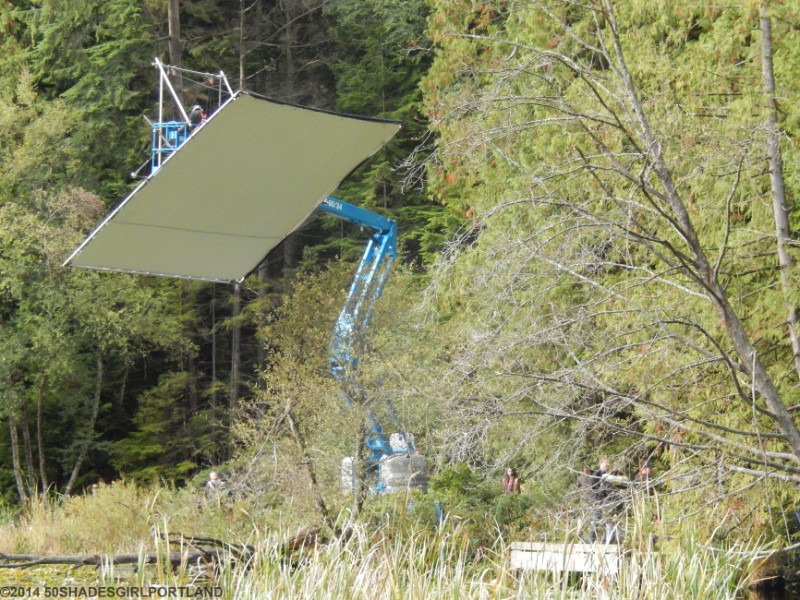 I ended up standing down the pathway where you can see those people.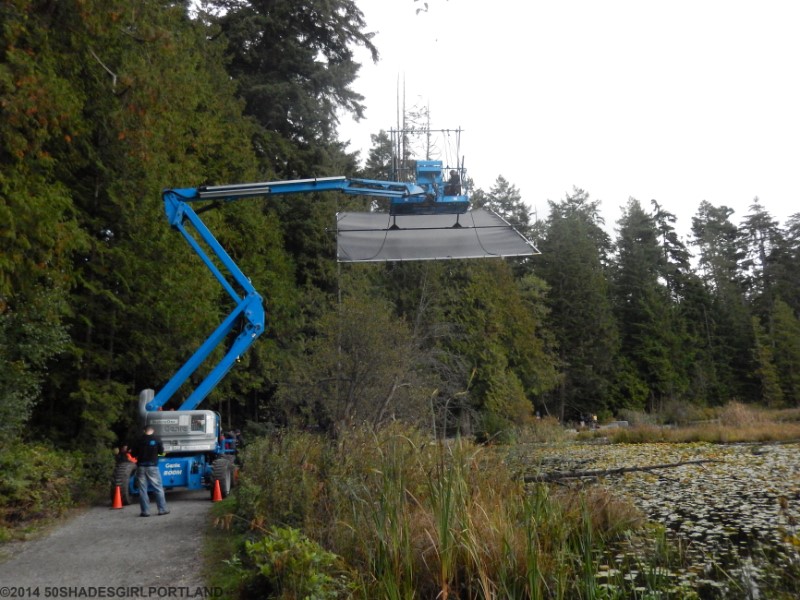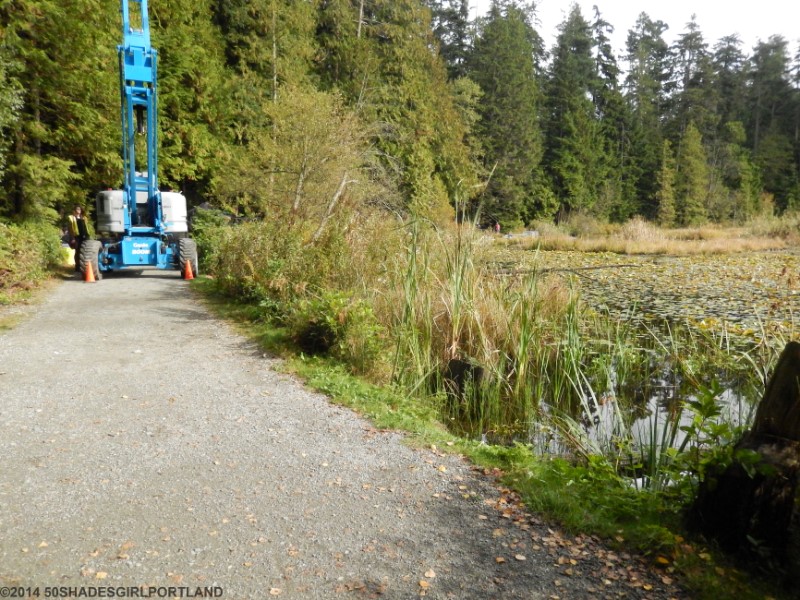 This is Sam TJ taking photos on the platform with Jamie and Dakotas doubles with her.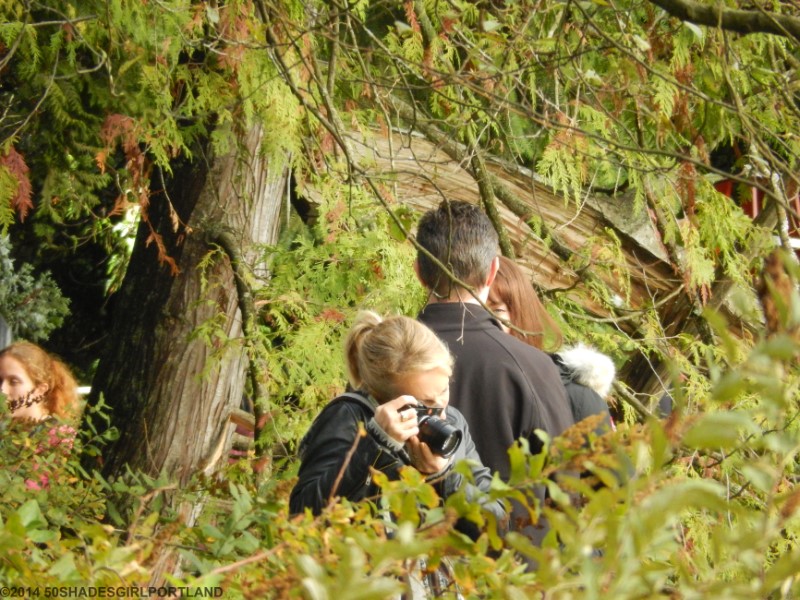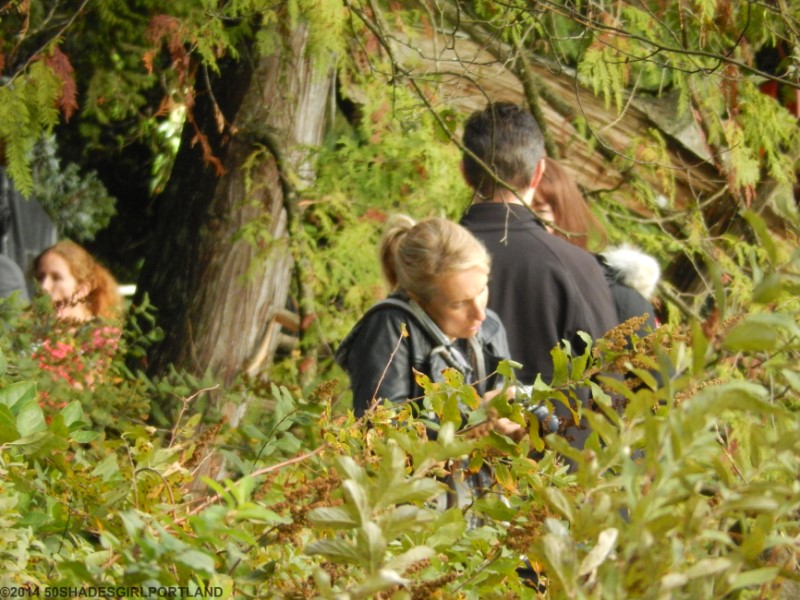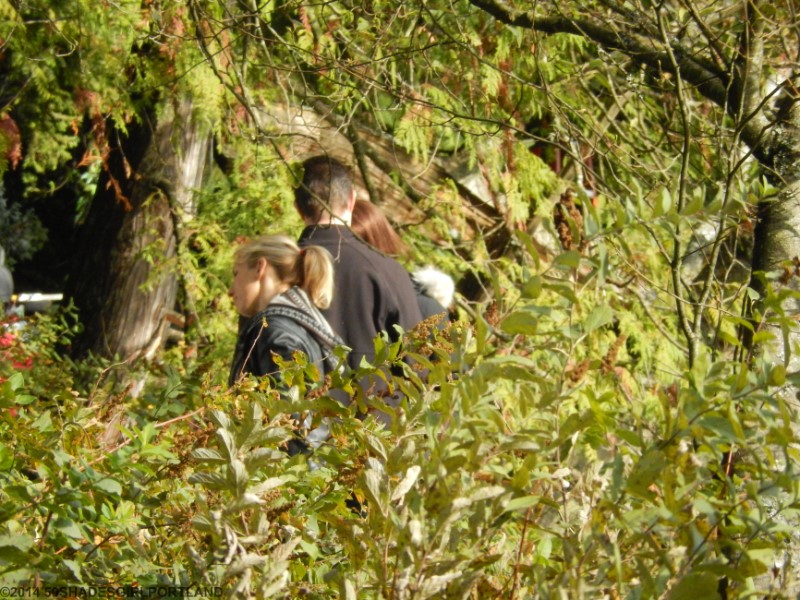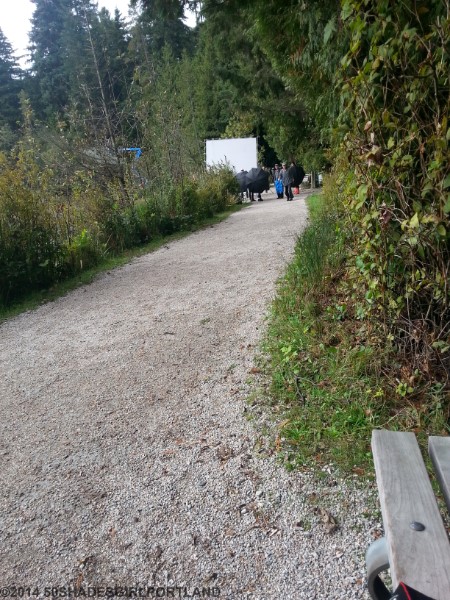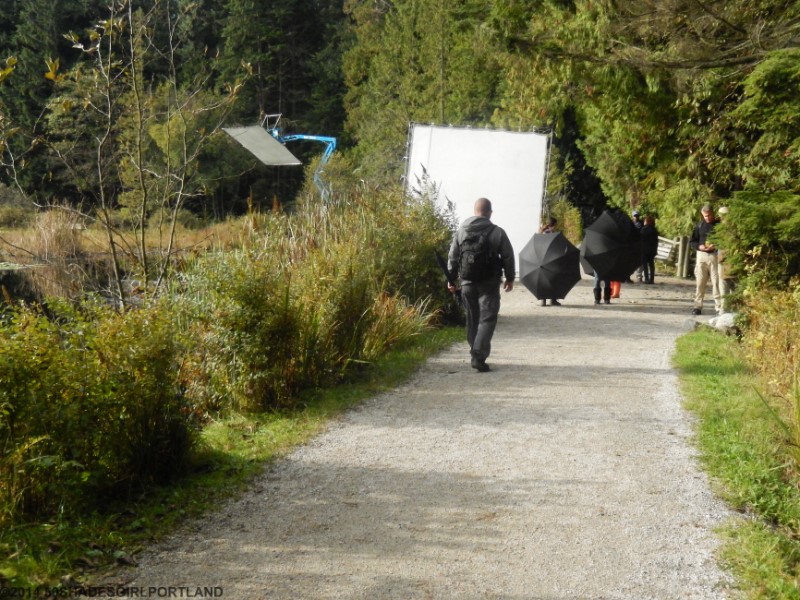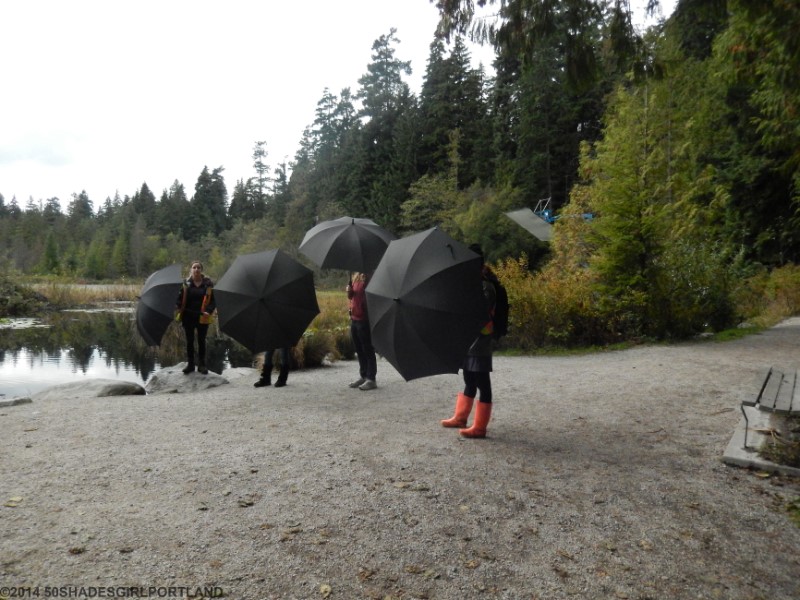 This is where I met Jamie and Dakota.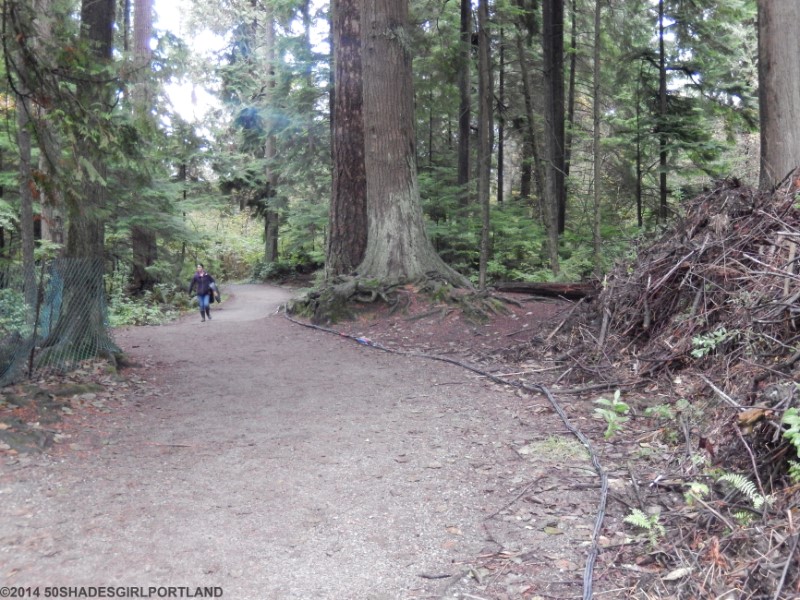 This area was full of production crew and equipment.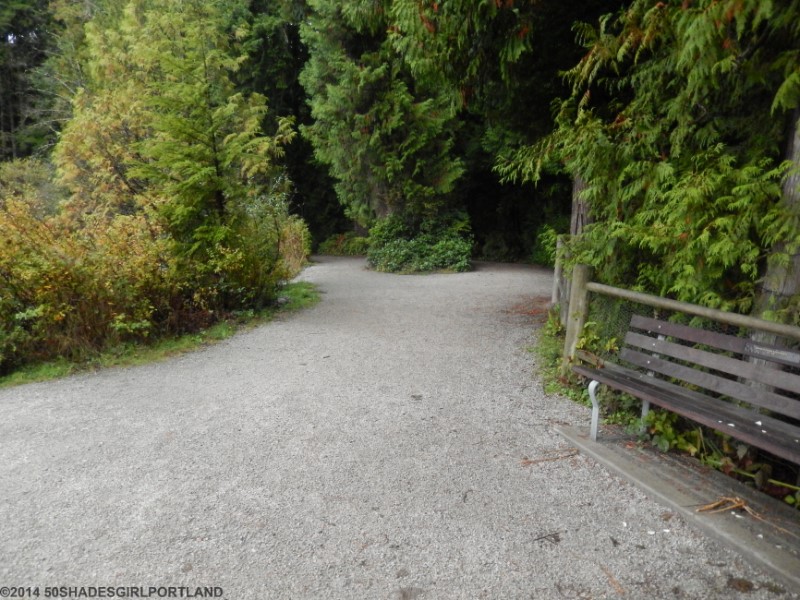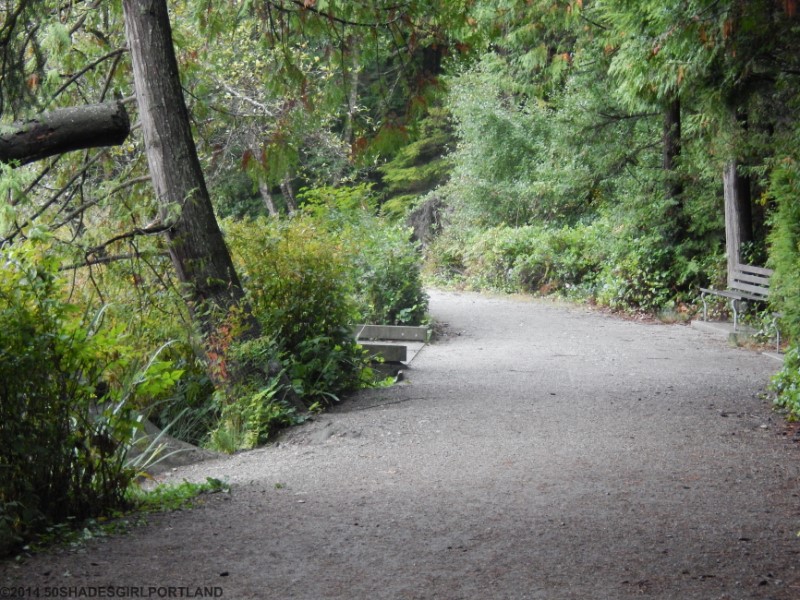 This was Dakotas view at beginning of scene.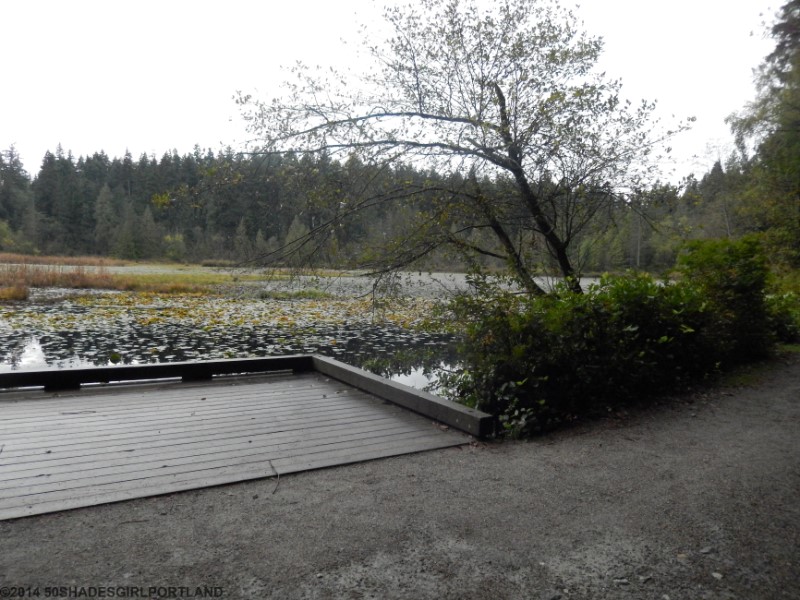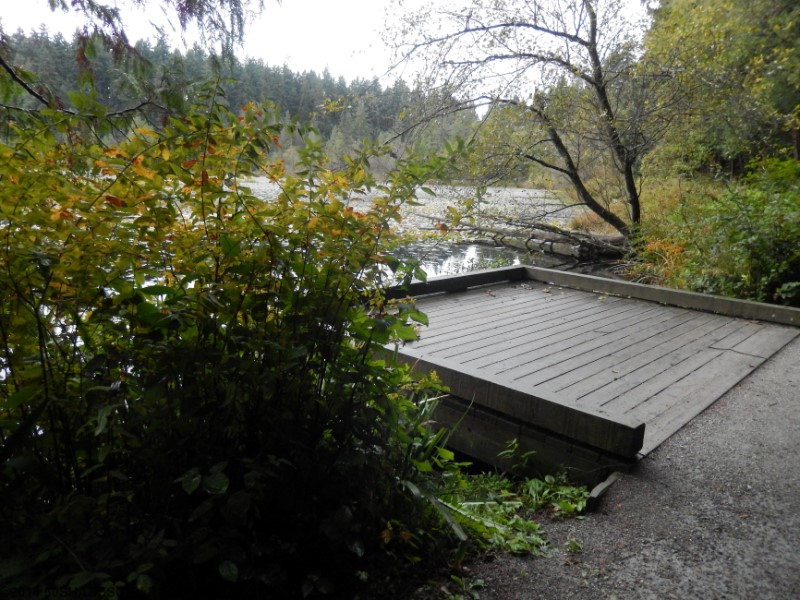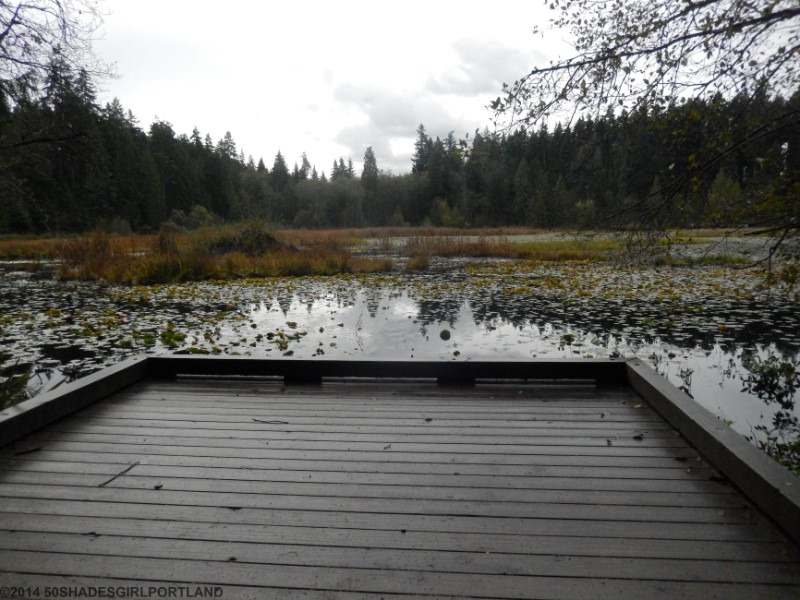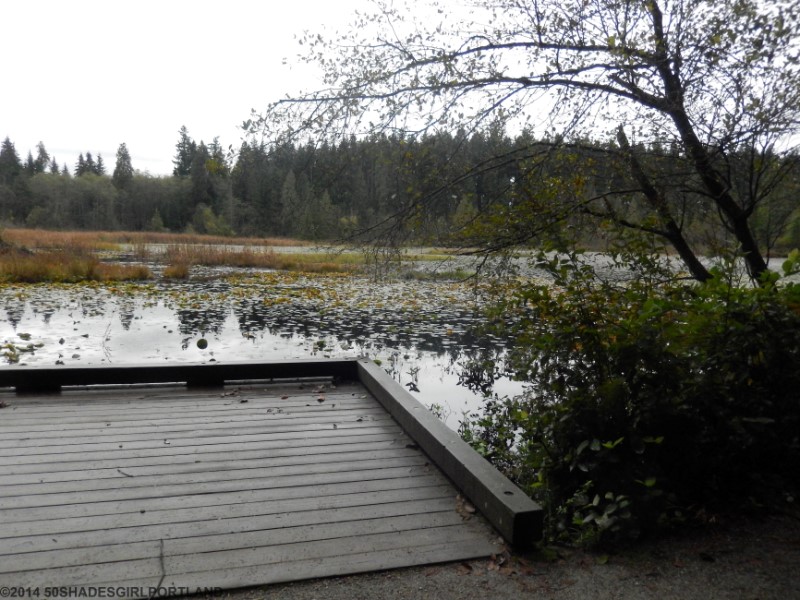 This is corner area where they kissed at end.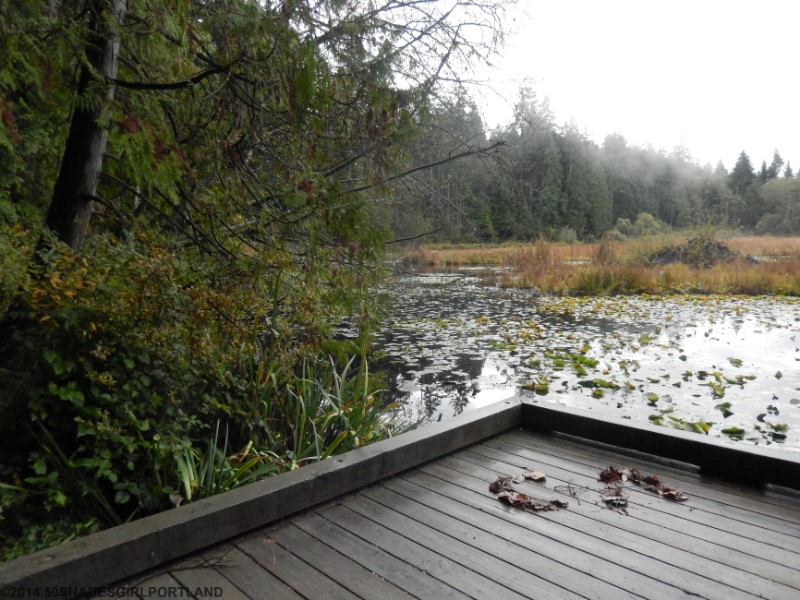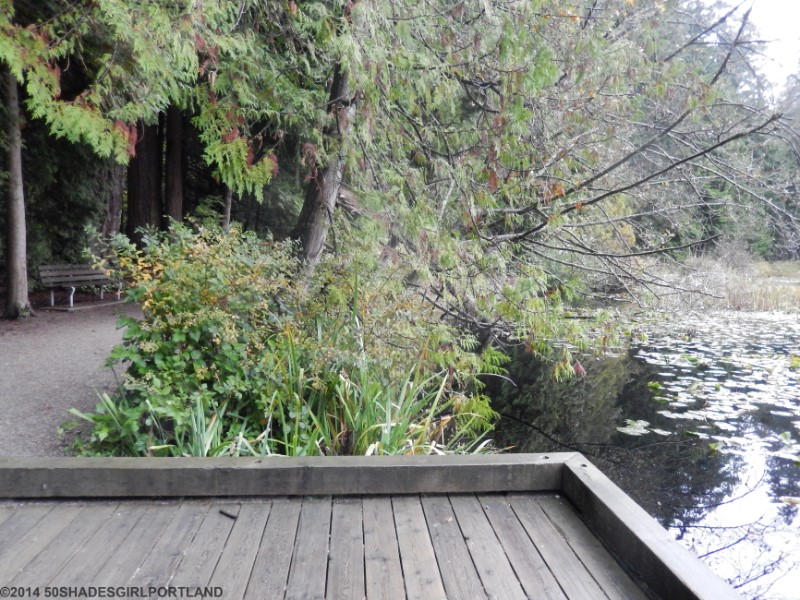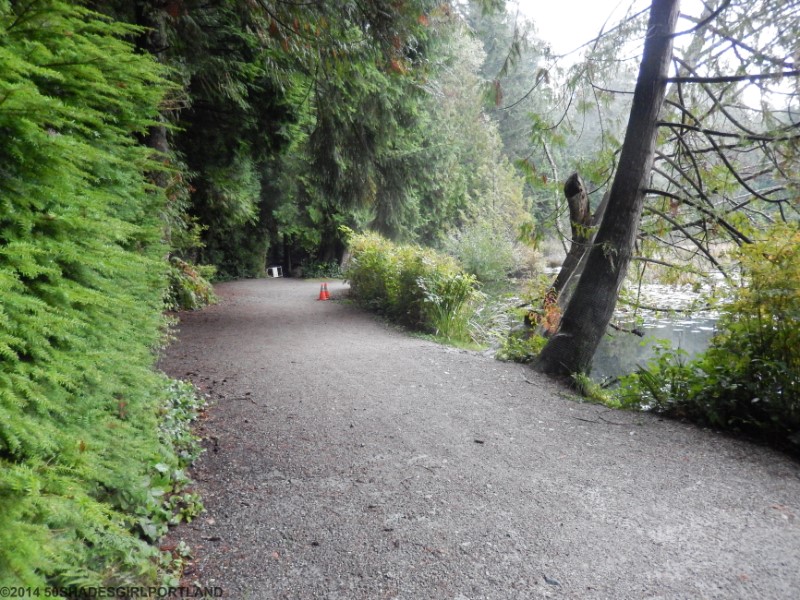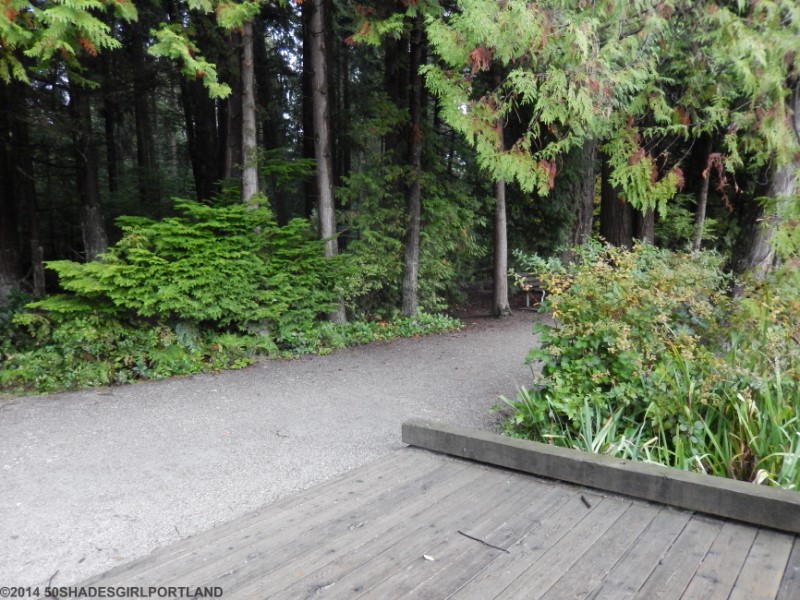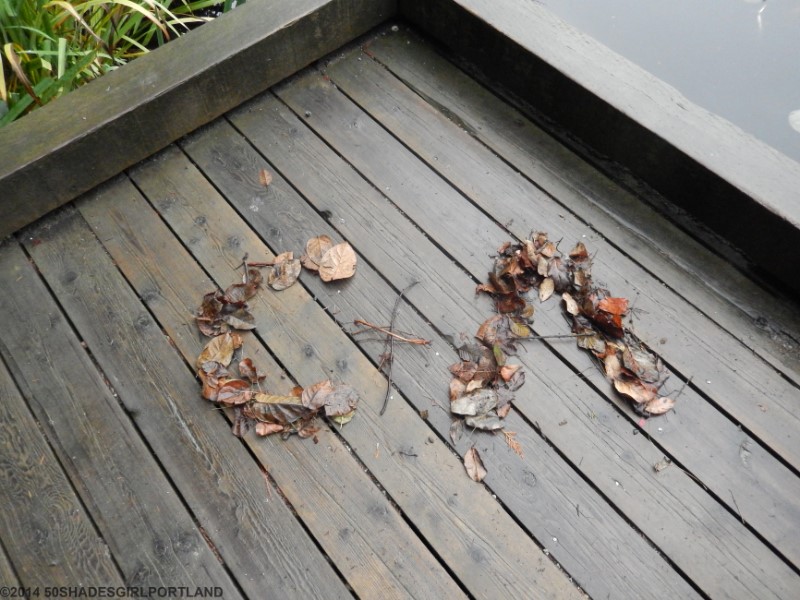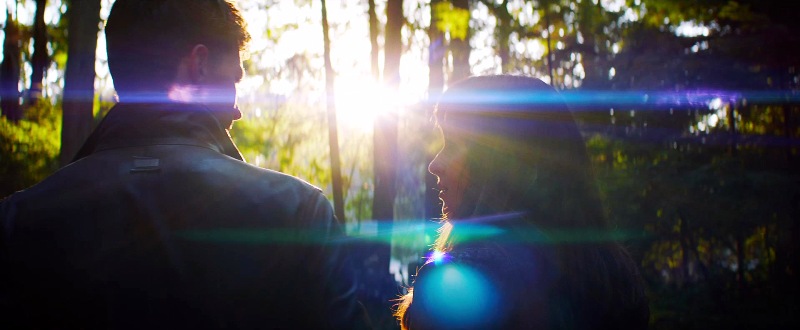 THIS VIDEO IS FOR EXCLUSIVE USE ON 50SHADESGIRLPORTLAND.COM ONLY.