FSOG MOVIE LOCATION ANA'S SEATTLE APARTMENT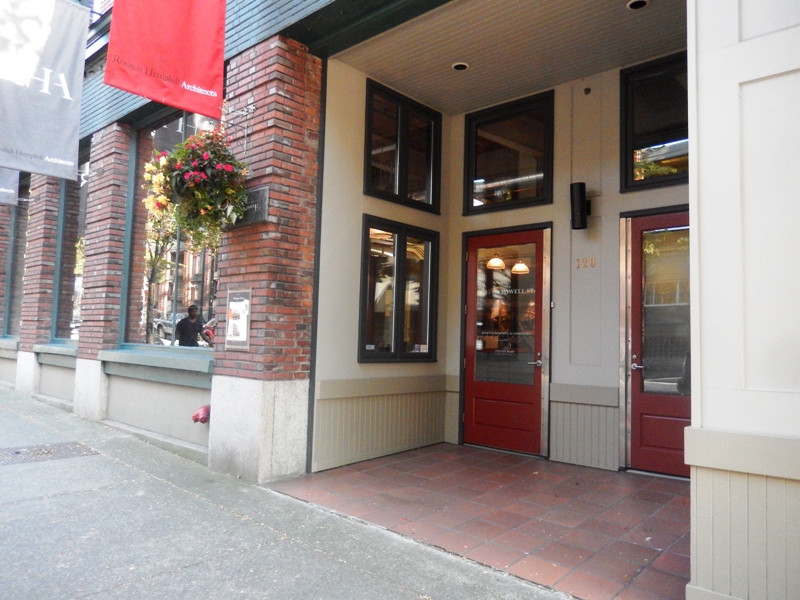 The building in Vancouver BC that was used for the front of Ana's Seattle apartment is located near the corner of Powell and Columbia Streets in the Gaslamp district. I believe this is for her apartment in the book located in Seattle Washington. When I first saw the filming there I noticed the distinct red door. This doorway was used for several scenes including Dakota as Ana wearing several different outfits. She was filmed here wearing the gray colored halter dress when Jamie as Christian gives her the keys to her red car. She was also filmed wearing a red print dress with jacket in a scene with Max Martini as Taylor. Her last look was in a white blouse and black pants while getting rained on. Many think that this last look may be after the break up at Christians apartment.
On my first visit to Vancouver BC,  I tried to find where the building was and just missed it. This time I had a hard time finding it too. When they were filming here all the trees along the street in front of the building were bare so that it was easy to see the distinctive roof line on the building. When I went this last month the trees were in full bloom and I couldn't find the roof line. It took me several minutes of walking in the area to find the exact doors and building. The address on the doors during the filming is actually different than the actual address. That threw me off too.  I finally found it and it was exactly as they filmed it with the red door and brick floor entrance. They added a lot of graffiti and covered the windows but it still looked the same.
More photos in Photo Gallery