FSOG BOOK VISIT TO THE BOHEMIAN HOTEL IN SAVANNAH BY MICHELLE @fsog_greysessed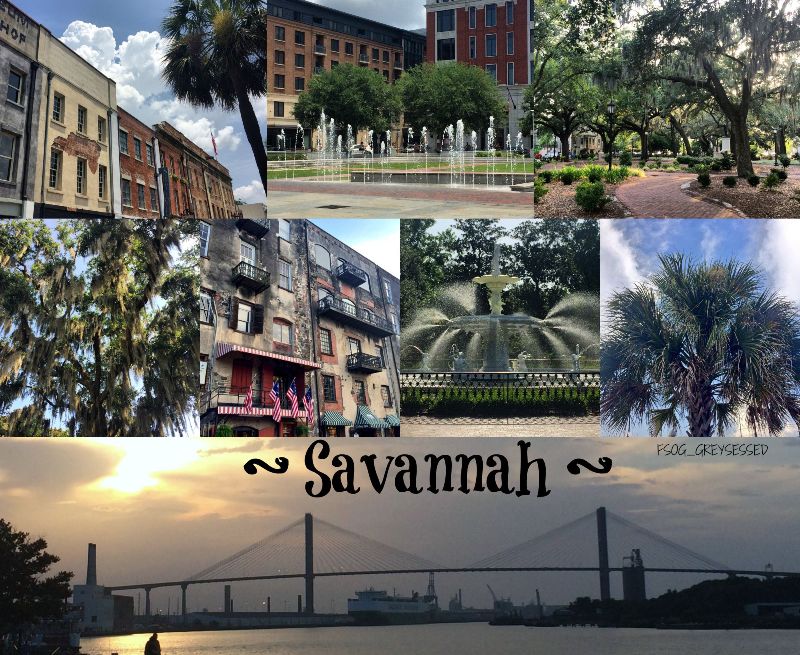 I recently noticed on twitter that Michelle @fsog_greysessed was visiting Savannah, Georgia and more importantly she was visiting the hotel that is mentioned in GREY that Christian stays at. I asked her if she would like to share her visit and photos with fans on my site and here is her story.
Hi! My name is Michelle and I'm one of the many greysessed fans of Fifty Shades of Grey. You can find me tweeting all about the book trilogy, Grey, and now the FS movies and actors on Twitter at @fsog_greysessed. I'm very honored to be here on FiftyShadesGirlPortland talking about my recent vacation to Savannah, Georgia. I've been fortunate to visit many Fifty Shades book locations in Seattle, Portland, and London, and it was important to me to make time to see Christian's hotel in Savannah.
I planned my trip to Savannah in the springtime and while researching I came across a popular hotel on River Street with a well-known rooftop bar that offered one of the best views overlooking Savannah that I knew I had to visit. Little did I know that the popular hotel I kept reading about known as the Bohemian Riverfront would be mentioned in Grey. The Bohemian Riverfront Hotel was where Christian stayed while surprising Ana in Savannah. The rooftop bar at the Bohemian Riverfront called Rocks on the Roof was also where Ana and her mother, Carla sipped their Cosmopolitans before Christian surprised them and joined them for a drink. Once I read Grey, I knew there was another reason for me to visit the Bohemian Riverfront.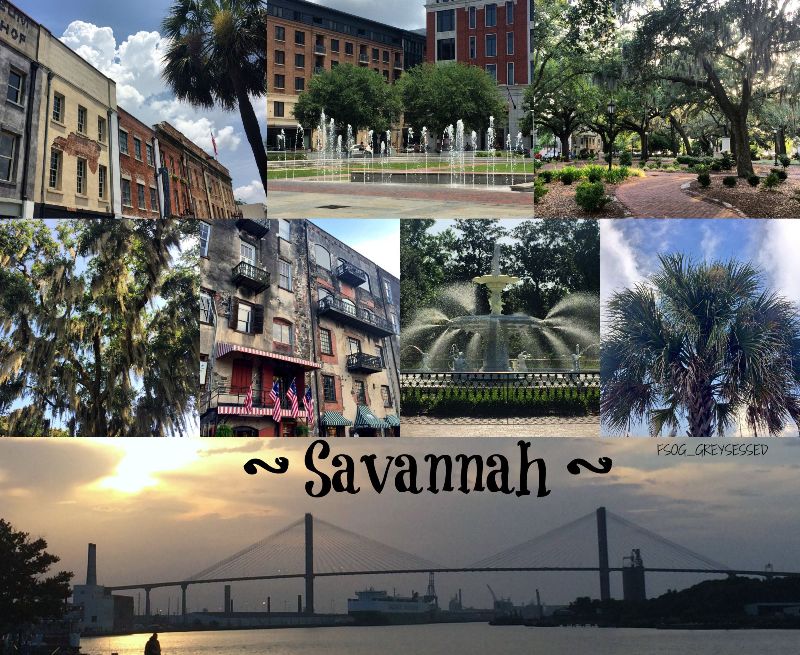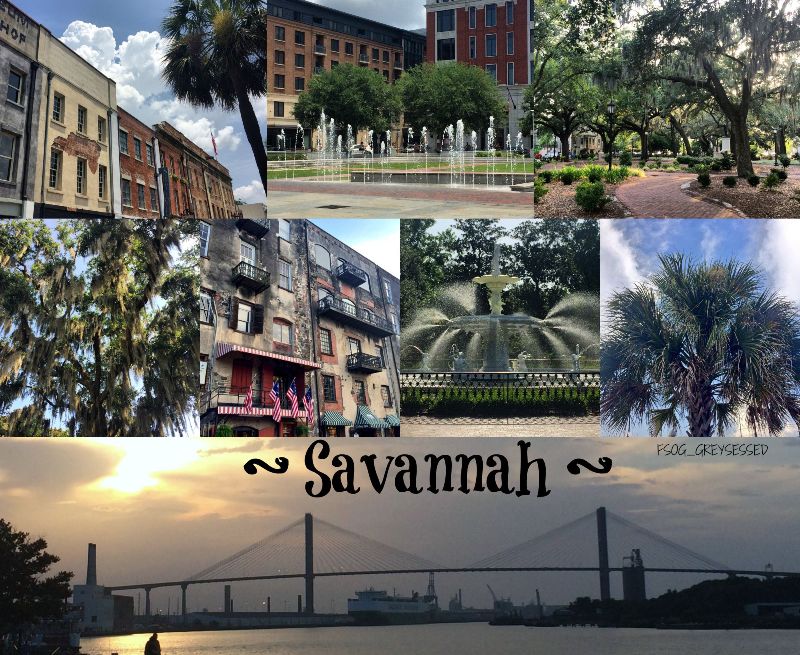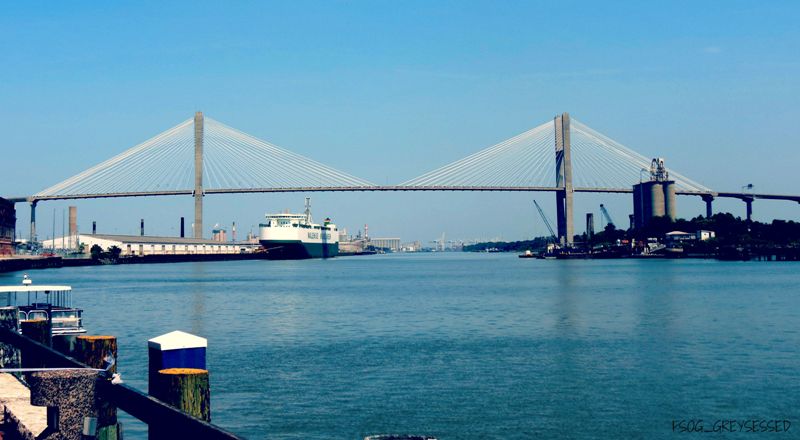 I traveled to Savannah the second week of July and Ana was right… it was stifling! It was very hot and humid but that didn't deter us from visiting many of the hot spots the city had to offer. We visited River Street, Forsyth Park, Downtown Historic Savannah, the Savannah Theatre, and Chippewa Square (where Tom Hanks filmed the infamous bus bench scene in Forrest Gump). Even though it was hard to walk around in the heat, Savannah was a very beautiful city with old architecture and stunning Spanish moss trees. It was relaxing to walk down River Street along the Savannah Riverfront especially at night seeing everything lit up, including the Talmadge Memorial Bridge. To cool off, there were many ice cream shops to grab a refreshing treat. We stopped at Leopold's Ice Cream Parlor, which has been around since 1919 and is a Savannah staple. Owner Stratton Leopold is also a movie producer and produced the 1993 movie, Born Yesterday, starring Melanie Griffith and Don Johnson. I was waiting in line for the bathroom and happened to spot pictures of them on the wall. To me, it was very cool to see them and felt like almost another connection to Fifty and Dakota Johnson!

Now that I've shared a little bit about Savannah, I'll talk more about my visit to the Bohemian Riverfront Hotel. The first night I was in Savannah, we ate dinner on River Street near the hotel and I was able to snap a quick picture. I didn't go inside or spend too much time there because we were exhausted from a long day of travel and I knew we'd have more time to visit the following day.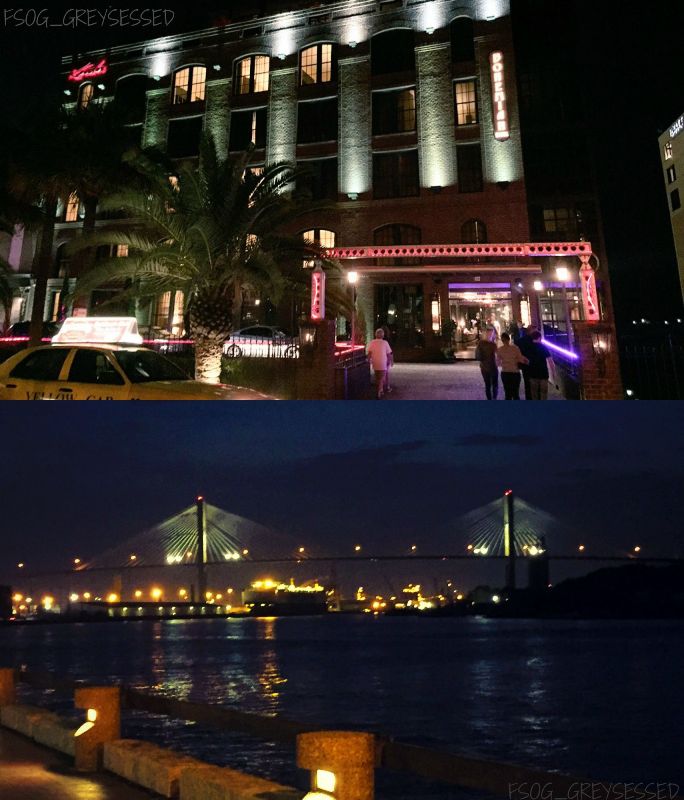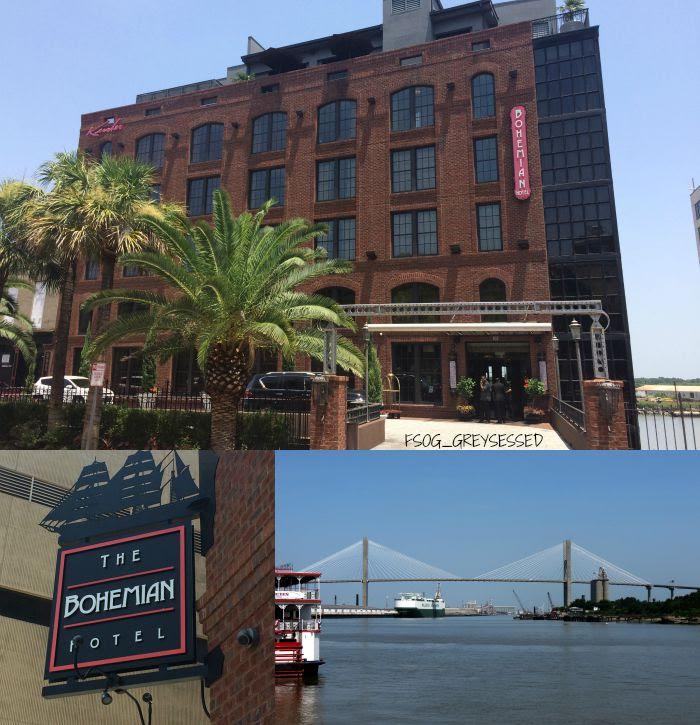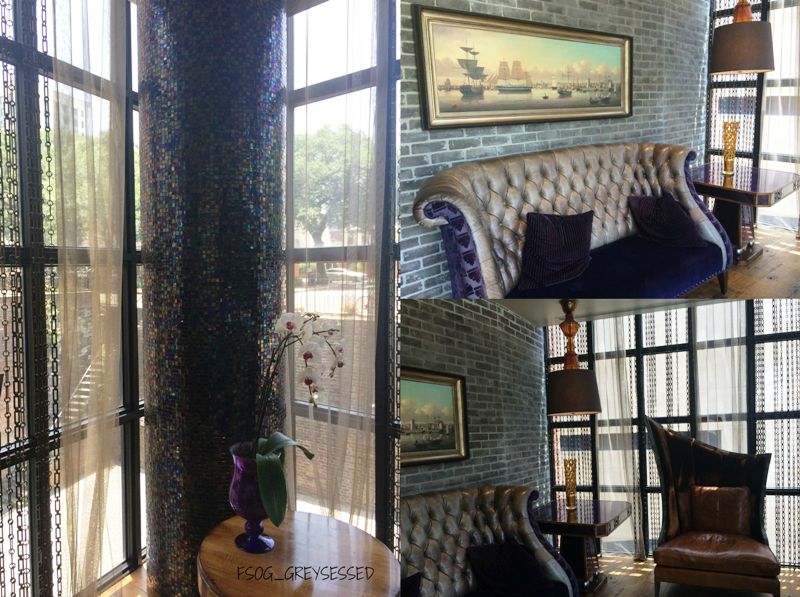 We awoke to another hot day and headed over to River Street to spend time at Christian's hotel. The Bohemian Riverfront was beautiful! It was voted one of the top 30 hotels in the South, as well as one of the best in Savannah. It was very modern and luxurious, which makes it the perfect hotel for Christian Grey to stay. We walked around the hotel for a few minutes before taking the elevator up to the rooftop bar, Rocks on the Roof, which was equally as beautiful as the rest of the hotel. After snapping a few photos of the bar and stunning views, we sat down and I ordered a Cosmopolitan. I broke rule 7, clause 5 a few times during the trip. 😉 It was quiet while we were there but it definitely seemed like a place that got very busy at nighttime. They had a large drink and food menu and the prices were all very reasonable. After a Cosmo or two, we left to explore Savannah more. The Bohemian Riverfront is a place I would recommend visiting if in Savannah and one I would visit again.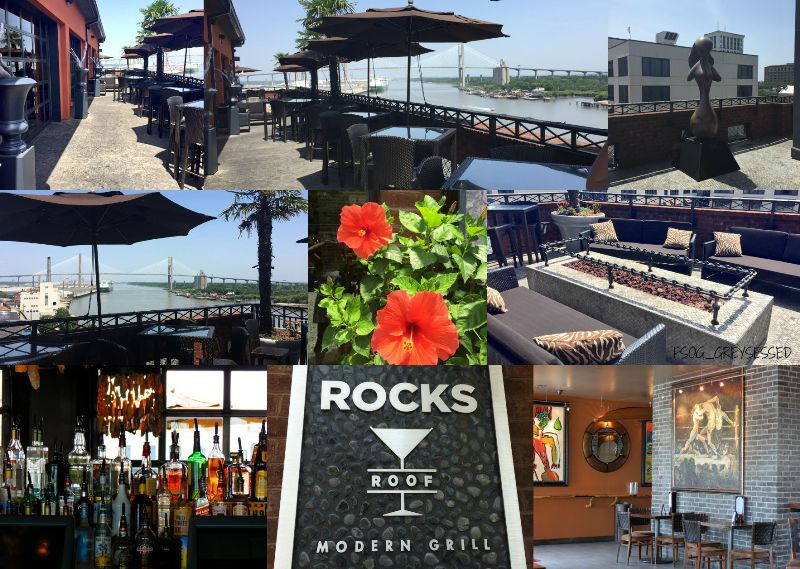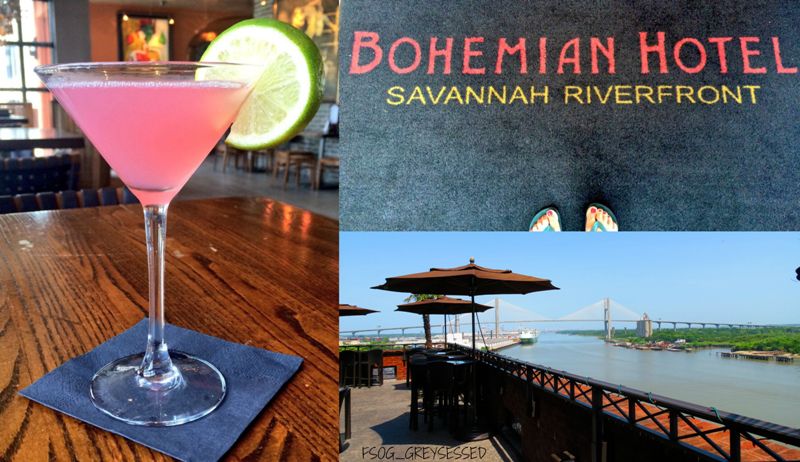 Since I've returned many have asked me if the Bohemian Riverfront looks like the hotel set they used in the Fifty Shades movie. Unfortunately the Bohemian Riverfront and rooftop bar did not look like the hotel bar everyone saw in the movie. As previously mentioned, the name of Christian's hotel wasn't shared until Grey, so there was no hotel for the production crew to reference for appearance. I feel the hotel bar set used in the movie worked very well and was a place that you would see in Savannah. The only resemblance from the movie was the exterior shot of the Savannah River and Talmadge Memorial Bridge.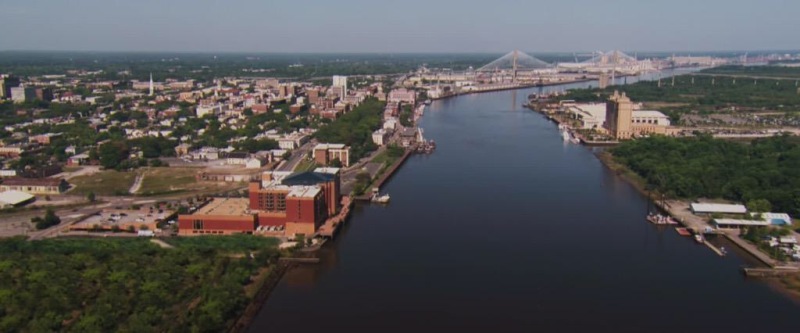 Overall, it was a lot of fun getting to visit the Bohemian Riverfront and Savannah! I love having the opportunity to visit Fifty Shades book locations! Thank you again, FiftyShadesGirlPortland for allowing me the opportunity to share my visit on your site.
Laters, Baby
Michelle (@fsog_greysessed on Twitter & Instagram)
Thank you Michelle for taking the time to share about your trip to Savannah and the wonderful photos.
You can read more about the film location used in the movie here.