FSOG MOVIE SEATTLE ANA DRIVING ON ALASKAN WAY VIADUCT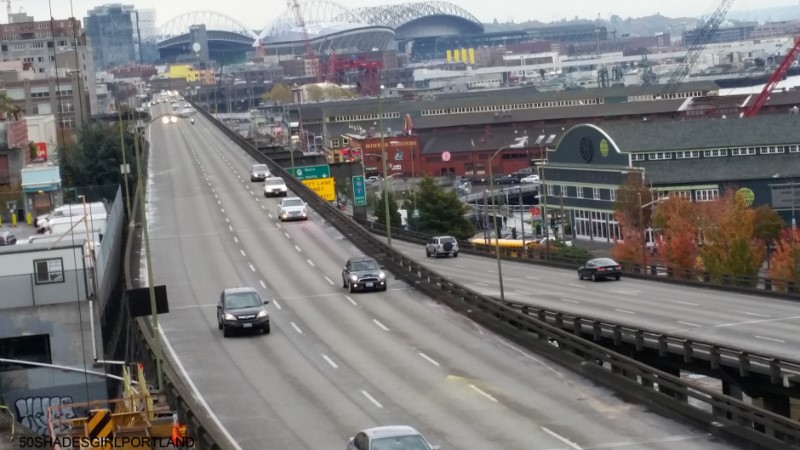 The filming of Fifty Shades of Grey was primarily done in Vancouver BC. It was used for both Portland, Oregon and Seattle, Washington. During the movie there are a few scenes that we see of Seattle, Washington. When I contacted the location manager for the Seattle filming I was told that they filmed some driving and aerial scenes in Seattle, but no filming was done with the actors. One of these driving scenes is when Ana is moving to Seattle, driving her VW bug Wanda with possibly Jose driving the UHaul truck and Kate following in her car. We see the three of them driving along the Alaskan Way Viaduct. The highway runs along the water at the foot of the downtown area of Seattle. The city of Seattle is currently constructing an underground tunnel that will replace the highway. You can read more of the project here.
It is easy to view the highway from the small park area at the foot of the Pike Street Market. There is a great view of the water, ferries and the waterway buildings from this location.  I was able to match up the buildings in the background and the one red brick building with MINERS LANDING  on it. I believe they may have filmed this from the top of the one of the buildings that was just to the left of where I was standing. Because of the viaduct construction going on now I was not able to move to that area.