FS DARKER "SET UP" SIP INTERIORS 110 East CORDOVA FEB. 15 2016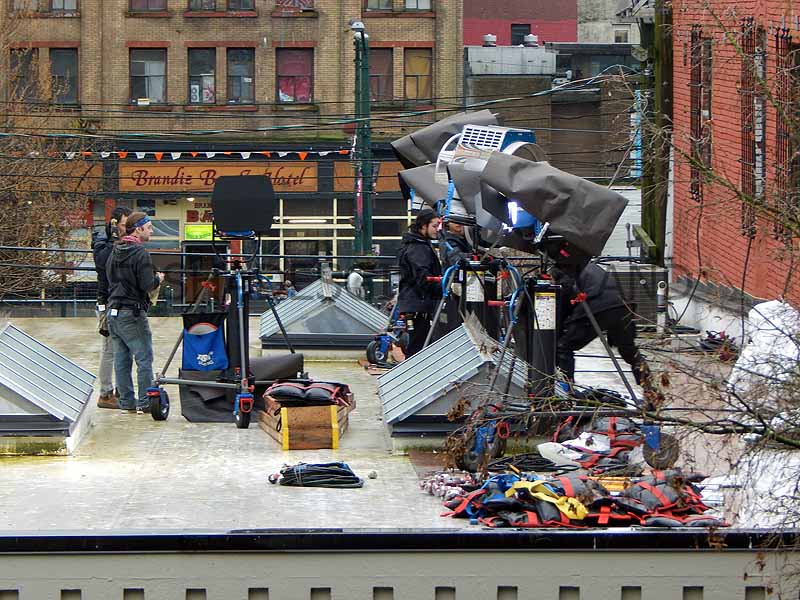 They started with more of the set-up today for the first Fifty Shades Darker location at 110 E Cordova in Vancouver. I believe they have been working in the building for several days building the sets and I was excited to see today what other equipment and work they would do before they begin filming tomorrow.
I was able to park in Gastown and walk just a few blocks to the location. First off I noticed these two generators on the street around the corner from the location. They had power cables leading across the sidewalk and up the back of the parking garage located across the street from the location building. I was not sure where they led to but I was definitely curious. When I turned the corner I was happy to see several trucks of equipment along the curb in front of the building and I could also see people up on the second floor where they have built the set for SIP. I spoke with a few crew people and got it confirmed that yes, this is SIP location. They said the set was complete inside and today they were bringing in lighting and other equipment to be ready. I did see several guys carry in a very large dolly for a camera and also they moved several lights up on top of the building next door.
I soon figured out where those electrical cables went to. They put several  big lights on top of the parking garage and two on the stairwell that were aimed at the main windows of the building. When the lights came on it was like a bright daylight shining into the building. I was able to walk around and take photos. There were a few security people but they were very mellow.
The day before I had a chance to visit the building and because no one was there I could peek into the first floor windows and take a few photos. It was very fun to see how they were setting up the location. Now we just need the actors and the movie magic.
I also took time to do a walking video of the FSOG locations in the Gaslamp area. It was fun walking from location to location.