JAMIE DORNAN INTERVIEW/PICS GUARDIAN OBSERVER
This new interview and photos with Jamie Dornan just came out from The Guardian Observer. In the interview Jamie reveals more about his role as Christian Grey and what you will and will not see of him in the movie. I thought it was a really good article in which he talks about many aspects of his lifestyle including eating pretty much anything he wants "I could eat 10 packs of Hula Hoops a day and not think about it". After reading the article you come away with a new appreciation for the man behind Christian Grey.
All credits to The Guardian and article written by Nigel Farndale
Photographer Alex Bramall.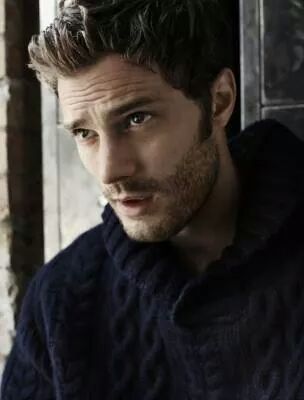 The photo shoot done, Jamie Dornan is ushered away to a quiet corner of the studio by his publicist, who needs to brief him for five minutes on his international press schedule. Requests, requests. They do not concern the new series of The Fall, his sophisticated and critically acclaimed crime drama that starts again on BBC2 this month. They relate to the film version of Fifty Shades of Grey, which is not being released until February yet is already bulging over the 32-year-old actor like a heavy nimbus cloud.
We shall come to that. For now I watch him as he finds himself standing next to a vaulting horse. As he listens to his publicist, he takes hold of its sides and raises himself up, his 6ft frame forming a gravity-defying diagonal behind him in the air. Seeing this impressive gymnastic feat, the photographer stops packing away his camera and starts clicking again.
When the photographs are done, we walk to a nearby restaurant for lunch, and Dornan tells me it was just as well the photographer didn't ask him to do a second take, because "I would have been crying in the corner if he had." He broke his shoulder a few years ago, and "stupidly I put off having surgery on it until last year".
He doesn't realise he is doing these exercises half the time, he adds. In fact, he thinks he is "probably quite irritating to live with" because he has a condition which means his adrenaline levels are abnormally high, so he is always dropping to the floor at home and doing press-ups. "I'm quite hyper, and my wife [he married the singer-songwriter Amelia Warner last year] would prefer it if I sat down and read a book."
In contradiction to this professed hyperactivity, Dornan has a languid delivery, with a crackly County Down lilt. His manner is composed, too. And he is open and self-deprecating, punctuating his conversation with an easy laugh. He even seems to wear his good looks lightly, behind a five-day beard. It's sickening.
And it gets worse. With his spatchcocked chicken he orders a regular Coke. Really? Not diet? "Yeah, really." He claims he doesn't need to watch what he drinks and eats. Seems to stay in shape naturally. In fact he usually drinks beer, and opens a bottle of wine every night after helping his wife put their 11-month-old daughter to bed. And he eats "any old crap. I could eat 10 packs of Hula Hoops a day and not think about it."
Dornan also claims that he doesn't need to spend hours each day in the gym (do we believe him?), and that he feels insecure about his appearance.
And at this point we need a little context. For almost a decade, you see, Jamie Dornan was one of the highest-paid male models in the world. Dubbed the "Golden Torso" by the New York Times, he was photographed by Bruce Weber and contracted to Dior, Armani and Calvin Klein; for one memorable billboard campaign, he and Kate Moss posed together wearing nothing but their tight Calvin Klein jeans.
Did he feel objectified when he was a model? "At times, yeah; on the whole, no. I got lucky with that gig because quite early on I could be picky about what I did, where I did it. And because I was on contracts, I was working maybe 10 days a year and getting paid really well for it."
He says "working". Actually what he had to do most of the time was "lean against a wall while looking depressed".
When I ask him how old he was when he first realised, to quote Derek Zoolander, he was "really, really ridiculously good looking", he gives an off-centre smile and a shake of his head. "I don't recall. I'm not sure it has even happened yet. I didn't do particularly well with girls at school. I was always very young- looking. And my sister's friends would always say: 'You're so cute.' I fucking hated that. If you are a skinny, baby-faced teenager, the last thing you want to hear is that you're cute."
His mental picture of himself as baby-faced is the reason he usually sports a beard. "I feel uncomfortable without it. I find myself moving differently. I don't like myself without a beard."
OK, there's one insecurity about his appearance. Any others? "My nose bends to the right." It has been broken twice definitely, three times possibly – when his tennis coach "fired a fucking tennis ball in my face", when a maul collapsed in rugby and when someone headbutted him in a Clapham pub.
Well, the camera doesn't seem to mind the asymmetry. Nor does it have a problem with his beard, which we are about to see on our screens again when he resumes his Bafta-nominated role in the second series of The Fall. In this critically acclaimed drama – which has brought BBC2 its highest ratings in more than a decade – Dornan plays an eerily calm serial killer who stalks the streets of Belfast by night but who by day is a bereavement counsellor and loving father. And judging by the first episode of the new series, which sees his character return to Belfast after his escape to Scotland at the end of the first, it has lost none of its tension or darkness.
Part of its appeal, I suggest to him, is that the character he plays is chilling yet strangely sympathetic, because you see both sides of his life: the rapist and the family man. In a way it is his co-star Gillian Anderson, who plays the detective hunting him, who is the colder figure. "Yeah, you end up sort of gunning for my character in some sick way. You're almost wanting him to get away with it. That's what is so genius about the writing."
Clearly he is proud of this drama. "I've always got The Fall," he says as if to reassure himself. "No matter what happens in my career, I've always got The Fall." And it has served him well, leading him to be cast in three Hollywood films due for release over the next couple of years – one in which he plays oppositeBradley Cooper, another in which he co-stars with Breaking Bad's Aaron Paul and a third, well, let's talk about that third.
In the film adaptation of the bestselling erotic novel Fifty Shades of Grey, Dornan plays the billionaire BDSM-enthusiast Christian Grey. The trailer was previewed online not long ago. It broke the record for the most hits: more than 100m in one week.
If it is this film he is alluding to when he says "whatever else happens in my career", then that would be understandable, for it must be daunting having to live up to the expectations of 100 million readers. The only comparison in recent years is with Tom Hanks taking on the similarly popular Da Vinci Code – but he's Tom Hanks; he can afford to take a gamble (and gamble it proved to be, because that film was a turkey). For Dornan, this is his first lead in a big-budget movie. And he was even told he had to shave his comfort beard off for the role.
"I am never going to please all 100 million people who read the book," he says. "I'll be lucky if half that number are happy with me playing Christian Grey. I know there are campaigns of hate against me already."
It's not paranoia – I checked online. And the critics are no doubt sharpening their knives as well. He rolls his grey snow-leopard eyes. "Yeah, there is a huge intellectual snobbery about the book. And it comes from all the papers that I like to read. The Guardian is my home page on my laptop, and the other day I logged on innocently and there they were having a massive go at the trailer for Fifty Shades and I was thinking: 'Fuck, this is not good.'" He laughs. "But what can I do? I understand why those kinds of papers would have preconceived ideas about what it is."
That it is just "mummy porn"? That it lacks literary merit?
"Yeah, all of that – but you have to give Erika [EL James] some credit, because whatever you might think of the prose style, 100 million is a lot of people. Are the literary critics saying those 100 million people aren't very bright?"
Yep, that's about the strength of it.
He laughs again.
"OK. Fair enough."
Had he read it before he landed the role?
He shakes his head.
Had his wife?
"Nope. Because we are the types of people who have the Guardian as our home page. Look, the film is not the book. It's an adaptation, and Sam Taylor-Johnsonis an artist as well as an award-winning film director. Look at her track record. And look at the film studios behind it. Universal. Focus. All I can say is, wait until you see it before passing judgment."
We talk about the whole Fifty Shades phenomenon, why so many women seem to have sadomasochistic fantasies. As part of his research he went along to a BDSM dungeon in Vancouver, where he watched "a perfectly sweet and normal woman" enjoying being spanked. "There may well be a repressed side to some women who long for that kind of thrill in their everyday life," he says with a shrug.
When asked how graphic the film is, he pauses, weighs his answer. "You want to appeal to as wide an audience as possible without grossing them out. You don't want to make something gratuitous, and ugly, and graphic."
So no sex then? "Sam is a very bright woman, so there might be some suggestive elements to it, but I haven't seen it at this stage, so it is hard for me to say. I'm aware of what we shot, and it wasn't as if we shot a film without any action."
Was he completely in the nude? "There were contracts in place that said that viewers wouldn't be seeing my, um…"
Todger? He laughs. "Yeah, my todger."
Not like Ewan McGregor, then. He has it written into his contracts that his must be seen, at every possible opportunity. The laugh again. "Does he? Well, maybe Ewan has a more impressive girth."
On a more serious point, Dornan describes himself as a feminist – is he worried that the film will glorify sexual violence against women? "I think it's very hard to argue that when it is all consensual. Half the book is about making contracts. Permission and agreement that this be done. There's no rape, no forced sexual situations."
And no, he didn't find it a turn-on when he had to spank co-star Dakota Johnson. "Anyone who thinks actors get turned on doing sex scenes in films is mistaken. There are dozens of hairy men standing around, moving cables and lighting equipment. That's not sexy unless you're into being watched, which I'm not."
Was his wife comfortable with him doing it? "She understands that it is work." In fact she used to be an actor herself and the couple met through mutual friends in Hollywood. "I don't think we will be watching it together too many times at home, though."
Dakota Johnson has said she doesn't want her parents to watch the film. "I don't want Dakota's parents watching it either!" he says.
He's sure his father will be totally fine with it, but says: "I'm more concerned about my mates. More concerned about the ribbing I'll get. We're all quite harsh with each other, in a lovely, known-each-other-all-our-lives way."
A lot of his friends from Northern Ireland now live in London, and none of them are actors. He insists that his glamorous life as a film star hasn't had an impact on these friendships, that they still talk about ordinary things. That was one of the things he learned from his girlfriend of two years Keira Knightley: "There's someone who still has great friends from her youth."
Dornan is a hard man not to like. From a journalistic point of view, indeed, you almost wish he had some unpleasant personality flaw to balance things out. Rudeness to waiters, perhaps. But the going hasn't been as smooth as it seems. Because casting agents thought of him as a model, he found it a struggle to break into acting, with hundreds of failed auditions. I ask what assumptions people made about him in his modelling days. "None, because I wouldn't tell them I was a model. I'd always say I was an actor." This said, he protests that he has "great respect" for the fashion industry. "But the fact that I lied about what I did proves that I mustn't have been hugely comfortable with the label. I'm still haunted by the reaction my dad got when he told his friends what I did for a living."
His father is a professor of medicine and one of Ireland's leading obstetricians and gynaecologists. The life they led in Holywood, County Down, was decidedly "middle class". Young Jamie attended a private school in Belfast, where he was more interested in rugby than academic work.
After his A levels were derailed by the death of his mother to cancer, he ended up going to Teesside University briefly, before dropping out to train as an actor and sing in a band, Sons of Jim. The band did quite well, appearing on television and supporting KT Tunstall on tour, but then his modelling career took off and everything else had to be put on hold.
I ask him about Belfast. It didn't seem like a war zone to him when he was growing up. "There would be a bomb scare every Saturday, but that was about it." Though he was raised a Protestant he never felt like one, and he says he has no time for the small minority who spoil it for the rest, with their "my Jesus is better than your Jesus stuff".
When we discuss his mother's death, he reveals a stoical side. "What can I say? It is an unimaginably horrible thing to happen to you when you are 16. I was at an impressionable age and was naive. I was angry at the start and I still get angry now sometimes. But my dad helped me get a perspective. My mum's death made me more accepting of things, but the enormity of it still hits me in waves."
With a lump in my throat, I say that it's sad that his mother didn't live long enough to see what became of her talented son.
"Well," he says with a slow, knowing nod, "it's probably just as well she didn't have to see Fifty Shades."
The Fall returns on BBC2 on Thursday 13 November
I think the sexiest part of this photoshoot is that he is wearing his wedding ring. That says a lot about Jamie Dornan.