MEETING RITA ORA AT DRAIS Las Vegas AUG. 29, 2015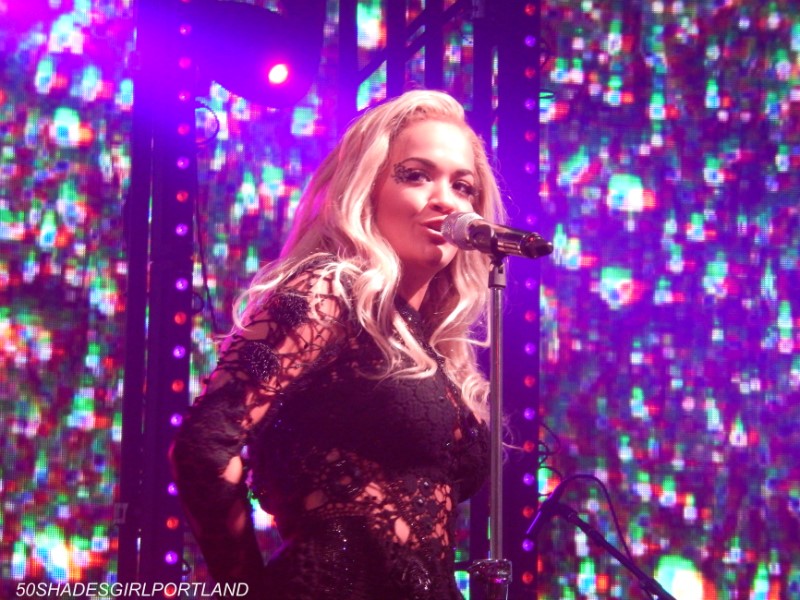 In the FSOG movie Christian Greys sister Mia is played by Rita Ora. She has been doing some U.S. concerts between her hectic schedule which includes hosting on The XFactor in the U.K. She was schedule to perform at Drais Nightclub at The Cromwell Hotel in Las Vegas and I decided to go see her. When I arrived about 9:30pm to the hotel for the concert I was told that she had arrived about an hour earlier to the hotel. When we arrived at the entrance to the club there were already more than 50 people lining up. Drais and The Cromwell are one of the newest hotels/clubs on the Las Vegas strip. They are bringing in a lot of big name performers and recently announced that The Weeknd, another FSOG artist, is in residence and performs here frequently. Over Labor Day weekend they have Chris Brown here and we learned that Rita Ora is returning to perform with him.
Drais nightclub is located on the rooftop of The Cromwell and is a continuation of their huge pool area. The club is open on one of its sides and faces out to the pools and the Las Vegas strip. It's a huge club with multi levels of VIP sitting areas that start at $2,500 to reserve. When we arrived the club wasn't too full yet so I was able to get some photos. By midnight it was getting very full.
Rita came on stage about 1:45 am and she looked gorgeous in a black lacy costume with heavy black lace and crystal stockings. She sang about 6 songs and then left the stage at 2:30am. We were standing on the dance floor right in front of the stage and were about 5 people back from the edge of the stage. It was a perfect view and it was cool to see her eye makeup and costume she wore. They used a lot of spectacular lighting and effects including a shot of confetti at the end. Some of the lighting made it hard to get good photos/videos.
After her performance one of the security guys told us that she would be leaving from the hotel quickly and we might see her at the drive in entrance. We took off in that direction with high hopes. When we got there I immediately noticed two big black SUV's parked and waiting. A few guys came out with some bags and put them into one of the SUV's . One of the guys stayed there at the entrance talking on his phone. I noticed he had a british accent like Rita does. We started to chat with him and found out he was her tour manager. He shared with us how busy her schedule is with flying back to LA right then for the MTV VMA which are Sunday night. She had a rehearsal for that on Sunday. Then was going to London on Monday for Xfactor TV show. Then jetting back to LA, then to Las Vegas next weekend. She still has tour dates after then in NYC and is doing an appearance on Today Show as well.
He said they may be adding more US tour dates in September and was mapping out a UK tour for the spring. We asked about her role with Fifty Shades of Grey and he said as of now there are no plans that he's aware of, but that can change quickly. He mentioned he had met Jamie Dornan when Rita was on The Graham Norton show with him and thought him a very nice guy. Rita and her entourage were running over a half hour late and he was communicating with the pilot of the private jet waiting to take them all back to LA.
We soon saw her coming out about 3:30 a.m. behind some of her people. A small group came out and I recognized her hair person Christopher Appleton. Her tour manager stopped and spoke to her for a moment and then they both came over to us. She was so nice to stop and do a photo with us and autograph. She had on no makeup and had her hair up in a baseball cap. She was wearing casual white pants and a flowing shirt. We noticed she was carrying a bag of ice and had it on her hand. She said she injured her fingers. She was still so beautiful even without all the makeup, hair and costume. It was an amazing experience to have the chance to see her perform and meet her afterward.