FS FREED FILMING WITH DODGE SUV ON PENDER ST. AND ALLEYS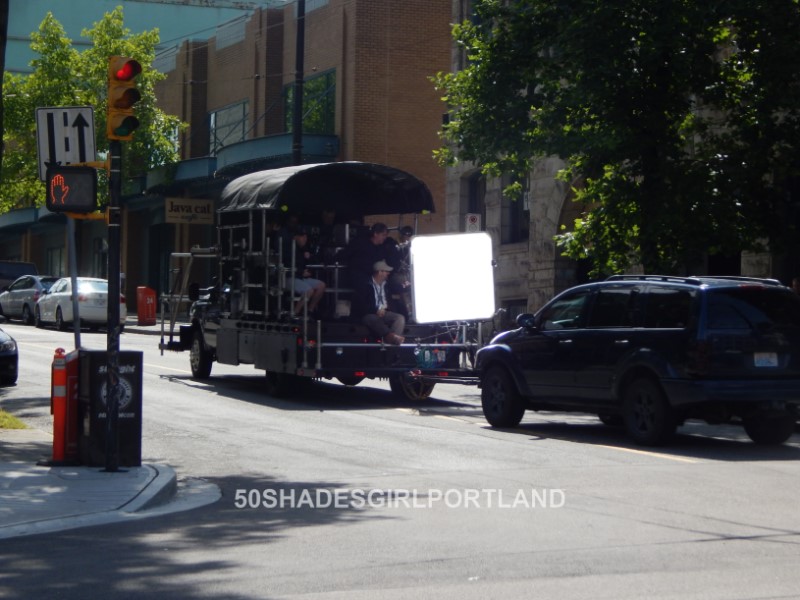 After they completed the filming at the parking lot at 1050 Pacific they hooked up the tow bar on the front of one of the navy Dodge Suvs and took it out for filming. I was told not many filming productions use this type of movie truck filming because most crews use green screens or other filming options. The truck had a partial top on the back covering the cameras and also lighting on the back. Director James Foley and John Schwartzman were riding in the center back of truck along with several other camera crew. There were two of these vehicles on set and I believe one had a camera rigged in the back seat area. They later loaded back in the back seat after filming was completed.
They filmed with the Dodge SUV at 340 W. Pender in front of the Paper Hound Book shop and the location of The Permanent building which was filmed for the Seattle Nations Bank. The lineup of cars included a police car in the front, followed by the huge camera truck towing the navy blue Dodge SUV. Inside the SUV was Amy Price-Francis as Elizabeth and Dakota in the back seat. They drove west on Pender and turned right at the corner of Hamilton St. They continued to the corner with Dunsmuir St. They stopped at that corner, turned right and then returned to Pender to film the scene a couple of times.
After this they then returned to the parking lot on Pacific. They changed the covering on the front window and also changed out to another identical Dodge navy SUV. They left once again for filming.
The first stop was to film again on W. Pender with the same driving route.Next was driving through the alley located between Abbott St. and Cambie St., just south of Hastings St. They drove south on Abbott and turned into the alley going west. The camera was also filming people or cars passing the alley entrance on Abbott St. so they had to stop people for a few minutes as the truck pulled the SUV through the alley. The alley they used was one that I had seen before for filming with The X Files last summer. It is a one often used for filming because of its character and how it looks. After this driving scene they returned to the parking lot on Pacific and were done for the day.
Filming at The Permanent as Bank